RedR Australia is proud to have deployed 126 deployees this calendar year, to 28 countries for 599 total months of innovative humanitarian capacity and contribution. In February, we deployed our 1000th deployee since RedR Australia began operating, an exciting milestone for RedR Australia's 26-year history. We trained 874 people on our humanitarian training courses in nine different countries, and supported 57 Continuous Professional Development opportunities for our Roster members. We have deployed to the frontlines of emergency response, to the beginnings of disaster preparation, and to the aftermath of crises and conflict to build resilience for communities in need. Our Roster of 700 personnel and 71 skills profiles has truly been on standby to support every phase of the disaster cycle.
Many of our personnel have deployed for the first time under the Australia Assists program, the first integrated civilian deployment capability co-designed by RedR Australia and the Australian Government, building on the strengths of the former Australian Civilian Corps. We are proud to be deploying not only into UN agencies under the Program, but to governments, NGOs, and other agencies where our technical expertise is needed most.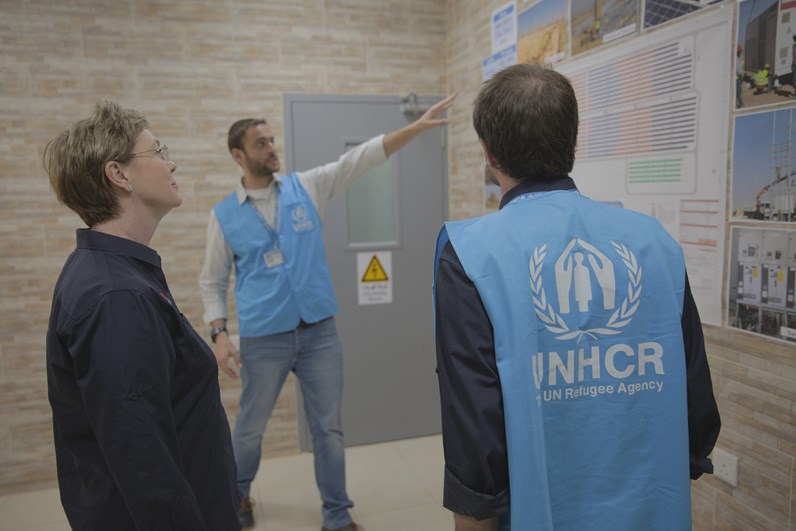 RedR Australia CEO Kirsten Sayers visited Jordan in April to see the work of Australia Assists deployee Robert, deployed through RedR. Photo credit: Hiba Judeh, RedR Australia.
I am delighted to support our new regional partners, including the Pacific Community (SPC) and the ASEAN Humanitarian Assistance Centre, as we seek to support and strengthen humanitarian capacity in our own neighbourhood. Disaster resilience remains at the forefront of our strategy for ensuring the right personnel are deployed at the right times across humanitarian response. In 2018, RedR Australia has worked in closer collaboration with the RedR Federation, to ensure a holistic partnership in delivering and deploying the best humanitarian training and responses that we can.
In the Pacific, Australia Assists deployees have continued to drive forward a localisation agenda, working with partner countries to reduce natural disaster risk and build resilience, while continuing to strengthen the capacity of National Disaster Management Offices, government departments, UN agencies, and government ministries. We have had a number of deployees in Vanuatu, working on the Ambae evacuation response, supporting Cyclone Pam recovery, and improving the risk and resilience of communities moving forward.
Australia Assists deployee Mark is one of several deployees supporting the Ambae Volcano response across the Pacific. Photo credit: Ian Parish, RedR Australia. 
In the seventh year of the Syria crisis, our Middle East program has prioritised protection, education, and civil-military cooperation through a number of our valued UN partners. Through targeted, innovative programming, we have seen remarkable gains for Syria's children, and for the infrastructure of the camps where so many are still living. I was fortunate to travel to Jordan on two occasions this year, and witnessed firsthand the deep value and commitment that our deployees are providing in every corner of the protracted response. As the Head of Office, UNOCHA Jordan noted, "the role of RedR Australia has been absolutely critical, not just to UNOCHA in Jordan, but to the entire UN family."
To the 42 deployees we have deployed to the Rohingya response this year, I salute you. This is the single largest number of specialists we have ever deployed to a single crisis. Across Bangladesh and Myanmar, our deployees have worked tirelessly to support the largest refugee camp in the world, and bring forward innovative solutions to humanitarian response where they are needed most. I have been impressed by the stories of ingenuity from our RedR Australia family, whether conducting excavations for monsoon season, introducing new monitoring technologies, undertaking drone mapping, supporting child protection, solving complex supply chain issues, and many other innovations that have demonstrably saved many thousands of lives.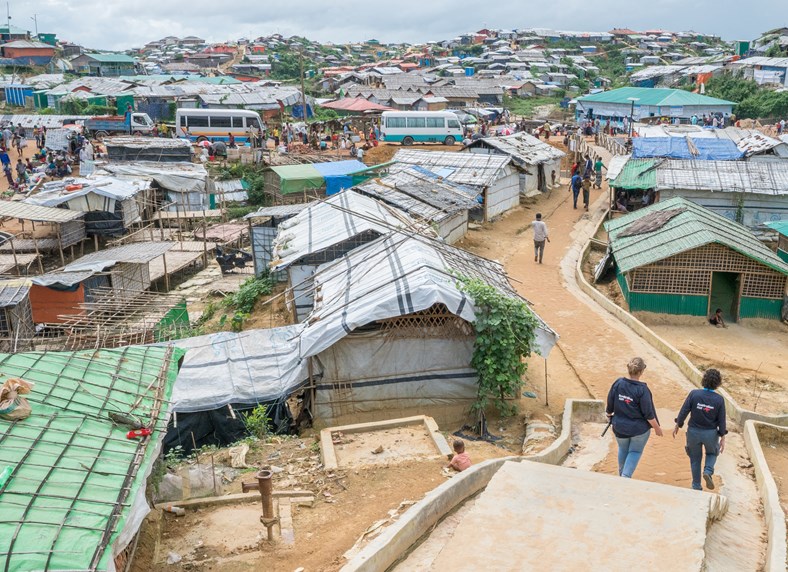 The Rohingya response in Cox's Bazar, Bangladesh, has become RedR Australia's largest ever response. Photo credit: Patrick Sheppard, RedR Australia. 
RedR Australia remains committed to prioritising a gender and disability inclusion lens across our work, and we are providing training to all new Roster members with training in protection, gender and disability mainstreaming, and the use of the gender marker in humanitarian responses. Our new Disability and Gender strategies will ensure that our deployees and training capabilities mainstream inclusivity with sensitivity across the disaster cycle.
I wish each and every one of you a peaceful holiday period, whether you are spending time with family or deployed away from home; your energy, dedication, and passion for the mission and values of RedR Australia are what keeps us at the forefront of serving communities around the world.  I would like to commend all of you, the extended RedR Australia family, for your commitment and tenacity. We are a team which looks beyond the limits of today, asks bold questions, and collaborates with our partners, to together shape a more resilient, inclusive, 2019 and beyond.
Kirsten Sayers
CEO, RedR Australia