RedR Australia has a core training team that coordinates our humanitarian training courses, meets requests for specialised training and manages our pool of associate trainers.

Mark Tell
Training Manager

As the Training Manager, Mark is responsible for a dedicated training team, and a pool of associate trainers and volunteers, delivering a variety of core and tailored training courses throughout the world to the humanitarian sector. Prior to joining RedR full time in March 2019, Mark had been an associate trainer with RedR for 20 years, focusing on HEAT, Personal Safety in the Field, and Emergency Telecommunications. His area of expertise for more than 30 years has been in the radio and telecommunications sector, including 10 years with the Australian Federal Government, managing  compliance and enforcement field operations teams. He worked in Australia coordinating emergency response with State Emergency Service and Fire Authorities, and spent 13 years internationally, working in more than twenty countries. Mark was the United Nations Emergency Telecommunications Coordinator during humanitarian crises in Iraq, Afghanistan and Sudan, and was also deployed to a number of other missions, including Cyprus, Jordan, Ethiopia, Niger, Pakistan, Zimbabwe, and Fiji. He is also a UN certified Civil Military coordination officer. He has worked extensively in Papua New Guinea, and spent 15 months as the Supervising Communications Technical officer at Davis Station in Antarctica. Mark holds a postgraduate degree in Development and Humanitarian Action from Deakin University, a Diploma of Management, and Cert IVs in Training and Assessment, and Government Investigations.

Jess McNeill
Program Officer and Volunteer Engagement Officer

Jess McNeill works on-site at VEMI. Jess has a small business and event management background, and has been supporting our Dookie training courses for over 10 years and now supports the courses that are held at VEMI. In her spare time, Jess volunteers with the Goulburn Valley Community refugees programs and in the Murray region. Jess is currently studying Community Services and hopes to expand her work with the refugee community. Jess is responsible for administration and logistics at VEMI. If you have any issues with dietary requirements or accommodation for the HEAT or EHP courses Jess is the best person to contact.

Jacqui Symonds
Senior Humanitarian Trainer

Jacqui has spent more than ten years working in humanitarian and development settings in the Middle East, Africa and Asia Pacific for Australian Red Cross, the ICRC, Oxfam and CARE. Her educational and former career background are in Environmental Management with a focus on water resource management; she also holds a Graduate Certificate in Humanitarian Leadership with Deakin University. Jacqui has humanitarian and development experience in WASH, operations and program management, having most recently been deployed to northern Iraq with CARE International. She has also developed and facilitated a variety of training and capacity building programs in emergency preparedness planning and disaster management, including with CARE Australia across South-East Asia and Deakin University's Humanitarian Leadership Program.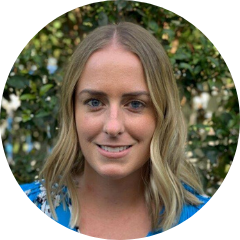 Sam Armstrong
Training Administrator

Sam has a background in animal welfare and conservation, working within both the government and NGO sectors. She is the first point of contact for RedR training related matters and manages the on boarding of participants to the RedR training courses. She has a proven record of developing and implementing new programs and policies along with achieving project objectives by using her knowledge in project management and monitoring and evaluation. She holds a Bachelor of Environmental Science Wildlife & Conservation Biology, a Diploma in Conservation Land Management and is currently studying a Graduate Certificate of Sustainable Development & Humanitarian Action.
RedR Australia has a core training team that coordinates our humanitarian training courses, meets requests for specialised training and manages our pool of associate trainers.
RedR Australia is recognised as a provider of quality training for humanitarian workers around the world. We have a core staff team of three trainers and a pool of over 70 Associate Trainers. All of these personnel make up a highly experienced field of specialists, trainers and humanitarian practitioners.
All courses are coordinated by our in-house training team and facilitated by our highly experienced local and international Associate Trainers who have worked for United Nations agencies and a range of humanitarian organisations globally. RedR Australia's trainers have many years of field and operational experience in both natural disasters and complex emergencies associated with conflict. Participants benefit from our trainers' significant field experience.
If you would like to get in contact with the training team please contact us at [email protected]
RedR's Associate Trainers
RedR's Associate Trainers provide a diversity of skill sets across the following categories:
Water, Sanitation and Hygiene (WASH)
Women, Peace and Security
Logistics and Procurement
Preventing Sexual Exploitation, Abuse and Harassment
Emergency Telecommunications
Project Management and Proposal Writing