Held at the Victorian Emergency Management Institute in Mt Macedon, Victoria, teams from Arup Australasia, GHD, and Turner and Townsend worked together to respond to a simulated emergency situation, a flood response in the fictional country of Sebadoh.
The teams completed a series of challenges, including constructing shelters out of tents and tarpaulins, designing camps with necessary infrastructure for those internally displaced by the simulated flood, and raising flagpoles that adhered to Sebadoh's strict humanitarian guidelines.
"The planning component put into perspective the intense planning required to build a camp. We only 'scraped the surface' and yet it was very challenging and interesting to understand the amount of planning and detail that goes into them," said Peter from Turner and Townsend.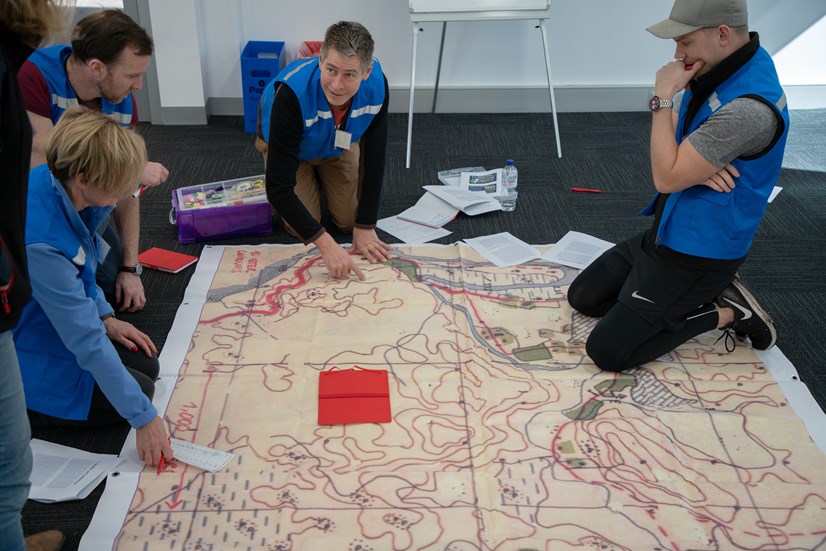 Team Turner and Townsend work together during a camp planning exercise. Photo: Ian Parish, RedR Australia
In between these challenges, the teams were briefed by RedR Australia's humanitarian training experts on international standards and issues inside refugee camps.
In one scenario, participants carried the 15 litres of drinking water allocated per displaced person per day to understand how the weight and distance could be a barrier if water points are improperly planned.
Participants were also taught how to coordinate a humanitarian needs assessment, so that the teams could accurately calculate the materials needed for the people fleeing the floodwaters.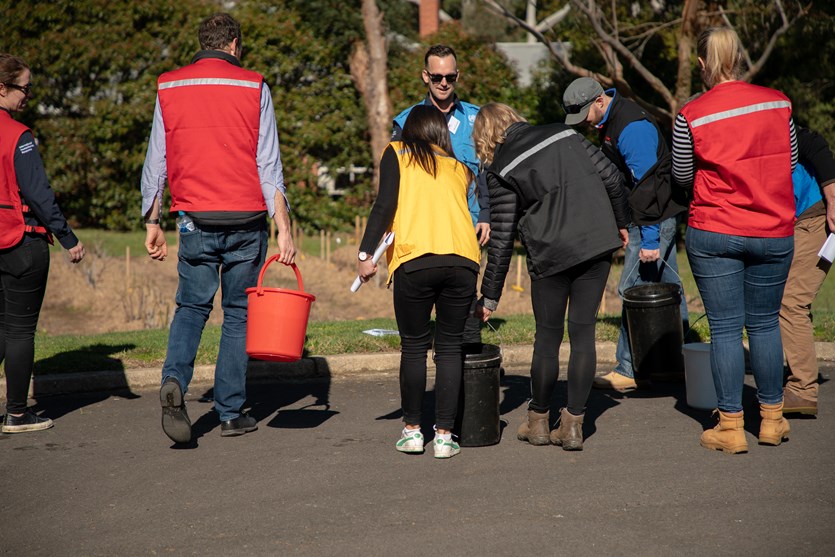 Participants carried 15 litres of water to understand what it would be like if water collection points are not planned properly. Photo: Ian Parish, RedR Australia
"The Corporate Humanitarian Challenge is a wonderful opportunity for us to engage the corporate sector on humanitarian issues, and challenge them to use their technical skills in new ways," said Kirsten Sayers, CEO of RedR Australia.
"By giving our corporate partners a small insight into the efforts required when coordinating a major humanitarian response, we open up a dialogue about how innovations from the private sector can contribute in times of crisis."
The event was based on RedR Australia's internationally recognised Essentials of Humanitarian Practice course, a six-day intensive residential training that provides foundational knowledge for working within the modern humanitarian system and for responding to an international crisis that involves a global response.
At the end of the day, it was Arup Australasia who took home the inaugural trophy. The team will be able to proudly display their trophy before the next Corporate Humanitarian Challenge, which RedR Australia will hold as both an annual and on-demand event.
"The day was a great taster for anyone who is completely new to the humanitarian sector and disaster relief. The passionate conversations that came out of the course is testament to how eye opening it is," said Astrid from Arup.
"For anyone who is interested and wants to get involved, or learn more about disaster relief, this course is perfect. Getting a taster of the trainings is a great insight into RedR, and meeting all the trainers who have incredible first-hand experience is really valuable.