Based in Kenya, her title is Protection from Sexual Exploitation and Abuse (PSEA) Inter-Agency Regional Coordinator for Southern and Eastern Africa. Victoria's role is critical to promoting the protection of women and girls, and has a strong commitment to implementing the United Nations' zero-tolerance policy on sexual exploitation and abuse.
Specifically focused on supporting humanitarian agencies in Southern and Eastern Africa, including the United Nations and a vast array of non-government organisations, her role covers about 25 countries. And while Victoria's working to protect the people served by those agencies, she's also aiming to protect staff and volunteers working within the agencies too.  
Victoria's role is supported by Australia Assists, the Australian Government's humanitarian civilian deployment program implemented by RedR Australia, and is part of the Australian Government's commitment to empowering and protecting women and girls. Her role is also helping to achieve the commitments outlined in the Australia Assists Gender Equality Strategy and Action Plan, which aims to end violence against women and girls, as well as build organisational capacity in gender equality.
Drought, conflict and the cost of water
In this region, the risks for women and girls can be incredibly high. With drought and conflicts marring many countries under Victoria's remit, there is a huge need for effective protection systems.
"As you can imagine, if people don't have food they can easily be exploited," Victoria said. "When they have no other options left, women and girls may resort to offering sex in exchange for food or water. It's horrendous.
"In the Horn of Africa, it's pretty stark. In some instances, women and children are walking 40 kilometers a day to get water. Along the journey, they are at risk of gender-based violence and when they finally reach water they may face conflict as communities fight over scarce resources."
Together we are stronger
Where does one start with challenges so huge?
For Victoria, the answer is to focus on coordination and connecting people. While her regional role is a first for OCHA in Africa, there are many people working across the humanitarian sector to prevent sexual exploitation and abuse. A big part of her role is pulling together different representatives from agencies across the vast region, and helping them to talk and support each other.
"I've worked to strengthen the newly established PSEA Regional Working Group for Southern and Eastern Africa – a mechanism for coordinating actors in the region. The working group had a small number of members when I started the role in December, and it's grown to 50 members in July," Victoria said.
This working group was set up following allegations of sexual exploitation and abuse in multiple contexts across the broader region, including in the Democratic Republic of the Congo, Mozambique and Uganda.
The group identified a series of time-bound actions to be taken collectively to enhance the humanitarian system's prevention of, and response to, sexual exploitation and abuse in operations across the region. 
"My role is pulling together all the key actors from all those countries, but it's also training, coordination, providing technical advice, mentoring, providing tools and resources, and raising awareness. It's a great way for people to share information and learnings too," Victoria said.
Finding and filling the gaps
Victoria's been investigating what protection resources already exist, and where the gaps are.
"I conducted a regional mapping exercise as part of our bigger strategy," Victoria said. "And that was reasonably hard. I went looking for all the PSEA coordinators and country focal points and asking, 'who is actually providing support?'"
The mapping exercise also looked at the gaps in each country. As Victoria explains, "I was asking, 'have they got reporting mechanisms in place? Do they have all the protocols in place? Do they have a focal point? Are there survivor-centred systems and processes in place? Where is the funding coming from?'"
Once this was clearer, Victoria then started to make recommendations to boost capacity in key areas.
Many working group members also expressed a need for better tools and resources to support their protection initiatives, so Victoria has been helping to develop those tools. She's also been drafting country-level Standard Operating Procedures for Interagency SEA Complaint Handling.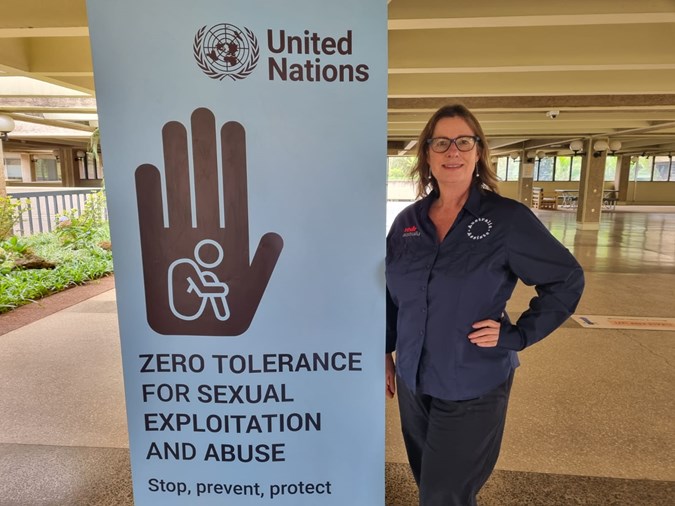 Australia Assists deployee Victoria has been working to promote a 'zero tolerance' attitude towards sexual exploitation and abuse at the United Nations campus in Nairobi, Kenya.
Creating a 'zero tolerance' culture
One of Victoria's projects has been to build a 'zero tolerance' culture at the United Nations campus in Nairobi.
"The United Nations Office at Nairobi is the largest UN campus in Africa. There are more than 5,000 people at the Nairobi campus and when they host world summits, forums and conferences, thousands of participants from around the world can visit," Victoria said.
With such a big audience, Victoria identified a significant opportunity to spread the message on preventing sexual exploitation and abuse. Looking at the opportunities and building on the progress so far, Victoria worked to develop banners and other materials which clearly communicate the key messages on zero tolerance for sexual exploitation and abuse and tell people how to report an incident.
"Now we've got big banners at the front entrance and anyone entering understands there is a zero-tolerance culture. They also put it on all the big conference screens. When I saw those go up, that was a big highlight for me," Victoria said.
"It sounds like something simple, but it's so important to get these key messages out. People have said thank you for sending this message to people when they enter this campus."
Victoria is also working with security services on how to report incidents and improve their training.
Proud to represent Australia
Victoria feels very fortunate to work in protection and share her knowledge in this region.
"This work is my passion – it's a personal passion as well as a professional one," Victoria said. "When this role came up, the time was right for me and it was a great opportunity – these kinds of opportunities are rare. This work is a privilege for me."
Victoria is also proud to represent Australia in her work for the United Nations.
"I feel really proud as an Australian to represent Australia Assists. My role is so important – preventing sexual exploitation and abuse – and Australia is leading the way for other countries around the world."