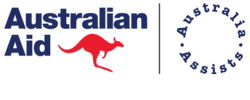 Australia Assists is the Australian Government's humanitarian civilian deployment program. With RedR Australia as implementing partner, technical specialists are deployed to help communities, partners and nations prepare for, respond to and recover from natural hazards and conflict.
Australia Assists strengthens Australia's ability to deploy the right specialists, to the right places at the right times to make the best possible impact, and enhance Australia's foreign policy and international diplomacy efforts.  
The Program's specialists deploy into foreign governments, United Nations agencies, and national and international NGOs. Australia Assists represents an enhanced partnership between DFAT and RedR Australia that supports host organisations while also strengthening Australia's bilateral and multilateral relationships held by the Australian Government.
The Program responds to emerging humanitarian needs as they arise, with a focus on the Asia-Pacific and Middle East regions. The overall goal of the Program is to save lives and alleviate suffering by building resilience and responding to disasters and conflict. 
The Program also focuses on ensuring gender, disability and protection are effectively addressed in humanitarian action. Together, RedR Australia and DFAT are committed to facilitating the rights of people with disabilities and strengthening disability inclusion through the Program to contribute to, influence and advance Australia's global humanitarian leadership. 
Connect with Australia Assists on Twitter and Instagram. 
Click here to read the Australia Assists FY22 Annual Report.
Click here to read the Australia Assists Mid-Term Review on the Department of Foreign Affairs and Trade website.