So she returned to her hometown in Solomon Islands and started selling popcorn at a local high school. And it was there she had an epiphany.
"I saw a newspaper on the school benches. It was 2013 and the tsunami had just hit, and it was on the middle page of the paper," Everlyn said.
"There were photos of coastal areas with no trees. And I saw that the people who died from the tsunami were women, children, elderly people and people with disabilities."
In that moment, Everlyn knew what she wanted to devote her life to.
"It touched my heart. I wanted to help the people in those communities. I thought, if I work in disaster response or disaster risk management, these people wouldn't lose their lives – because they would know what to do if there's an earthquake or tsunami."
Soon after, Everlyn saw an advertisement for a disaster management role with the Red Cross and, though she didn't have any experience other than her degree, she applied.
"I sent an application and got the interview," Everlyn said. "And I think they chose me because I said 'even if you call me on weekends to do awareness with communities, I would do it because I want to help. I don't want anyone – any women or people with disabilities – to die from natural disasters.'"
Pursuing her passion
Through her experience with the Red Cross, Everlyn honed her skills in disaster management and discovered her passion for gender equality and supporting diverse groups.
"Traditionally, disaster risk reduction has been male dominated. We tend to only listen to the leaders who are usually men – and not always the most vulnerable," Everlyn said.
"I want to listen to people in the community, support their empowerment and help them become more resilient."
Earlier in her career, Everlyn found that gender inclusion was rarely mentioned during disaster responses – and it's something she's working to change.
"I think we've missed the most important pre-condition for resilience – ensuring all groups are included, which means women, people with disabilities, children and the elderly, who are always affected more during disasters," Everlyn said.
"We need support their empowerment."
Be the change
Now working with UN Women in Solomon Islands through Australia Assists, the Australian Government's humanitarian civilian deployment program implemented by RedR Australia, Everlyn is working to build women's resilience to disasters and climate change.
She's helping to train Solomon Islands communities on how to better respond to disasters and help save lives. And, aligning with her values, her work aims to include people of all genders, ages and abilities.
"We are training communities on disaster risk reduction and how to identify their risks," Everlyn said. "And supporting the empowerment of people with disabilities and other groups, including women and children."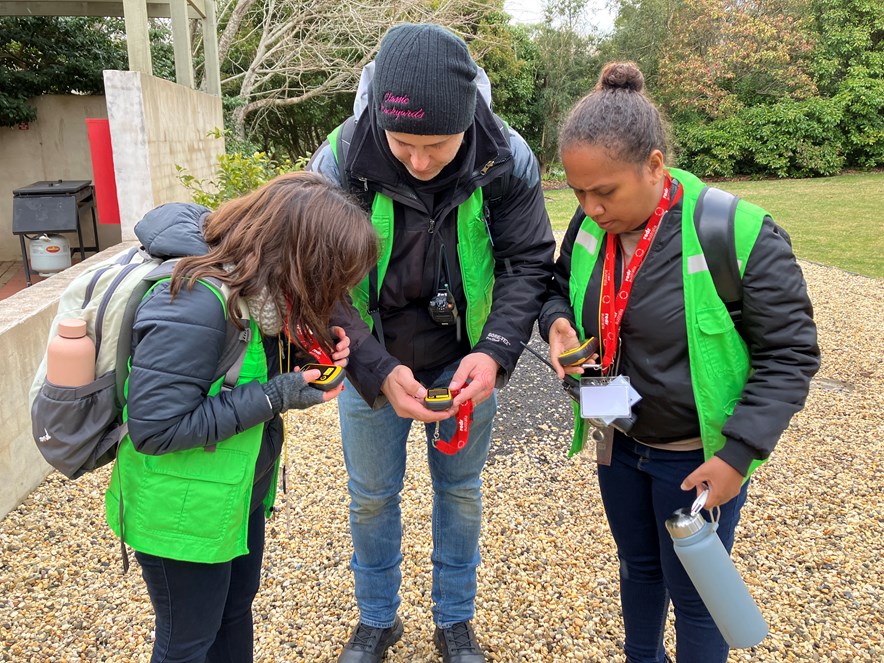 Everlyn (right) participated in humanitarian training supporting by the Australian Government to help build her skills and confidence.
Taking her expertise to the world
Everlyn also recently participated in humanitarian training delivered with the support of the Australian Government, the Essentials of Humanitarian Practice and Hostile Environment Awareness Training courses, which provide in-demand skills in sector best practice.
"The training really pushed me beyond my comfort zone and what I'm most familiar with," Everlyn said.
"The courses helped me build my confidence in working in other countries. And they helped me to self-reflect and continue improving my soft skills, like interpersonal relationships."
Eventually, Everlyn would like to work in disaster risk reduction in countries around the world.
"I want to start in the Pacific region and build my experience there – maybe Fiji would be a good place to start. Then, if I gained some more experience, I might be ready to work further afield."
Building skills for the future
Right now, though, Everlyn is happy to continue honing her skills and supporting Solomon Islands communities.
"I'm really happy to be part of the Australia Assists program," Everlyn said. "I'm happy for the opportunity, the training and skills."
"It has built my confidence to approach government offices. And the role also comes with responsibility and it's really encouraged me to have more courage and confidence to push for the changes I'd like to see in our communities."
Learn more about Australia Assists and the work of deployees like Everlyn before, during and after emergencies.