One of the most explosive eruptions ever recorded, the force of the volcano created a powerful tsunami that reached as far as California, while damaging ashfall affected communities across the South Pacific.
Around 84 per cent of Tonga's population was affected, with approximately 3,000 people forced to leave their homes. The devastating event also impacted water and food supplies.
"The volcano triggered a tsunami that caused major destruction to low-lying communities," National Emergency Management Office (NEMO) Tonga Director Mafua -'i-Vai'utukakau Maka said. 
"The whole of Tonga was covered by one to two centimeters of volcanic ash."
Australia Assists: a partner to first responders
Australia Assists deployees were on the ground providing lifesaving assistance moments after the Hunga Tonga-Hunga Ha'apai eruption. Australia Assists is the Australian Government's humanitarian civilian deployment program, and it provides valuable assistance before, during and after emergencies for communities around the world.
"Australia Assists deployees have contributed massively to the Tonga Government response and recovery," NEMO Tonga Deputy Director Moana Kioa said.
"We were better able to provide timely support and relief in order to save lives."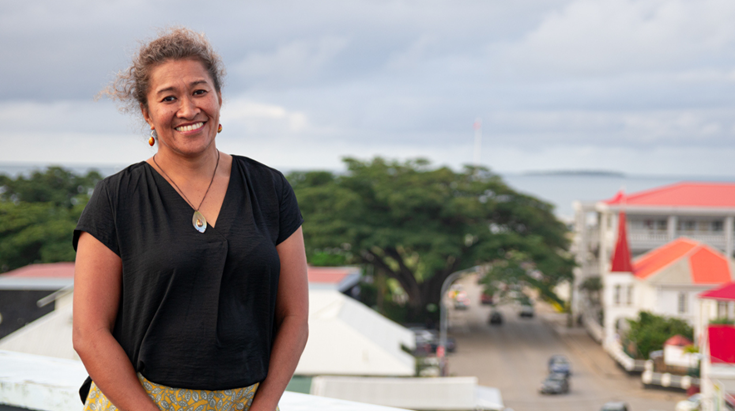 Australia Assists deployee Maureen worked alongside local responders, supporting the provision of essential supplies and relief support.
In Tonga, three Australia Assists deployees supported NEMO to provide immediate relief to communities.
Australia Assists deployee Maureen was already working as a Disaster Management Officer for NEMO when the eruption occurred.
"I had a role in the National Emergency Operations Centre and I was working when there was an initial marine warning," Maureen said. "When the eruption actually happened, I was in the office with my colleagues and we were involved in the initial evacuation of people along the streets."
Maureen supported the team as they provided water and food to communities, and also helped to train initial damage assessors who travelled to communities to find out the extent of the damage. She ensured they collected data around the needs of women, girls, children and people with disabilities.
"Through the whole response, we were trying to focus on the affected communities – making sure they got their food, shelter items, and any other necessary items, such as hygiene kits, particularly for the women and people with disabilities," Maureen said.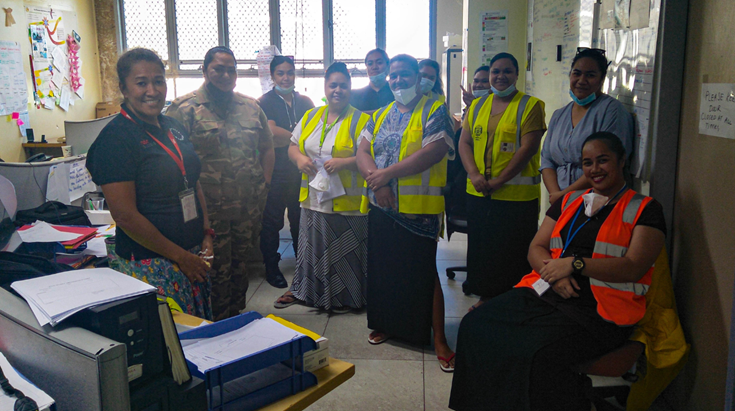 Maureen worked alongside Tongan experts in the National Emergency Operations Centre to support the response. 
Empowering local women and knowledge
Maureen worked with a team of local first responders in the National Emergency Operations Centre, including a large team of women.
"It was great to see a lot of strong women who came in and supported – not only in the emergency operations centre, but in the field too," Maureen said. "They're all doing their best to ensure their people are being taken care of. And we'll bounce back better and stronger.
"In the Pacific Islands there's a lot of traditional knowledge out there, and we were trying to tap into those skills and knowledge and put it back into policy."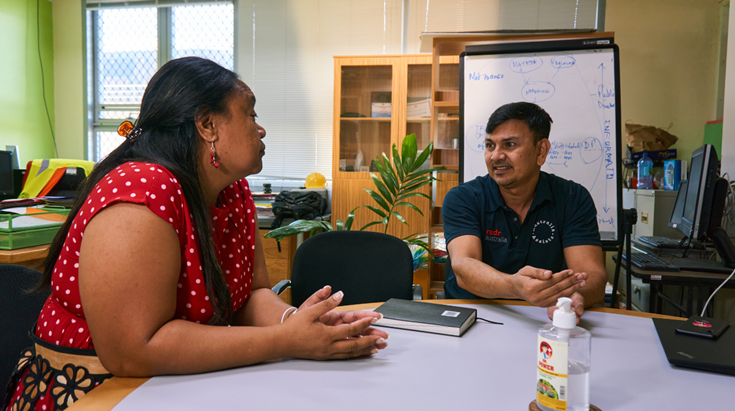 Australia Assists deployee Suresh (right) worked with NEMO to design the overall disaster response plan which was used by the Government of Tonga. Suresh is pictured here with Deputy Director of NEMO, Moana Kioa.
A stitch in time saves lives
Australia Assists deployee Suresh started work remotely on the response plan immediately after the volcano erupted, before returning to Tonga to resume his role as a Senior Specialist, Institutional Capacity and Disaster Risk Management for NEMO. 
"I was working through the preparedness phase where we expect events like this to happen," Suresh said.
"I designed the Hunga Tonga-Hunga Ha'apai response plan. That response plan coordinated the whole of the Government of Tonga's response reaching out to the community."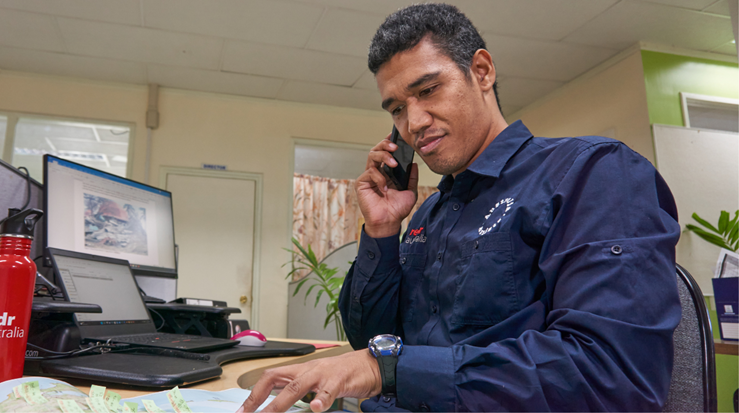 Australia Assists deployee Viliami oversaw the coordination of response efforts following the volcanic eruption. 
"I am blessed to assist my own people"
Australia Assists deployee Viliami is a trained biologist and public health specialist, and he was deployed to NEMO to coordinate relief and recovery efforts in the event of disasters like the Hunga Tonga-Hunga Ha'apai emergency.
In his role, as Cluster Coordinator, Viliami oversaw all logistics efforts, supported his Tongan counterparts across government ministries and organisations, and previously had supported the development and commissioning of a new warehouse, which was funded by the Australian Government's Department of Foreign Affairs and Trade (DFAT). The use of this warehouse become pivotal in the response as it already housed prepositioned humanitarian supplies which could be delivered to communities straight away following the disaster. 
As a Tongan national, Viliami felt honoured to assist the response efforts.
"Being a Tongan responding to this event, I am grateful and blessed to assist my own people, trying to help them in any way I can so I can make a difference in their lives in times of hardship," Viliami said.
Assisting from further afield
While Maureen, Suresh and Viliami were working hard in Tonga to respond to immediate needs on the ground, more Australia Assists deployees were supporting them from Fiji.
Four deployees provided much-needed logistical support from Fiji, including Navjuvon, an Emergency Supply and Logistics Specialist with UNICEF, who supported with warehousing and shipping of essential supplies to communities in Tonga. Navjuvon supported the transportation of 25 tonnes of relief supplied from Suva and Brisbane to Tonga, in support of the response.
Gina, a Regional Disaster Management Specialist deployed to the Secretariat of the Pacific Community (SPC) in Fiji, provided critical regional planning and response support, which meant the whole region could respond quickly.
"During my last four years here at SPC, I've developed the SPC Post-Disaster Response Framework," Gina said. "So when the disaster happened in Tonga and the volcano erupted, we were able to react very, very quickly." 
Kate, a Sexual and Reproductive Health and Gender Based Violence in Emergencies Program Specialist with UNFPA, provided logistics support for supplies such as dignity kits.
"With the Tonga response, we were able to mobilize very quickly," Kate said. "Through the DFAT-funded regional pre-positioning initiative, within 24 hours we got supplies from our Brisbane warehouse onto a ship bound for Tonga."
Jessica, a Protection Advisor with UN Women, also provided expertise to ensure the needs of women, girls and people with disabilities were at the forefront of the response.
"We spoke with our colleagues at the Pacific Disability Forum immediately after the volcano went off and they came to present at the first Pacific Humanitarian Protection Cluster meeting about how best to ensure persons with disability were actively included in the response and their needs were met," Jess said.
Responding to disasters is a team effort – between communities and organisations on the ground delivering immediate relief, and partners providing much needed funds, supplies and advocacy from afar.
From natural hazards to COVID-19, Australia Assists is proud to have supported more than 27 partner organisations in 33 countries over the last 12 months, helping communities in humanitarian crises to get the support they need.
Learn more about Australia Assists and the work of deployees before, during and after emergencies.