In 2022 alone, millions of people have faced this heartbreaking choice. And tens of millions more continued their journey onwards – with their families or alone – via refugee or internally displaced persons camps, and transition countries. Searching for a safe place to build a new life.

On 20 June, World Refugee Day, Australia Assists, the Australia Government's humanitarian civilian deployment program implemented by RedR Australia, acknowledges the plight of all refugees and displaced people, and we celebrate their strength and courage.

This year's World Refugee Day theme recognises that every person has the right to seek safety – whoever they are, wherever they come from, and whenever they are forced to flee.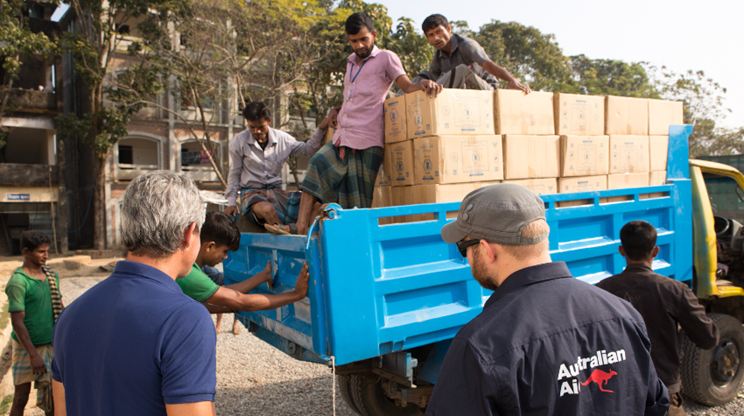 A World Food Programme truck delivers food aid for Rohingya refugees in Cox's Bazar, Bangladesh. Photo: Max Greenstein, RedR Australia

Empowering refugees is at the heart of Australia Assists

Supported by the Australian people, Australia Assists works hard to help refugees find safety. Then, once they're out of harm's way, we help them to heal, learn, work and thrive. And we help to enable their choices – to return home when it's safe or adopt a new home.

Since 2017, the Australia Assists program has deployed nearly 150 technical specialists to 19 countries to support refugees and displaced people in crises around the world. They've provided life-saving assistance in a huge range of important areas, including shelter, sanitation, logistics, health, education and child protection.

• Right now, more than 50 per cent of our humanitarian experts are working with refugees and other displaced people.
• We are currently providing humanitarian support for conflicts in four countries including Ukraine, Myanmar, Syria and Ethiopia.
• 150 deployees are working with 11 humanitarian organisations including OCHA, UNICEF, UNFPA, UNHCR and UNESCO.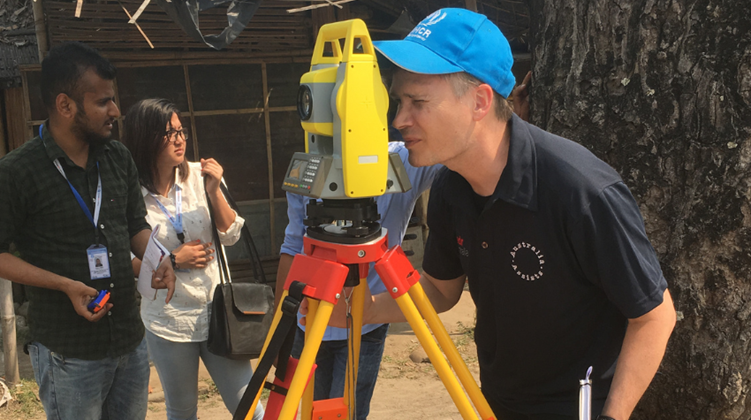 David is currently working with Ukrainian refugees in Romania as a UNHCR Shelter Officer. Pictured in Beldangi refugee camp, Nepal.

Spotlight on Europe: supporting Ukrainians

As Ukraine continues to suffer devastation at the hands of Russian forces, Australia is providing aid to refugees seeking safety across Europe. More than 7.1 million people remain displaced by the crisis and 15.7 million people are estimated to urgently require humanitarian assistance and protection. It is the largest human displacement crisis in the world today.

Through the Australia Assists program, we are providing much-needed support to Ukrainians seeking protection. We currently have four humanitarian specialists across Europe, lending critical assistance to ensure refugees are safe and supported.

Australia Assists deployee, David, is a humanitarian architect with more than 25 years of experience. Based in Romania with UNHCR, he is currently helping to build long-term transit centres and ensure there is enough accommodation for refugees at the Romania–Ukraine border. David has recently arrived and is sharing his wealth of experience with the Ukrainian and Romanian people. Through Australia Assists, he has previously worked to build accommodation for people internally displaced in north-western Syria, as well as coordinate accommodation for Bhutanese refugees in Nepal.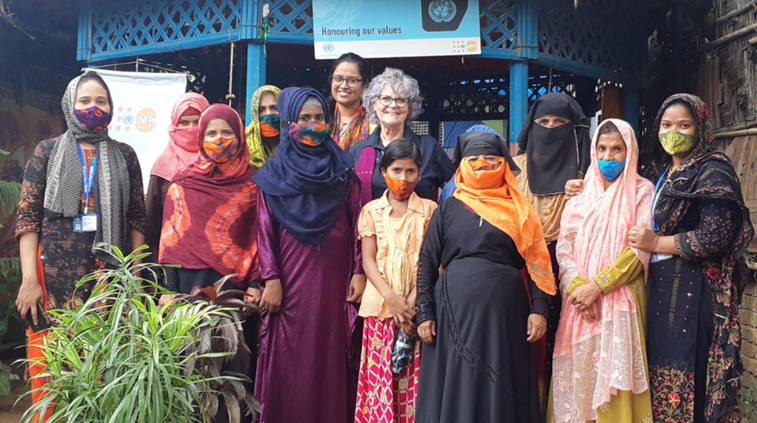 Marguerite in Cox's Bazar, Bangladesh, supporting women and girls to establish a Sign Language Working Group.
Spotlight on South Asia: supporting the Rohingya people

In August 2017, the Rohingya people of Northern Myanmar suffered systemic genocide leading to one of the largest refugee crises of the 21st century. Today, there are around 900,000 refugees living in the Cox's Bazar refugee camps in Bangladesh.The Rohingya refugee crisis has been a primary focus of the Australia Assists program for the last five years. As of today, Australia Assists has sent 66 deployees to Bangladesh and Myanmar to provide live-saving assistance to the Rohingya people.
Cox's Bazar is a high-risk environment for women and girls living with disabilities. Working with UNFPA, Australia Assists deployee Marguerite has been helping women and girls to access essential services by supporting them to create and lead a Sign Language Working Group. Marguerite's work will help women and girls living with disabilities to better communicate with their communities and advocate for their rights.
Marguerite says she's helped them to "develop their own sign language and braille, or tactile language systems" and build "women champions" within the Rohingya community.
Aussies are proud to lend a helping hand in crises around the world.

At a time when nearly 90 million people around the world have been forced to flee their homes, Australia Assists deployees are providing life-saving support for refugees and other displaced people in 19 countries.
Today, on World Refugee Day, we celebrate the strength and courage of people who have fled their home country to escape conflict or persecution. And we're working to build empathy and understanding for the plight of refugees – and recognise their resilience as they rebuild their lives.
Learn more about how Australia Assists provides support in humanitarian crises around the world.