In tropical Timor-Leste, where agriculture provides a livelihood to an estimated 80 per cent of the population, safeguarding against natural hazards is essential to ensuring communities can thrive.
Working with the Food and Agriculture Organization of the United Nations (FAO), Marina supported local authorities and communities in Ermera, a landlocked municipality located southwest of the nation's capital, Dili, to identify risks to their villages and families.
Deployed through Australia Assists, the Australian Government's humanitarian civilian deployment program implemented by RedR Australia, the Disaster Risk Reduction and Climate Change Adaptation Adviser's work was crucial to helping communities to recognise and better cope with drought and other natural hazards.
Training Civil Protection staff in how to conduct hazard vulnerability and risk assessments, Marina's expertise in turn enabled the municipality's disaster risk management committee to better assist communities.
In the village of Mau-Ubo, Marina remembers one farmer who applied his learnings to mitigate the impact of landslides and drought on his family's land.
"He took it upon himself to start planting the slopes with shrubs and trees during the rainy season. He has noticed how the hills are more stable with greenery. It is small acts like these that we try to encourage and promote for slope protection.
"It's rewarding to see communities use their knowledge to create a safer environment," Marina said.
With her work in Timor-Leste finishing up in January, Marina has just started a new remote deployment with the United Nations Children's Fund in Iraq as a Climate Change Risk Programming Specialist. Her role will support the agency's water, sanitation and hygiene team to find solutions to the impact of climate change, unsustainable energy use and environmental degradation on children's livelihoods.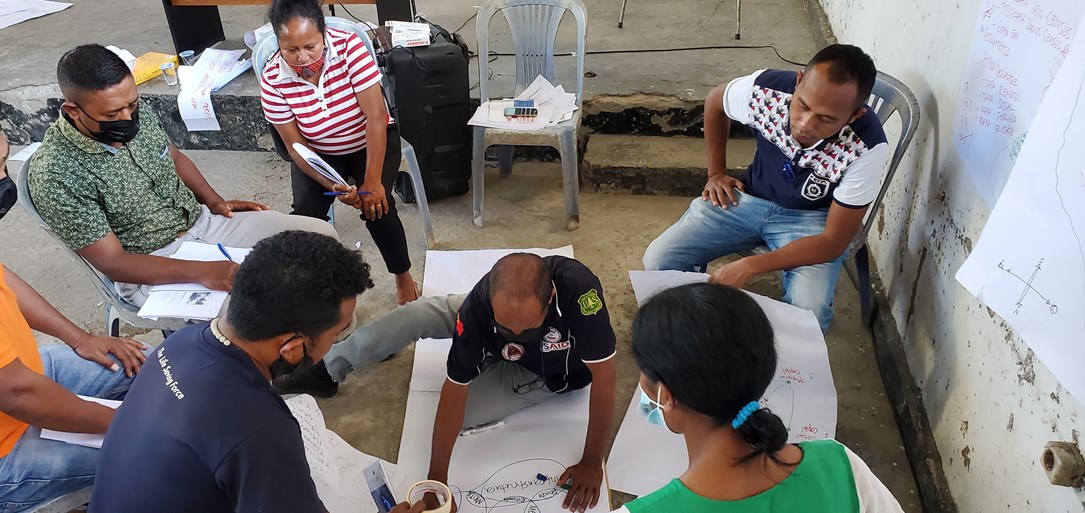 In Timor-Leste, Marina trained local staff to conduct hazard vulnerability and risk assessments, which was passed on to communities.
World Health Day, Thursday 7 April 2022, aims to focus global attention on urgent actions needed to keep humans and the planet healthy and foster a movement to create societies focused on wellbeing.
The World Health Organization (WHO) estimates that more than 13 million deaths around the world each year are due to avoidable environmental causes – this includes climate change, which is the single biggest health challenge facing humanity.
Climate change makes extreme weather events like floods, droughts and tropical cyclones more frequent and more dangerous, with land degradation and water scarcity also displacing people and affecting their health.
The ongoing COVID-19 pandemic is continuing to impact communities globally, and has both highlighted and exacerbated inequities – including access to information, vaccines, health services and social security.
Societies focused on wellbeing are healthy societies – with WHO arguing that legislative action, corporate reform and support for individuals to make healthy choices are key to breaking the cycle of destruction for the planet and human health.
In Papua New Guinea (PNG), where COVID-19 cases are rife and vaccine uptake is low, Australia Assists deployee Jack is coordinating the efforts of health organisations responding to the pandemic.
The Health Cluster Coordinator has been on deployment with WHO since August last year and is supporting government and NGO partners across the country to increase understanding of COVID-19 and address vaccine hesitancy.
In support of PNG's national vaccine taskforce, Jack regularly visits provinces across the country and recently travelled to Manus Island to conduct in-depth consultations with local community leaders, religious leaders and health workers who play a key role in community education. He's assisting the taskforce to analyse data on vaccine uptake in order to understand the views and challenges faced by different groups including men, women and people with disabilities.
Jack's deployment has also seen him visit PNG's West New Britain Province, where he supported training sessions for more than 60 health workers in vaccine administration and helped them to collect community feedback to improve response efforts.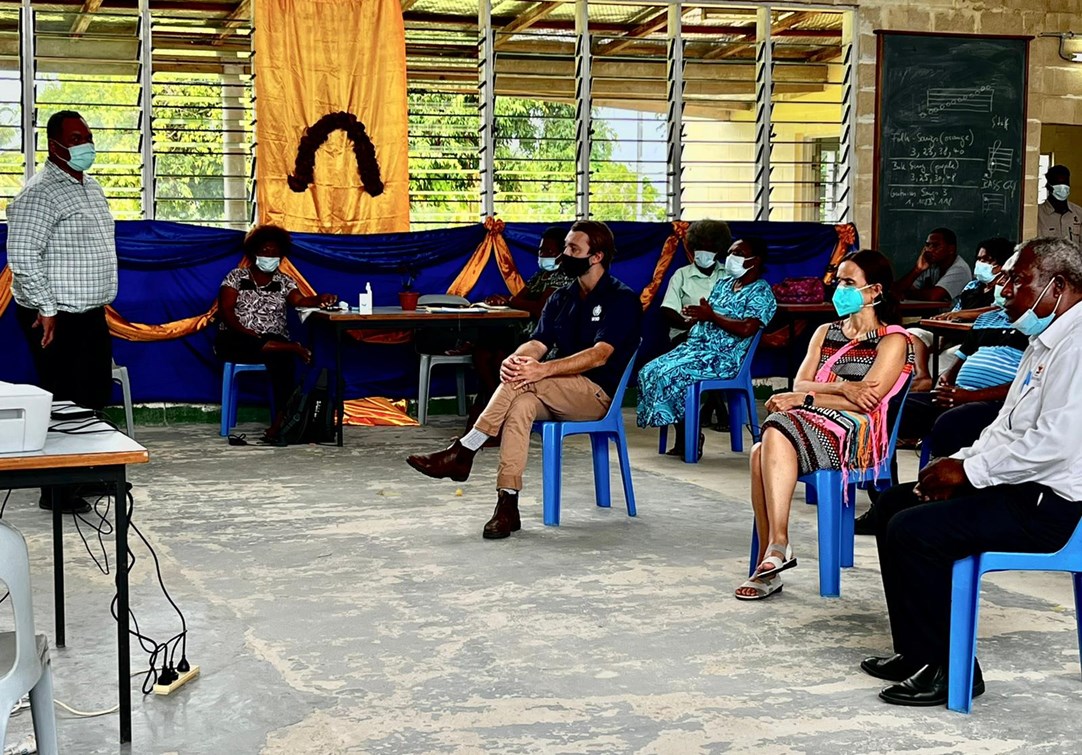 In PNG, Jack and the ministerial vaccine taskforce visited Manus Island to meet with community leaders and health workers.
Supporting partners to prepare for, respond to and recover from public health emergencies is a priority for Australia Assists.
With the Australian Government's Partnerships for Recovery strategy outlining Australia's approach to tackling COVID-19 in our region, the program is working closely with host organisations, including United Nations agencies and national governments, to bolster their COVID-19 efforts – including through public health awareness, developing clear guidelines and standards, and strengthening local capacity with medical training and supply chain logistics.
The program is also enabling the stabilisation and economic recovery of countries hardest hit by the pandemic, investing in national capacity to maintain essential services in addition to developing and implementing effective, locally-led COVID-19 plans.
With the Indo-Pacific home to ten of the 15 countries considered most at risk from natural hazards, building resilience to the effects of climate change and its impact on health and livelihoods is also a focus of Australia Assists.
The program is lending expertise to national and regional disaster preparedness and resilience approaches, facilitating legislative change and contributing to the design and implementation of urban infrastructure and social and climate ready projects – all part of efforts to slow the already-widening inequalities resulting from climate change.
Since 2017, Australia Assists has deployed 61 technical specialists to support host organisations address public health and climate-focused issues – contributing a combined 393 months of targeted assistance to 16 partners in 25 countries. This is equivalent to nearly 33 years support in just over four years.
These deployees include 50 specialists working on health programs and projects across clinical, coordination, information management and logistical roles, with a further 11 specialists focused on building climate resilience and adaptation among host organisations. The program is a proud partner to FAO, WHO, the United Nations Population Fund and national health departments driving efforts to maintain and improve human and environmental health across the world.
In Cambodia, Luisa is yet another Australia Assists deployee working with WHO on a country's COVID-19 response, with the Strategic Communications Officer developing and disseminating critical public health information to locals and other stakeholders.
Based in Phnom Penh since November last year, Luisa is producing materials key to increasing understanding and action around COVID-19 – including web articles, features, social media content and opinion pieces that have been published in national newspapers.
With public education crucial to managing and recovering from the pandemic, Luisa's communications planning and creation skills are helping to ensure different audiences have the information they need to keep themselves and their families safe and healthy.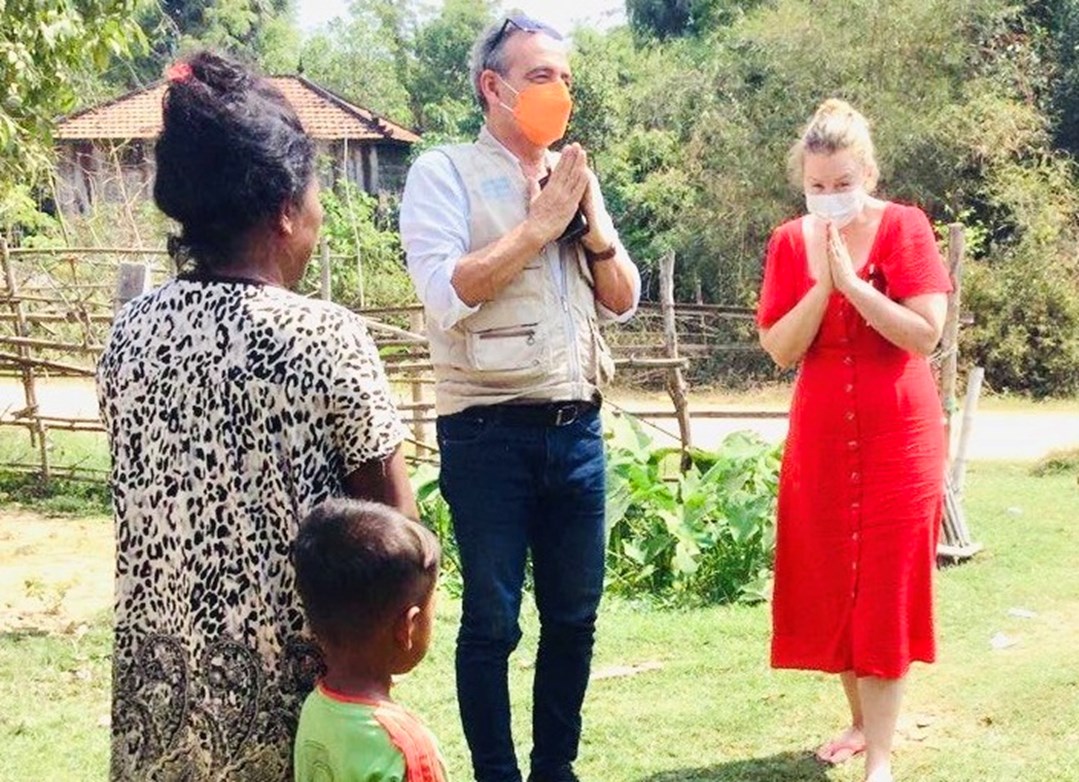 In Cambodia, Australia Assists deployee Luisa and a WHO colleague visited community members.
As COVID-19 continues to evolve, diseases increase in severity and the effects of climate change become more apparent, action to address health issues will become more urgent than ever.
Australia Assists will continue to stand alongside partners, communities and individuals before, during and after the health crises that profoundly impact humankind.