In 2019, the two countries solidified their relationship by signing the Fiji-Australia Vuvale Partnership. In Fijian, the term vuvale means 'family' and reflects the depth, breadth and warmth of our connection.
As an important part of Australia's friendship with Fiji, in 2022–23 the Australian people will provide an estimated $85.6 million in official development assistance (ODA) to Fiji.
And the relationship goes both ways. For example, in response to Australia's bushfire crisis in 2020, Fiji deployed a contingent from the Republic of Fiji Military Forces (RFMF) to assist communities in Victoria. The RFMF 'Bula Force' cleared more than 170km of roads, created firebreaks and felled trees, and was a concrete symbol of the Vuvale Partnership in action.
Lending a helping hand
To strengthen Australia's friendship with Fiji, Australia Assists, the Australian Government's humanitarian civilian deployment program implemented by RedR Australia, is providing the island country with valuable assistance before, during and after emergencies.
Supported by the Australian people, since 2017 we have deployed 34 specialists to support our Fijian friends. Working on the ground with communities, Australia Assists deployees currently in Fiji are working on a wide array of emergency responses including COVID-19, Cyclone Cody in Fiji, the Tonga volcanic eruption and tsunami, and more.
Our deployees have been hosted through 11 partners including the United Nations World Food Program (WFP), the Food and Agriculture Organization of the United Nations (FAO) and the United Nations Children's Fund (UNICEF), who are working on the ground with Pacific communities.
Fiji: a regional hub for the Pacific
A high-priority country for Australia Assists, Fiji currently receives the third-highest number of our new deployments. Australia Assists' implementing partner, RedR Australia, has established their Pacific regional office in Suva and from here, Australia Assists works with eight countries across the region.
RedR Australia's Pacific Regional Manager, Jenny Lee, says Australia Assists is investing in upskilling their local Fijian staff and increasing the number of Fijian deployees.
"We want Fijians to deploy not only in the Pacific, but also globally," Jenny said. "That's why we've invested in initiatives such as our Essentials of Humanitarian Practice training, which we launched in Fiji in 2020, and our Hostile Environment Awareness Training (HEAT) course, which we'll run for the first time in Fiji later this year.
"By making our training courses accessible to Fijians and our wider Pacific family, we're making it easier for them to deploy globally."
As climate change adaptation is an important priority for the Australia Assists program, Fiji is vital to Australia's response.
"People in Fiji understand the impact of climate change very well. So having them deploy into positions around the world – and support our climate response – is very relevant," Jenny said.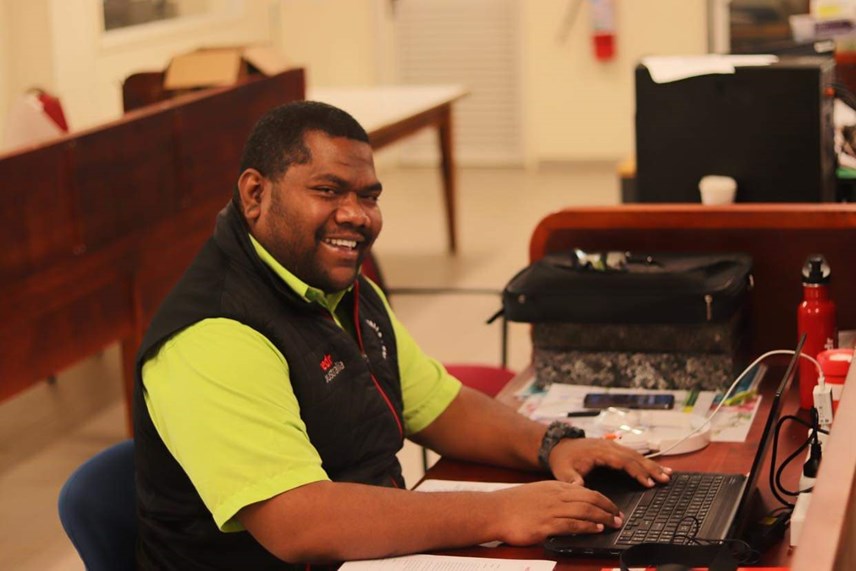 Simione is using his expert knowledge of the region to build Samoa's resilience to disasters before they happen.
Locals with global expertise
Australia Assists deployee Simione is a Fijian national and Disaster Risk Management Specialist with extensive experience working throughout the Pacific. Right now, he's in Samoa supporting their national Disaster Management Office (DMO) to strengthen disaster preparedness, response and recovery. With previous experience working for the Pacific Disability Forum, he also shares his valuable knowledge about disability inclusion.
"The biggest takeaway for me, working as part of the Australia Assists program, is the strength in recognising the capacity of the affected people; recognising the capacity of community in the Pacific," Simione said.
Pacific countries are highly vulnerable to the impacts of climate change and a humanitarian response that is owned and led by local experts has never been more important.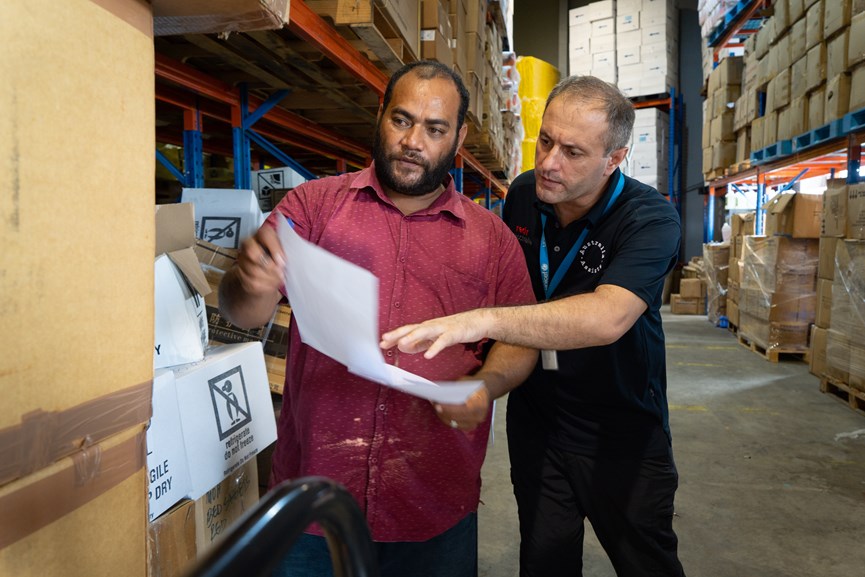 Navjuvon (right) has supported Jone and his team to develop their warehousing skills throughout the COVID-19 pandemic. Photo: Carmen Holman, RedR Australia
A friend in need: responding in emergencies
In response to the COVID-19 pandemic Australia Assists has been supporting Fiji and its Pacific neighbours to enhance their health security, stability, economic recovery and protection for the most vulnerable – especially women and girls.
As part of Australia's support for Fiji during the pandemic, Australia Assists deployee Navjuvon is working as a Supply and Logistics Specialist with UNICEF to assist Fiji's Ministry of Health's COVID-19 response
Since October 2021, Navjuvon has been helping to oversee the distribution of life-saving supplies to around 250 health facilities and hospitals across Fiji. He's also been providing dedicated training to the warehouse staff to help upskill them.
Jone, a warehouse manager who's worked with Navjuvon, is very happy with the support he and his staff have received.
"The skills that they've taken on board will help them in the future," Jone said.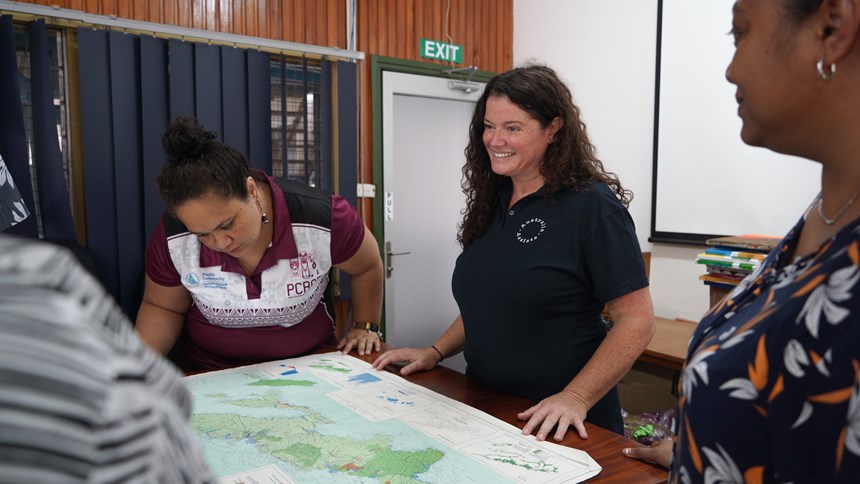 Gina (centre) is helping to train staff in 14 countries across the Pacific from her base in Fiji. Photo: Carmen Holman, RedR Australia
A stitch in time: preparing for disaster
While a third of our deployees have been busy responding to emergencies such as COVID-19 and tropical cyclones, the majority of our deployees in Fiji have been focused on preparing for emergencies before they even happen.
Working with The Pacific Community (SPC), Australia Assists deployee, Gina, has been mentoring staff throughout the Pacific to help communities respond in disasters.
A Disaster Management Specialist with prior experience in the State Emergency Service in New South Wales, Gina is training and mentoring Fijian staff such as Rokowati from the National Fire Authority. And, in turn, Rokowati has trained staff from her own agency, multiplying the impact.
"Gina has done so much. From upskilling to if I need any training materials," Rokowati said.
"When I call Gina the answer will never be 'no'."