The 2022 Asia-Pacific Ministerial Conference on Disaster Risk Reduction spanned across four days and attracted 3,000 attendees from more than 40 countries.
Hosted by the Australian Government and convened by the United Nations Office for Disaster Risk Reduction, the conference brought together ministers, government officials, private sector representatives, not-for-profits, civil society and community groups.
The conference explored the theme: 'From crisis to resilience: transforming the Asia-Pacific region's future through disaster risk reduction'.
The Asia-Pacific region is one of the most disaster prone areas in the world, with the frequency and severity of natural hazards such as tropical cyclones, floods and earthquakes rapidly increasing.
To facilitate the region's transition to a more resilient future, countries and organisations made actionable commitments towards the prevention and reduction of existing risk.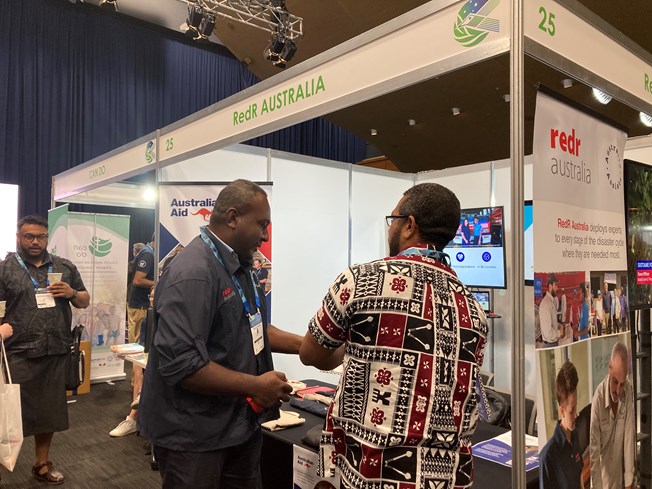 RedR Australia Pacific Regional Coordinator Penaia Kautia at the organisation's booth.
RedR Australia hosted a booth sharing the work of our humanitarian roster members who deploy worldwide to support host organisations to prepare for, respond to and recover from disasters.
RedR Australia CEO Kirsten Sayers, Commercial Director Gerry Dyer, Pacific Regional Manger Jenny Lee and Pacific Regional Coordinator Penaia Kautia were among those in attendance alongside several roster members, many of whom are currently deployed throughout Asia and the Pacific.
The conference provided a valuable opportunity for RedR Australia to connect with peers and partners committed to disaster risk reduction across the region.