Greg has worked in civil engineering for 30 years, where he has spent most of his working life in municipal engineering with local councils, namely the Greater Taree City Council and Maitland City Council in NSW. When his children grew up, Greg turned his focus to humanitarian engineering and joined the RedR Roster in 2008. 
"Humanitarian engineering is a good opportunity to help where there is a need. I realised when you're in a situation where no one around you has engineering expertise and you're the only one that does, you can provide strong input and have a positive impact on whatever projects people are working on," Greg said.
In 2009, Greg was deployed through RedR Australia to the World Food Programme (WFP) in Somalia for three months. In his role as a Construction Engineer, Greg assisted in the construction of a WFP warehouse in Mogadishu, and roads and bridges across the country. Six months after returning home, Greg was contacted by WFP and returned to Somalia where he worked as the Lead Engineer for four years.
Much to his humble surprise, Greg was listed in the Queen's Birthday 2018 Honours, but has only seen his award in a photograph due to being on deployment.
"It's a little bit crazy, isn't it?" Greg laughed. "It's quite an honour to happen. You're no different to anybody else – you're just doing your job so it's nice that other people recognise you."
Greg was deployed by RedR to the United Nations Relief and Works Agency for Palestine Refugees in the Near East (UNRWA) as a Civil Engineer in July, through the Australia Assists program.
Stationed in Jerusalem until January, Greg is assisting with the optimisation of UNRWA's construction contracting. This includes ensuring that not just price criteria are considered in contracts, but that the technical aspects and risks of projects are taken into account.
"The reason I'm here is to tie procurement processes together to allow better outcomes for the future," Greg said. "Risks have the ability to knock over projects, so they need to be laid out and dealt with, and if you don't have a process to do this, you have a problem."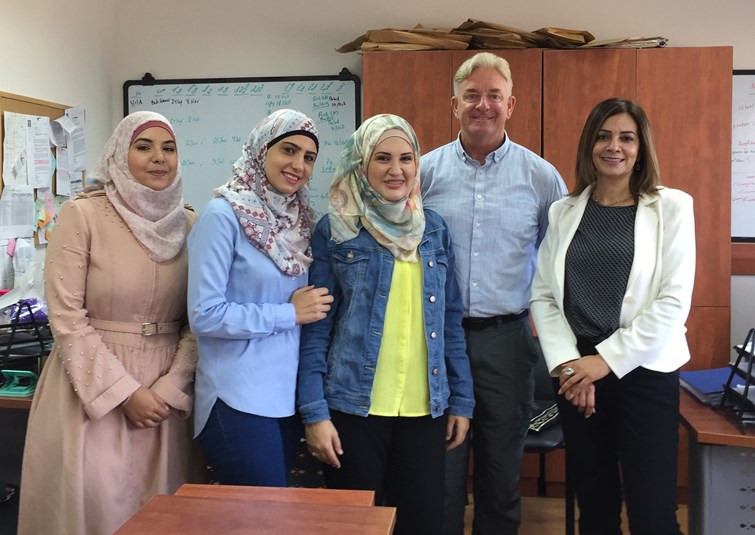 Civil Engineer with UNWRA in Jerusalem, Greg Blaze, with UNRWA colleagues. Photo credit: RedR Australia.
Greg said the beauty of humanitarian engineering is in the challenging nature of the work, and the opportunity to use his skills in places they are needed.
"When I look back on the photos from my deployments, it's incredible to think you're working on important projects that wouldn't be happening if you weren't there," Greg said.
"My message to local government engineers is that you have the technical skills, the reporting skills, the negotiation skills, and importantly, the skills to deal with communities, which are all called upon in humanitarian engineering."