For Fijian national Koila Costello, the journey to becoming an AT wasn't a direct route.
With a background in social work, peacebuilding and organisational development, Koila had crossed paths countless times with Pacific Islander humanitarians, exposing her to the sector and the critical work of local responders tackling the increasing threat of climate change.
In a fashion typical for the region, where relationships are key to building trust, Koila's work providing support to organisations working in disaster response brought her into contact with RedR Australia's local team and deployees supporting 34 partners across the Pacific.
With her transferrable expertise and local connections, Koila was onboarded as an AT in October 2021, joining a growing team of Pacific Islander trainers who are helping RedR Australia to build capacity in the region's humanitarian sector.
Koila's training skills have already been put to the test, coordinating the pilot International Planned Parenthood Federation Humanitarian Training in Fiji – a session on sexual and reproductive health in emergencies, supported by RedR Australia.
The three-day training, which will be rolled out across the Pacific in 2022, involved government and civil society stakeholders from across Fiji and taught important skills for ensuring affected populations have access to lifesaving sexual and reproductive health services during crises. Informed by the priorities of the Fiji Ministry of Health and Medical Services and other local humanitarian strategies, the training was the first to include a simulation exercise on sexual and reproductive health in emergency settings.
"The training was an important opportunity to talk across agencies and government, to cross-fertilise ways of working and ideas that will be rolled out across the region," Koila reflected.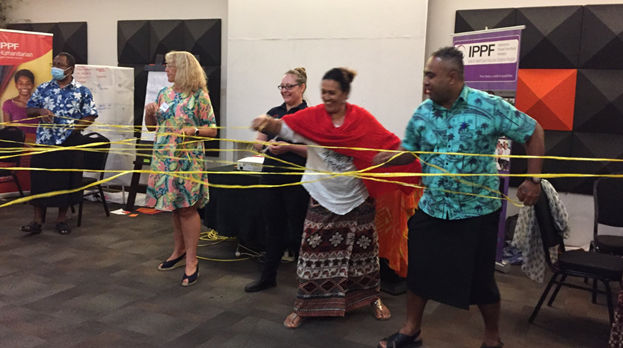 (Third and fourth from left) RedR Australia Roster member Kate Learmonth and Associate Trainer Koila Costello participate in an exercise at the International Planned Parenthood Federation Humanitarian Training in Fiji.
In March and April 2022, on RedR Australia's second and third ever Pacific Essentials of Humanitarian Practice (EHP) courses in Fiji, Koila will join a cohort of local trainers and professionals coming together to learn the core competencies for working within the modern humanitarian system.
She'll join the booked-out first 2022 course as a participant, to familiarise herself with the specifics of the training, and teach in a supporting capacity on the following course.
The two courses follow the pilot EHP in September 2020, which was the first training run by RedR Australia to be contextualised to the Pacific and its unique operating context. In addition to a focus on the region's vulnerability to climate emergencies, the training teaches an awareness of gender, protection and inclusion throughout all stages of the disaster cycle.
"It's exciting that this training has been developed with and for our humanitarians and communities, in recognition of the circumstances and needs of the region," Koila said.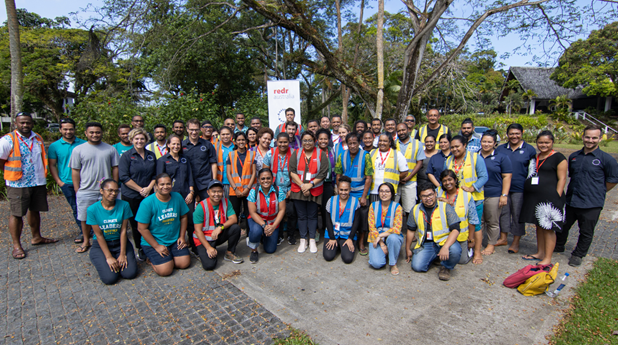 Associate Trainers and participants at the pilot Pacific Essentials of Humanitarian Practice course in Fiji in September 2020.
With many Pacific Islander humanitarians holding valuable local expertise, RedR Australia's Localisation Strategy and Action Plan aims to increase the number of Roster members, deployees and trainers from the region.
Through the Australian Government's Australia Assists program, implemented by RedR Australia, deployees work with partners across the Pacific including national disaster management organisations, government ministries and non-government organisations. Many of these deployees are from the region, working in their country of origin or a neighbouring country to help build national and regional capacity to prepare for, respond to and recover from climate crises and other hazards.
Increasing the number of Pacific trainers is key to further accelerating RedR Australia's localisation priorities, and in late 2021, a number of prospective ATs were interviewed as part of efforts to increase the pool of trainers from the region.
Koila was one of six local trainers onboarded following a rigorous recruitment process, which involved a one-hour competency based interview, followed by a 30 minute presentation to an online panel on one of three topics: the international humanitarian system; security; or disaster risk management (DRM).
Choosing DRM, Koila remembers preparing her lesson plan and presentation in the days before her session. With a background in counselling supporting those impacted by natural hazards, she incorporated her learnings from seeing the impact disasters had on families' wellbeing and livelihoods.
"I was really excited by the opportunity to bring in more of a local presence, as well as my perspective working outside of the sector but on a lot of the same issues that impact our communities," Koila explained.
Looking ahead to the upcoming Pacific EHP courses and beyond, Koila is eager to contribute her expertise from working with organisations of varying sizes, purposes and environments.
"Humanitarian systems can look complex – we need to make sure that jargon and processes don't cause a barrier and that local responders can work within and across levels cohesively," Koila said.
If you're a Pacific Islander humanitarian and want to participate in the third ever Pacific EHP course from 4 to 9 April 2022 in Fiji, learn more or register now.