Australia Assists, the Australian Government's humanitarian deployment program, has deployed three technical experts with the Samoa Police, Prison and Correctional Service (SPPCS) since June 2022. The deployments are unique to the region and have been made possible through the Samoa Australia Police Partnership (SAPP) in conjunction with the Australia Assists program.
Since its inception in 2009, SAPP has facilitated collaboration between the SPPCS and the Australian Federal Police to support the SPPCS mandate to maintain a safe and stable Samoa.
The need for Family Violence Prevention Policy
The Australia Assists Program deployees have been working closely with the Samoa Police, Prisons and Corrections Service (SPPCS) on a much-needed Family Violence Policy.
As the principal law enforcement agency in Samoa the SPPCS is responsible for providing policing services to all of Samoa which consists of four main islands of Upolu, Savaii, Manono and Apolima and other uninhabited islands. 
Violence against Women is classified as a major health problem and violation of women's human rights according to the World Health Organisation. A Samoan Family Safety Study found that one in five Samoan women reported experiencing violence from a current or former partner in the previous 12 months.
Samoa conducted a National Inquiry into Family Violence in 2018 where 86 per cent of women said they had been assaulted by a family member and 87 per cent had been emotionally abused. Ten per cent of women admitted that they had been sexually assaulted by a close relative. A second report found that the levels of violence against women and children had increased from 46 per cent to 60 per cent since the initial 2018 inquiry.
Australia Assists deployee Warren is currently working as a Policy Advisor to the SPPCS and has been developing a Family Violence prevention policy that was accepted and endorsed by the SPPCS Commissioner Filipo, in March 2023.
The policy is the first of its kind for Samoa and is a significant step in supporting Samoa Police and survivors of family violence.
"This Policy was endorsed after a significant amount of work was undertaken. To work in collaboration with Samoa Police and achieve this result is something that I am enormously proud of and will be an everlasting memory of my time in Samoa," says Warren.
The Family Violence Policy was created through extensive research and consultation with stakeholders, including the SPPCS Executive, especially Assistant Commissioner Efo Moalele, Domestic Violence Unit, Judge Talasa Saaga (Family Court), members of the Samoa Victim Support Group (SVSG), and Dr Genevieve Mannell (EVE Project).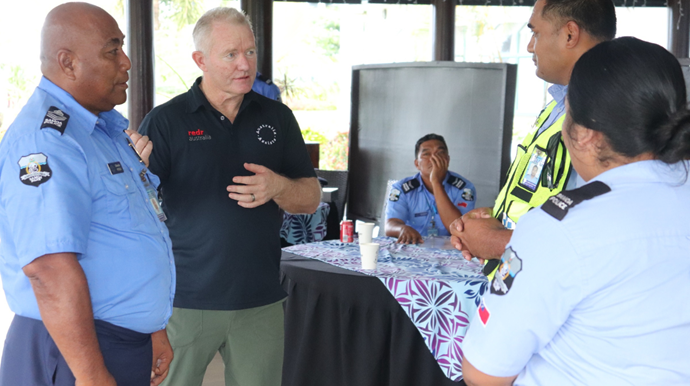 Australia Assists deployee Warren held a 2-day training conference for Samoa Police regarding the new policy for the Island of Savaii Outposts (Police Stations) in Samoa.
No excuse for Family Violence
In addition, Warren has been helping conduct Family Violence Awareness programs through Savai'i using the tagline "Fa'asamoa, Faith and Samoan culture are not excuses for Family Violence".
Samoa Police have a critical part to play in responding to Domestic Violence and keeping the public safe. The new Samoa Family Violence policy offers a consistent framework to dealing with family violence reports from prosecution through to survivor support.
The policy also includes a No Drop Policy, which outlines that Police have a duty to prosecute in matters of domestic violence and cannot endeavour to have the charges withdrawn. The No Drop Policy has been well received by the community.
"I see this as an opportunity to share my knowledge with SPPCS, in relation to Policing and Policy, with a view to reviewing and consolidating the excellent work that has already been done by SPPCS and previous advisors," says Warren.
Capacity sharing through localisation
Kasanita is deployed as a Curriculum/Training Design Advisor to SPPCS. She brings more than 20 years' experience in the training and adult education sector across Fiji, Samoa, Tonga, Kiribati, Vanuatu, Solomon Islands and Papua New Guinea, including short term stints in both Australia and New Zealand.
Her Australia Assists Program deployment is a chance for Kasanita to return to Samoa Police having previously worked as a training advisor from 2007-2012.
"Samoa Police has always had a special place in my professional heart because the work done here is being recognised by the Samoa Qualifications Authority and the learning tools are still being utilised by the police service today," says Kasanita.  
"The opportunity to return to Samoa this year and at this point in time in my career, is both humbling and appreciated especially after seeing most of my work colleagues from then, now holding very senior positions in the organisation."
Policy support critical to working towards gender equality
Faye is deployed as a Gender Advisor with the SPPCS where she is working closely with the Samoa Police Women's Advisory Network (SPWAN) to advance the integration of gender equality in annual planning processes and future reform policies. Her work included a review of existing frameworks, as well as advising on key dates and opportunities to continue to raise awareness of violence against women across Samoa and the wider Pacific region.
"As a Samoan returning home to work here in this role, it's an absolute privilege and honour to serve the Samoa Police Services in this capacity," says Faye.
Faye has been undertaking a review of Samoa Police's work on prevention and investigation into Domestic Violence to identify the challenges, gaps, and opportunities available to SPPCS.
"My role, in this season of my life, is an opportunity to give back to the nation of Samoa, to serve and build on the amazing work the Samoa Police Services have already achieved in the gender space and if equality is the end goal, I believe that equity is the means to get there," says Faye.
Faye also worked closely with Warren by contributing to the Family Violence Awareness training sessions in Upolu held in April 2023. Faye was able to provide insights into the impact and effects of family violence on children and highlight the role of the police when attending a family violence incident.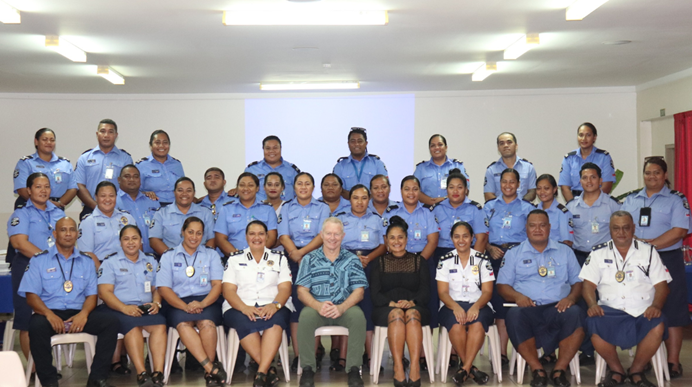 Australia Assists Program deployees Faye and Warren held Family Violence Awareness training sessions for Samoa Police in April 2023, they are pictured here with participants from the training.
"This deployment is essential because it continues to provide a voice at the table about the importance of gender related issues - in particular Gender Based Violence, Family Harm, Domestic Violence, Violence Against Women and also Girls and Children, persons with disability and elderly to name a few," explains Faye.
Sharing knowledge and skills with our Pacific neighbours has been a key objective for the Australian Government for decades and the Australia Assists Program is one way we continue to demonstrate our commitment to strong relationships in the region.
Learn more about Australia Assists and the work of deployees before, during and after crises.