On World Environment Day we consider some of the environmental work Australia Assists deployees are delivering on the ground.
Impacts from environmental hazards and climate change are concerns for most of the world, however the impacts of these challenges do not affect each country in the same way. That is why Australia Assists deployees are working to support disaster resilience and preparedness priorities to locations that need it the most.
Water and sanitation, an urgent need for flood-prone Laos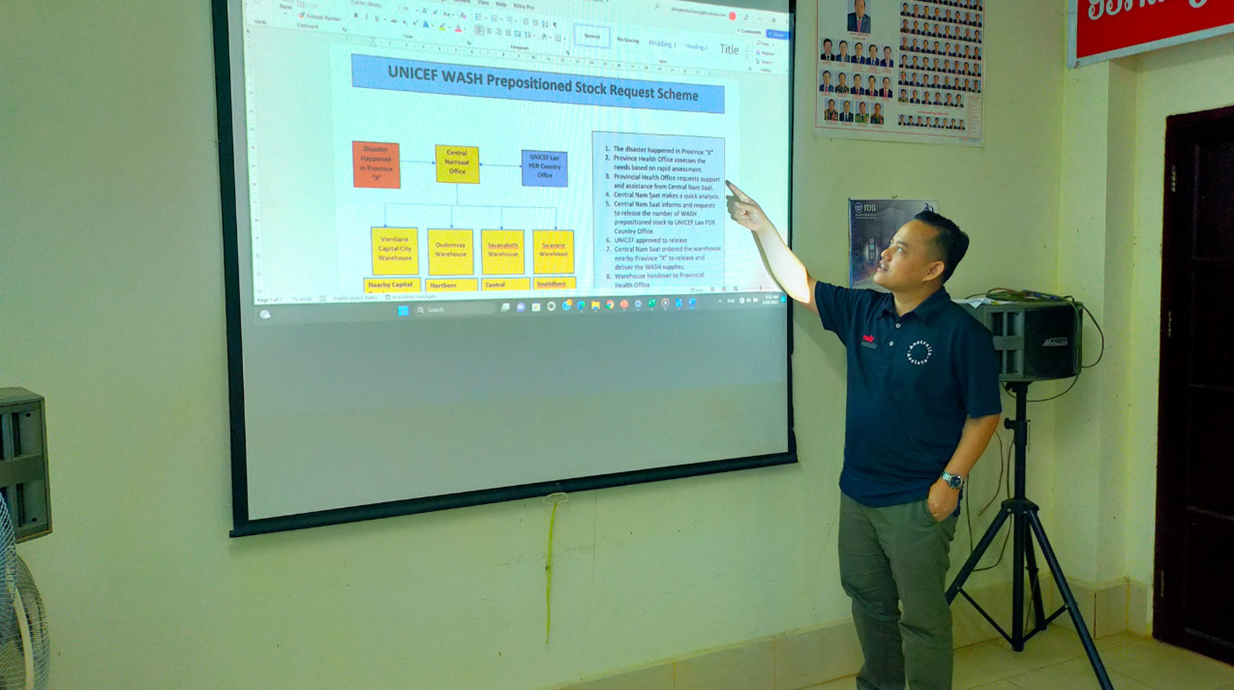 Australia Assists deployee Fauzan is a Water & Sanitation, Hygiene (WASH) expert.
Monsoon season can be perilous for the people of Laos, especially those in regional locations. Throughout the month of August 2022, repeated heavy rainfall coinciding with tropical storms triggered flash floods across multiple provinces in Laos. Flooding followed by landslides led to roads becoming impassable and many residents requiring lifesaving evacuation. In Xayabouli Province, the Houng River overflowed, covering riverside villages and submerging houses. The floods led to health risks for affected communities as water became contaminated and infrastructure damaged. 
Australia Assists deployee and Disaster Risk Reduction specialist, Fauzan, was already in country supporting the work of UNICEF and the Government of Laos in disaster resilience. Through his extensive Water, Sanitation and Hygiene (WASH) expertise, Fauzan was able to work with the UNICEF team to activate the Emergency Preparedness Plans he had been working on including an improved logistics roll-out.
"The drinking water in Laos became contaminated after the flood, showing traces of harmful chemicals and human waste. This is a major health concern. In both normal and crisis contexts, UNICEF helps to ensure that children and their families in Laos have access to safe drinking water and sanitation facilities in their homes and schools," says Fauzan.
People who were forced to leave their homes needed clothing, food and drinking water amongst other essential items.
Fauzan and the UNICEF team had made in-roads to improve processes around the logistics and management of emergency supplies in warehouses and effective distribution.
"During the 2022 floods in northern Laos, we made it simpler and quicker to transport provisions from warehouses to thousands of people in need, which is particularly important during emergency response" says Fauzan.
As a Disaster Risk Reduction specialist Fauzan has also developed Information, Education and Communication materials supporting communities to understand how to make their water safe during an emergency to prevent water-borne illnesses like diarrhea and cholera.
It is through the expertise of deployees like Fauzan that Australia Assists is able to work with partners to ensure that the people of Laos receive lifesaving assistance when natural hazards strike.
"Becoming a deployee through Australia Assists in an environment-related sector allows me to use my expertise to assist people through challenging times which is very rewarding."
Read more about Australia Assists and the work of deployees before, during and after emergencies.