For the first time, professionals from across the region came together in September this year to participate in the Hostile Environment Awareness Training (HEAT) course, delivered in Fiji with the support of the Australian Government.
Hosted in Nadi, 29 participants from Pacific Island nations and beyond undertook the immersive, simulation-based course to prepare them for work and life in crisis zones and other hostile scenarios.
Delivered as part of Australia Assists, the Australian Government's humanitarian civilian deployment program implemented by RedR Australia, the course is part of the government's commitment to the region and supports the professional development of local experts.

Humanitarians from across the Pacific learn lifesaving skills to apply in the field.
Working and staying safe in the Pacific and beyond
While climate-related hazards pose the single greatest threat to the livelihoods, security and wellbeing of communities in the region, Pacific Islander humanitarians are increasingly stepping up to respond to emergencies of all kinds across the region and further afield.
In addition to teaching participants how to stay safe in challenging scenarios, the HEAT course is helping to strengthen local ownership and leadership in response to crises across the Pacific and globally.
Pacific Regional Manager for the Australia Assists program Jenny Lee said that making the HEAT course available locally will open up more international opportunities for local experts.
"This is the first training of its kind in the region. This is really important because it's the second module of the two training courses that we deliver under the Australia Assists program." Jenny said.
"The training is an opportunity for our Pacific Islander colleagues to build their personal safety and security capacity on top of their specialised knowledge of disaster risk management and disaster risk reduction.
"Delivering the HEAT training to the Pacific allows our deployees and potential deployees to have the option not only to respond in their own countries but to deploy regionally and globally."

Australia Assists deployee Simione participates in the inaugural HEAT course in Fiji, learning how to stay safe in crises.
"It's invaluable. It's really priceless"
Simione is currently deployed through the Australia Assists program as a Disaster Risk Management Specialist to the National Disaster Management Office in Samoa. He completed the HEAT course in Fiji and said he'll be able to apply the training immediately to both his work and personal life.
"I feel confident that when I leave this training venue I'm able to use these tools to save lives and also to ensure that I am safe while saving lives," Simione said. 
"I really enjoyed the learning that I have gained and I really appreciate the knowledge and skills that I learned throughout the week."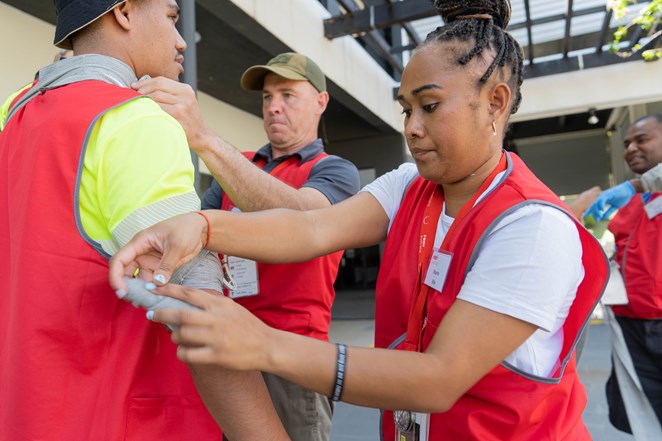 Australia Assists deployee Sharin (right) learns valuable skills to enhance her work in disaster response.
'I feel more prepared now than I was before"
Working with the Ministry of Health in Vanuatu, Australia Assists deployee Sharin participated in the HEAT course to add to the skills she uses in her current role and on future humanitarian deployments.
"As a humanitarian worker, you will find yourself deployed to a hostile environment or emergency response. After learning the types of skills covered in the course, you will definitely find yourself more confident because you have the necessary skills to go out there and do the work," Sharin said.
"I feel like the skills that I've learned this week will definitely help me in my future deployments to not just respond to natural disasters but any other crises in the future that might happen.
"I am so grateful to be deployed by the Australia Assists program, to share the skills, knowledge and experiences that I have to help people in need, to save lives and spread positivity."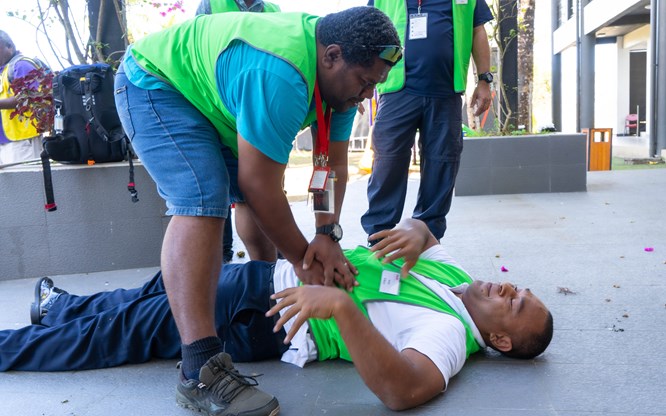 Australia Assists deployee Simione (left) and Isoa (right) from the Fiji National Fire Authority learn emergency casualty care skills.
"It gives me a new perspective"
Isoa from the Fiji National Fire Authority signed up to the HEAT course to learn skills to take back to his role as Head of the Station.
"The simulation side of the training… gave us a great realisation of what a real life situation would be," Isoa said.
"In my current position, I expect to be the one doing the decision making but being thrown into this type of team work I learnt there are some things we do not know but others are there to help us.
"It gives me a new perspective when I go back to my station, I know that I may not necessarily know everything, there may be others that know better, so it's up to me to get everyone working together so we can come up with a better solution."
Learn more about Australia Government supported humanitarian training courses in the Pacific, Australia and Jordan.