When Russian tanks rolled into Ukraine in February 2022, it marked the beginning of protracted violence and destruction in breach of international laws. Since then, some 14 million Ukrainian people have been displaced – more than half the population of Australia – with six million now outside Ukraine and another eight million internally.
The Australian Government is a consistent supporter of Ukraine's sovereignty and territorial integrity. Through Australia Assists, technical experts in data analysis, shelter, child protection and crisis education are working with humanitarian partners across Europe, assisting civilians impacted by the humanitarian emergency.
Australia Assists is the Australian Government's humanitarian civilian deployment program implemented by RedR Australia, and forms part of the Australian Government's support for peace and stability in Ukraine and across Europe.
Scaling the response
Australia Assists deployee Alper arrived in Geneva in March 2022 as a Senior Emergency Analyst with UNICEF and was the first deployee sent to support the humanitarian crisis as it unfolded in Ukraine.
His expertise in data collection, methodology and analysis was a critical resource for the team to best understand the number of people fleeing Ukraine, where they were going and how quickly the crisis was evolving. Analysing data is essential to inform decision making in a humanitarian crisis, in order to design an impactful coordinated response to the scale of need as well as to determine priorities.
Alper and the UNICEF team managed and analysed information related to the humanitarian situation both within Ukraine and the neighbouring countries receiving refugees. The team also provided on-demand and ever-changing technical information management and analysis support to teams on the ground in Ukraine.
"Having strong assessment skills, including knowledge of different data collection methodologies for needs assessment, gave me the opportunity to comprehensively analyse the data, exposing gaps in the response for country clusters to act," Alper told us. "I also encouraged UNICEF to engage with other actors and share our data to increase its use and impact."
Alper understands that while his deployment is complete, the crisis continues. "The refugee crisis from Ukraine is having a devastating impact on people who are facing indefinite internal and external displacement, resulting in a range of acute humanitarian protection and assistance needs. For humanitarian organisations on the ground, data management and analysis skillsets are crucial, to reflect the situation in surrounding countries and inside Ukraine."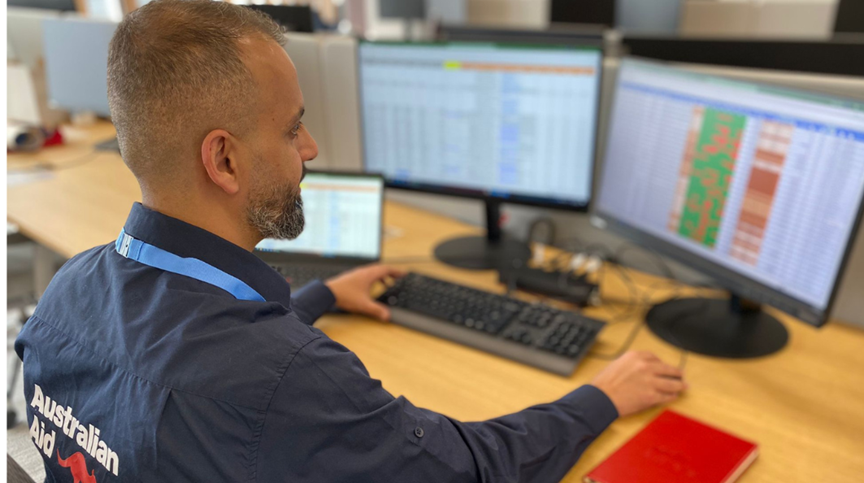 Australia Assists deployee Alper supported UNICEF to respond to the humanitarian situation both within Ukraine and neighbouring countries using his analysis skills.
Seeking shelter

When people flee their homes and homelands to save their lives and protect their families, they do so in hope that shelter and refuge is ahead.
That's when organisations like UNHCR engage the expertise of Australia Assists deployees like David. A shelter expert previously deployed to respond to the Syrian crisis, David began work with the shelter team at UNHCR in Romania in early June 2022, in the wake of the invasion of Ukraine .
David's role as a Shelter Officer required him to draw on his experience as an architect and a humanitarian, designing transit sites for Ukrainian refugees while providing technical advice and solutions on challenging shelter issues particular to the crisis.
Transit sites are the first accommodation point for people fleeing danger as they cross the border in the hope of relocating to more permanent accommodation. The scale of the Ukraine crisis means that it has been important to assess transit sites for the potential to expand, accommodating the growing number of displaced Ukrainians.
David's work has also considered the needs of persons with disability, facilitating equitable access to shelter and services at transit points. He designed child play spaces within the transit sites and utilised mental health design techniques within the layout of the collective accommodation model. His work on the UNHCR enrolment centre in Bucharest also included a parent's room and feeding rooms for mothers to feed babies and receive midwife support.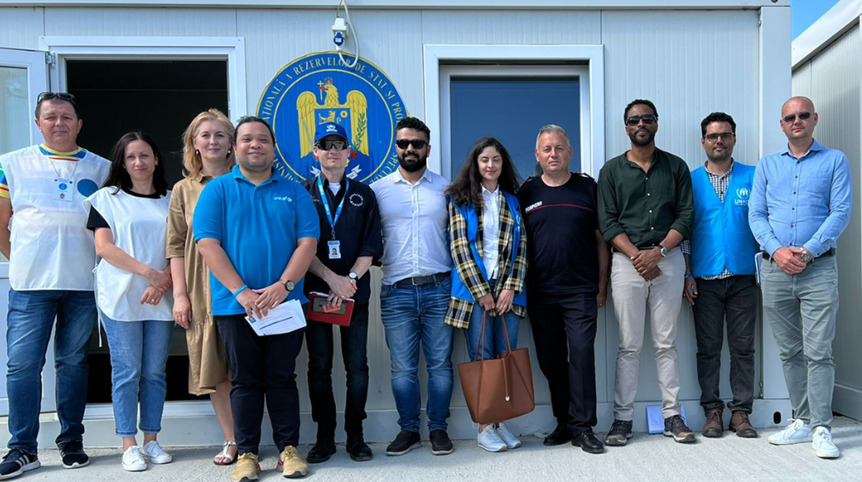 Australia Assists deployee David (fifth from left) and the shelter team in Husi conducted a site assessment of an existing transit centre for the accommodation of Ukrainian people.

Women and children, bearing the brunt of conflict
The majority of refugees fleeing Ukraine are women and children. Children make up about 40 per cent of refugees fleeing the country, making child protection services a priority for organisations such as UNHCR.
Australia Assists deployee Lucy was a Child Protection Officer with UNHCR, based in Prague, Czech Republic, supporting the integration of Ukrainian refugee children into the national child protection system. Lucy applied her expertise to strengthen the support system for child protection as well as to develop and expand programs in collaboration with national authorities and partners. A key deliverable for Lucy was supporting the localisation of the humanitarian response through knowledge sharing, training and coaching of local UNCHR staff and partners.
Lucy says of her deployment, "working in crisis is always about multi-tasking and time management, hence I have worked on inter-agency coordination, partner engagement, monitoring and reporting, fundraising, regional Child Protection coordination, child protection advocacy, mainstreaming of child protection, budgets and programmatic planning and research/surveys."
Lucy's skills in relationship fostering lead to her developing a large network of contacts, providing invaluable insights on key emerging issues impacting children and other refugees across the region.
Through her relationship with a local NGO, Lucy learned that crowds of up to 3,000 refugees were waiting too long for appointments regarding their cash benefits.
"I coordinated a field mission to the site with other colleagues and collected information on the impacts, particularly on women and young children who were sometimes waiting for days to be seen. I then provided a report to the Head of Office which together, with other advocacy on behalf of UN agencies and NGOs, led to a change in the processing of these payments," Lucy explained.
Australia Assists deployees like Lucy work to make lasting and impactful differences to communities in crisis. Lucy's expertise in child protection has enabled her to advise and inform on best practice for children who've fled Ukraine.
She says, "I have advised on a number of key child protection issues including the return of children to Ukraine and on gaining better access to data and information on both unaccompanied and separated children."
Having recently completed her deployment, much like Alper, Lucy notes that work must continue and evolve with the changing humanitarian landscape. She has flagged and shared that emerging issues should be considered such as increased access to psychosocial and psychological support for women and children who have fled Ukraine.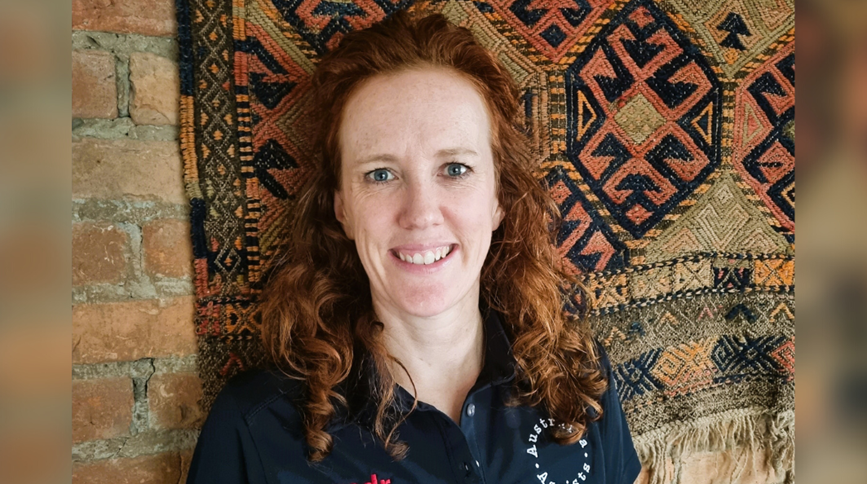 Australia Assists deployee Lucy supported the integration of Ukrainian refugee children into the national child protection system.
Education can save futures
UN data reveals that the war in Ukraine has resulted in the destruction and damage of more than 3000 schools and other learning institutions, according to the data of the Ministry of Education and Science of Ukraine. Australia Assists deployee Claire is an Education in Emergencies Specialist with UNESCO, based in Paris.
Claire tells us, "the education system plays a critical role in the lives of children and adolescents living in conflict-affected zones. Not only is it a fundamental right, but inclusive and equitable education also plays a critical role in the protection and wellbeing of individuals and the cohesion of communities: education can save futures, sustain lives, protect livelihoods, and reduce the risk of violence."

The war's impact on the lives of the displaced Ukrainian population presents extraordinary risks to their mental health and wellbeing, with the consequences likely to be felt for decades to come.
The protective capacity of education is currently threatened: children and teachers affected by the war have an increased risk of suffering emotional harm and developing mental health problems with grave implications for their overall health and future.
Claire explains that, "priority has been granted by the Government of Ukraine and the First Lady, to mental health and psychosocial support (MHPSS) interventions. The Ministry of Education and Science with the support of UNESCO continue to work together for the transformation of mental health services within the education system to better serve the current state."
Embedding MHPSS services in schools and other education units means that there can be equitable access to support. Coordinating multiple partners acting in this space has been imperative to the provision of education and technical support.
Answering the call: Through Australia Assists, the Australian Government has supported Ukrainian communities across Europe to access protection and support with dignity. Australia continues to support the global mission for peace and stability for Ukrainians through a range of other measures.
Read more about the work of Australia Assists deployees standing with humanitarian partners globally before, during and after emergencies.