In a career spanning more than 30 years, Leonie has trained thousands of humanitarians from all sorts of backgrounds, ranging from university students to female protection advisers in Myanmar to officials of the Association of Southeast Asian Nations (ASEAN), in the fundamentals and finer points of humanitarianism.
Most recently, Leonie has led a four-week Security Management for Humanitarians course on the latest theories and methods in security to humanitarian workers worldwide. Delivered in partnership with RedR UK, the online training recognised that humanitarian assistance is increasingly being carried out in volatile environments, and that security risk management is essential to enable the safe delivery of aid.
For Leonie, the course is one of many training opportunities that keep her busy with United Nations (UN) agencies and non-government organisations in Australia, Asia, Africa and the Middle East.
Together with fellow RedR Australia AT Carol Yeates, Leonie delivered a four-week course on project management and proposal writing in November to 24 humanitarians from the 10 ASEAN countries. This formed part of the ASEAN Coordinating Centre for Humanitarian Assistance's seventh and final Centre Executive Programme, an eight-month course with aims to develop future leaders of disaster management.
As a self-described failed musician turned army commander turned peacekeeper, Leonie spent the better part of two decades on UN missions detecting and destroying landmines and other remnants of war.
Going on to complete a Graduate Diploma in Vocational Education and Training, she describes her transition to becoming a humanitarian trainer as "well thought out".
"I realised that if you have a skill, there's only one of you. You can't just go running from one country to the next solving the problems of the world, you also need to pass on your knowledge and empower people who really own the problem to solve the problem," Leonie said.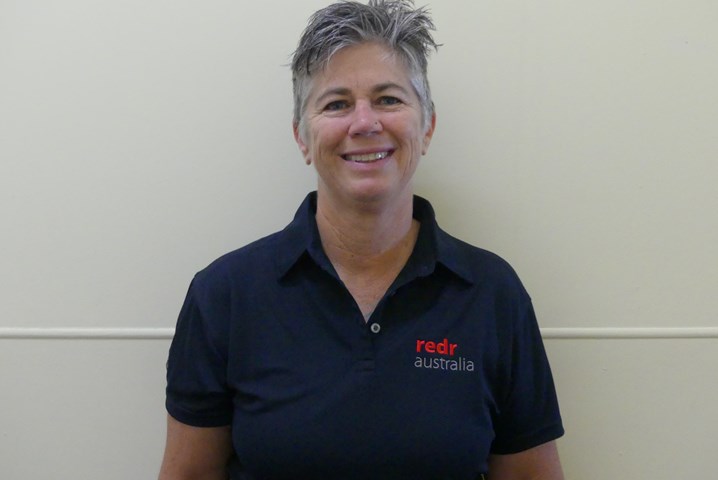 Leonie had a career in the army and as a UN peacekeeper before becoming an associate trainer with RedR
In October, Leonie designed and delivered an immersive, weeklong workshop as part of a six-week internship run by Deakin University's Centre for Humanitarian Leadership. As the final week of the inaugural Humanitarian Action Team Internship, a virtual project for undergraduate students from various disciplines to learn more about the humanitarian sector, the workshop was designed to put the previous five weeks of learning to the test. It included a variety of practical scenarios that humanitarians may face in the field as well as "a little bit of life according to Leonie".
Each morning, the Deakin students were taught about the various elements of disaster response – including how to categorise to disaster, produce a situation report, participate in a coordination meeting, and gather data for a needs assessment. In the afternoons, they were mentored by Leonie to complete a practical task.
"The students were dropped in to each experience and were faced with all sorts of pressures, and had to make a plan to get from A to B… They learned how to use a radio, how to make a trip plan, had to decide what to take in their bag, everything that they'd face as a humanitarian on the ground," Leonie explained.
On the final day, the interns met virtually with the United Nations Office for the Coordination of Humanitarian Affairs, where they presented their work and decisions from the week.
Designed to give students an understanding of the various components of a humanitarian response, the workshop was a blend of Leonie's own humanitarian experience as well as her learnings from training professionals all over the world.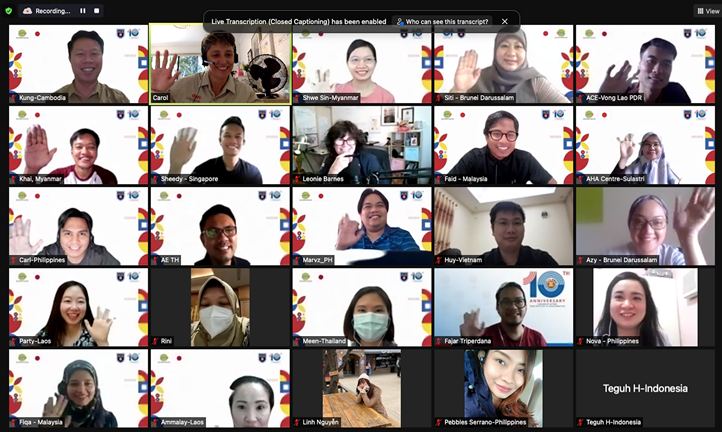 Twenty-four humanitarians from the 10 ASEAN countries learnt about project management and proposal writing from RedR Australia associate trainers, Leonie and Carol.
Thanks to her studies, Leonie recognises that adults all learn in different ways, and always tries to "read the group" and follow the VARK model to account for visual, aural, read/write and kinaesthetic learners.
"That doesn't mean one person won't learn anything until we get to the kinaesthetic part, but it means that the whole experience is interesting enough… And when it's their turn to learn in the way that they like, they really sit up and take notice," Leonie explained.
With most learning continuing to be held online, Leonie added that it's crucial to acknowledge that some trainees are participating from their homes, hotel lobbies or even internet cafes.
"As a facilitator, you have to stop and think about the environment that people are coming from, and really recognise and respect that. Sometimes it's as simple as saying 'How's the family going?', and not just jumping in and pretending that it's not happening," Leonie said.
She added that it's always important to build fun and sharing into learning, in a way that's respectful of the audience and context.
"You can't live experience that you haven't lived, but you can borrow it from somebody else. If you give people the opportunity to share their experiences and learn from each other, you don't have to do any teaching. It happens in that group anyway," Leonie said.
Leonie's trainees consistently tell her how much they enjoy the learning environment she creates – a reflection on her style of "letting people pick and choose how they want to learn".
In terms of advice for future humanitarians, Leonie recommends a manual drivers licence, first aid course, and – most importantly – working in one's own community and country first, before going overseas.
To learn more about RedR Australia's training courses delivered by expert trainers like Leonie, visit: https://redr.org.au/training-courses/our-courses/