Supported by Australia Assists, RedR Australia delivered its flagship Essentials of Humanitarian Practice (EHP) and Hostile Environment Awareness Training (HEAT) courses back-to-back from April 26 at the Dookie Campus. ­­­
In EHP, participants included those looking to join the RedR roster as well as professionals from a range of backgrounds, who were provided with the essential knowledge and skills to operate effectively in the modern humanitarian sect­­or. 
"I have a greater appreciation for what­­ it would involve if I was to be deployed into a humanitarian response. I am also more confident that this is something I am interested in pursuing, and could be useful in and contribute to," said Phoebe, a Water Engineer at GHD, who completed the April session of EHP.
HEAT ran from May 2–6, and again from June 19–23, with participants learning the skills to manage the personal security risks that come with working or travelling to challenging, remote, or hostile environments.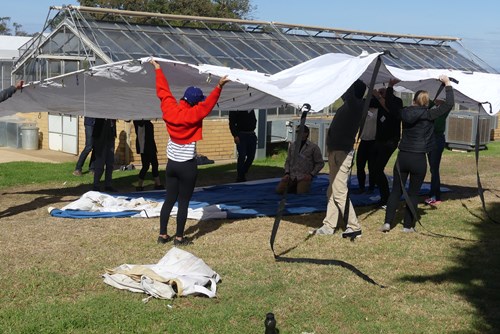 Participants during a shelter exercise at the April session of RedR Australia's Essentials of Humanitarian Practice (EHP). 
April also saw RedR Australia Capability and Training Manager, Mark Gossage, travel to Brunei to support the 11th ASEAN Emergency Response and Assessment Team (ERAT) Induction training, attended by emergency responders from all 10 ASEAN member states.
The training included inputs from RedR Australia, MapAction, International Federation of Red Cross and Red Crescent Societies, Pacific Disaster Centre, and United Nations Office for the Coordination of Humanitarian Affairs Asia Pacific. During the eight-day course, participants completed a 48-hour simulation, where they worked to formulate a coordinated response to a fictional earthquake scenario in Metro Manila, Philippines.
"Participants of the course will form future emergency response teams deployed in the immediate aftermath of a disaster, and will be responsible for coordinating the humanitarian response under the NDMO of the host country on behalf of the ASEAN Secretariat," said Mark.
"The course's objective to strengthen the coordinated efforts of ASEAN responders is the embodiment of localisation."

Participants of the 11th Induction Course of ASEAN-ERAT held in Brunei and supported by RedR Australia. Photo credit: AHA Centre
Continuing its history of crisis response simulation training, RedR Australia also delivered DFAT's Humanitarian Emergency Response Training (HERT) at the Fiji High Commission in June, to participants from High Commissions across the Indo-Pacific region.
Across the two-day course, RedR Australia facilitated the simulation of an earthquake in a fictitious Pacific country. Participants had to work through the simulation, testing the internal processes and coordination mechanisms of the Australian Government's humanitarian response in such a scenario.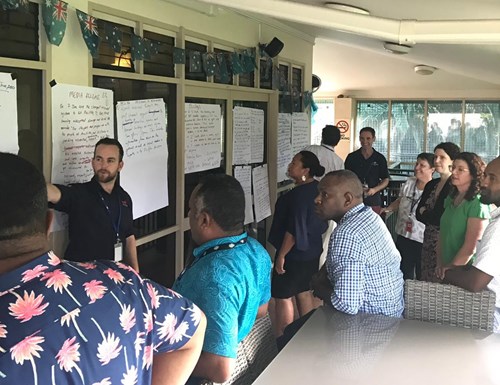 RedR Australia Capability and Training Manager Mark Gossage delivering Humanitarian Emergency Response Training (HERT) for DFAT at the Fiji High Commission in June. 
RedR Australia also delivered courses for its university partners this quarter, including a shelter workshop as part of RMIT's Master of Disaster, Design, and Development (MoDDD). Held in Marysville, Victoria, students worked through shelter-based humanitarian response scenarios in both rural and urban contexts under the lead of experienced RedR Australia Associate Trainers Nicole Hahn and Regan Potangaroa.
RedR Australia Senior Humanitarian Trainer Peter Grzic also delivered an Introduction to Humanitarian Practice course to 30 graduate students at Charles Darwin University. Held in the final week of June, the training introduced students to the foundational knowledge needed for working in the humanitarian sector, and for responding to an international crisis.
RedR Australia's next scheduled course is Essentials of Humanitarian Practice (EHP), held on August 21–26. Hostile Environment Awareness Training (HEAT) will follow on August 28–September 1. Interested participants are invited to register at our website: https://www.redr.org.au/training/humanitarian-training/