RedR Australia trainers Peter Grzic and Petra Letter led an Essentials of Project Management and Proposal Writing week-long course at the AHA Centre in Jakarta during July and August, shaping the development of future ASEAN leaders in emergency responses.
This was followed by the training team delivering Crisis Response Training with DFAT staff over three days in Manila in August, where they tested their crisis management and business continuity protocols in the event of a catastrophic earthquake in Metro Manila.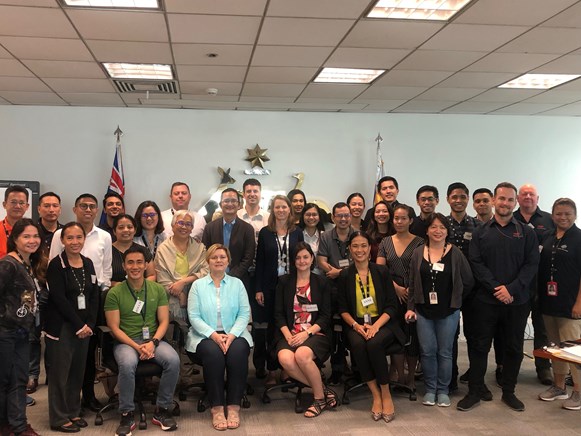 RedR Australia's Crisis Response Training team with DFAT staff in Manila. Photo supplied. 
September saw RedR Australia also support training for 38 participants in the Center for Excellence and IFRC's Health Emergencies in Large Populations Course in Honolulu, as well as head of training, Mark Gossage, return to Indonesia to support training at the ASEAN AHA Centre, Training of Trainers in Bogor. Here, emergency responders from across ASEAN member states worked together on humanitarian response modules they designed.
Back in Australia, RedR Australia's core training courses continued with the support of Australia Assists. In a busy period for the training team, Essentials of Humanitarian Practice, Hostile Environment Awareness Training, and Humanitarian Logistics in Emergencies all ran during August and September.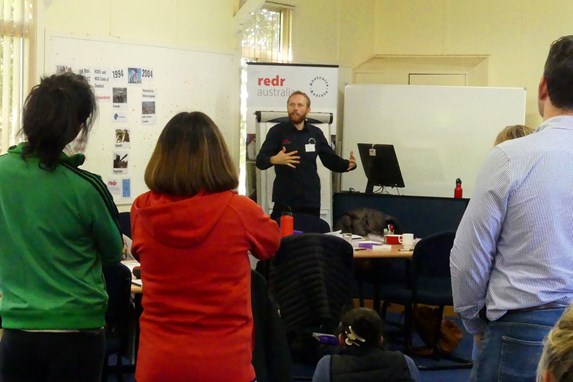 Senior Trainer Peter Grzic teaching foundational humanitarian training to 22 participants undertaking RedR Australia's Essentials of Humanitarian Practice course at Dookie. Photo supplied.   
One EHP participant said, "It's an amazing, concentrated, information filled exposure to humanitarian response.  A "boot camp" for humanitarians, or future intentional humanitarian which provides a space to experience real operation planning etc. within a scenario situation".
Whilst for HEAT, evaluation comments from INGO participants included, "I want to thank you for an excellent course. I thoroughly enjoyed it. I am convinced that this level of training is a must, and I will ensure it continues to be a prerequisite for all our staff deploying overseas, thanks again".
Enriching the courses with a diversity of backgrounds and experience, participants for the core courses spanned Australia Red Cross, International Committee of the Red Cross, Oxfam Australia, DFAT, PSI Papua New Guinea, Royal Perth Hospital, Project Everest Ventures, Save the Children, Department of Defence, Royal Australian Airforce, Monash University, and RMIT.