The Pacific Essentials of Humanitarian Practice (EHP) training will be delivered across two courses, each held over six days, with the aim of sharing knowledge and strengthening local ownership and leadership in responses to disasters and times of crisis in the region.
With climate-related hazards posing the single greatest threat to the livelihoods, security and wellbeing of Pacific communities, the training will enable local specialists to further step up to provide humanitarian support to their communities and regional neighbours.
The training will also allow for more Pacific Islander humanitarian and disaster management experts to join the RedR Australia Standby Roster for deployment throughout the region.
With the first 2022 course already booked out and the second course nearing capacity, RedR Australia has utilised its strong network of local specialists, including those in its regional office in Suva, Fiji's capital, to coordinate and deliver the internationally-recognised training.
The contextualised training will cover:
Taking part in an international humanitarian operation
The characteristics of natural hazards and complex emergencies
The requirements for an effective humanitarian response
Managing climate and disaster risks in humanitarian action
Risk management processes to deal with climate and disaster risks
Climate and disaster resilience building
Gender, protection and inclusion throughout all stages of the disaster cycle
Examples from the region, particularly of different risk treatment options in Pacific island countries and communities.
The two 2022 courses follow the inaugural Pacific EHP in September 2020, which was delivered in Fiji to 34 participants representing eight nationalities, of whom 82 per cent were from the region.
Attendees gave the course an overall satisfaction rating of 92 per cent, with United Nations and NGO staff saying the training improved their understanding of the international humanitarian system in the context of disasters as well as the unique challenges facing the Pacific.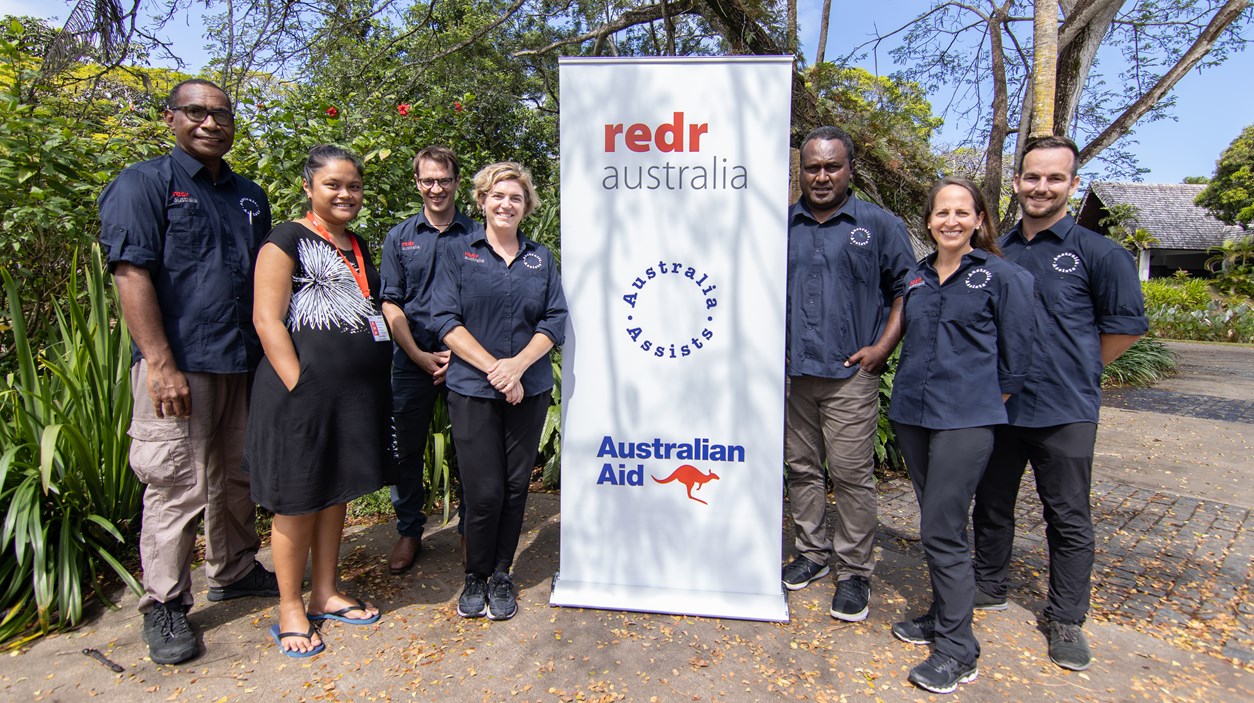 The RedR Australia Pacific team and Associate Trainers at the first Pacific EHP in Fiji in September 2020.
Former training participant and Pacific Disability Forum Manager – Preparedness (Emergency Response Unit) Katabwena Tawaka said the training helped bring together actors from across the region.
"Being in a room with different partners, having that shared knowledge on how you apply different topics in a Pacific context was great," Mr Tawaka said.
Australian High Commissioner to Fiji John Feakes said the training formed part of Australia's commitment to help the Pacific reduce disaster risk and build resilience in line with the Australian Government's regional priorities.
"There has never been a more important time to strengthen disaster management in the Pacific. The Australian Government is pleased to provide support to build these essential skills and to partner with RedR Australia to deliver this training," Mr Feakes said.
RedR Australia CEO Kirsten Sayers said the EHP played an important role in RedR Australia's efforts to recognise, respect and strengthen the independence of leadership and decision-making by national and regional actors in humanitarianism.
"Locally-led responses are key to more effective humanitarian action. RedR Australia is committed to prioritising training and partnerships that reinforce local leadership and capacity across the disaster management cycle," Ms Sayers said.
The EHP courses will be held at the Pearl Resort, Pacific Harbour, Fiji. Course one runs from 28 March to 2 April; course two runs from 4 to 9 April 2022. Learn more.