To the everyday person, working in emergency management sounds thrilling. Saving lives every day, pulling people out of harm's way. Making a permanent and life-changing difference for individuals and their communities.
And while those 'on the ground' responding to disasters do play these vital roles, there are others who play an equally important part. They're ensuring this work can happen efficiently and effectively – and protecting communities before disasters even occur.
Fire, flood and pestilence
During her long and successful career in Australia, Bec worked in emergency services, then studied a Master of Emergency Management, later working in a state-level emergency response structure. It was during her master's that Bec learned about the United Nations (UN) system and was inspired to move into the humanitarian sector.
"While studying, I felt like humanitarian work was a natural extension of what I was already doing. After working for so long in Australia responding to things like search and rescues, bushfires and floods, I was interested to work on disasters around the world," Bec said.
After taking the plunge and moving full-time into humanitarian work, Bec hasn't looked back. Initially deployed as a RedR Australia roster member to Vanuatu in 2019, Bec's first humanitarian role involved providing technical advice on disaster management strategies, legislation and policies to Vanuatu's National Disaster Management Office.
Since March this year, she's been working in Suva, Fiji, as a RedR Australia roster member for the United Nations Office for the Coordination of Humanitarian Affairs (OCHA). The position was made possible through RedR Australia's partnership with the UK Government's Foreign, Commonwealth and Development Office (FCDO).
"Being a dual national who was born in the UK who later moved to Australia, a partnership between RedR Australia and the FCDO seemed very fitting," Bec said.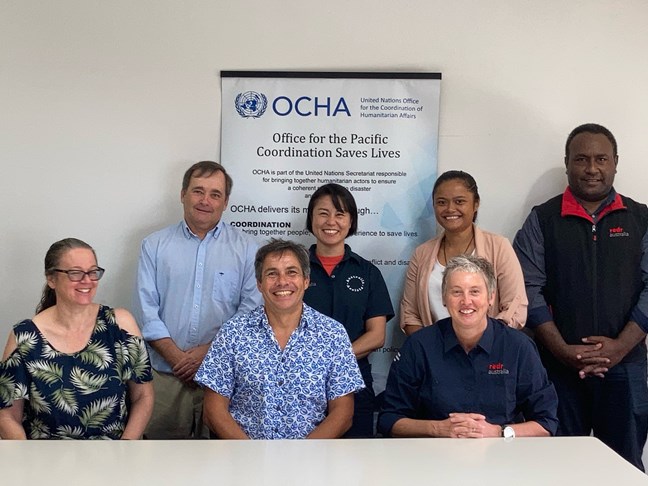 Bec (bottom right) with her colleagues from OCHA, FCDO and RedR Australia.
"We're the glue"
As a Humanitarian Affairs Officer with OCHA, Bec's role is to ensure national governments, UN agencies, international non-government organisations (INGOs) and other partners are effectively supporting communities affected by disasters.
"I came to OCHA this year to respond to the emergency in Tonga, following the Hunga Tonga-Hunga Ha'apai volcanic eruption and tsunami in January. The eruption affected more than 80 per cent of the population in some way," Bec said.
However, with COVID-19 making it difficult to be based in Tonga, Bec has instead been based in Fiji as she supports the response, and has also branched out into preparedness planning.
"At OCHA, our role is to improve coordination between all the agencies working on the ground. It's important work and our aim is to get the best-possible result for communities.
"We're the glue in the middle of the system – and I was excited for the challenge. All my previous experience has come together in a perfect way to help me in this role," Bec said.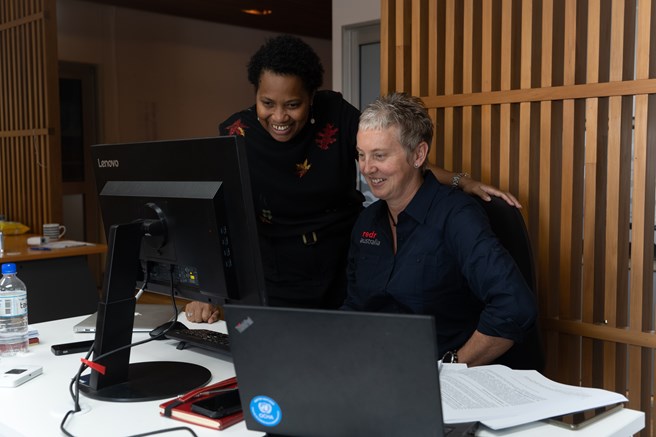 Bec works closely with a wide range of organisations to effectively support disaster responses. Photo: Carmen Holman, RedR Australia
Plugging the gaps – before they appear
At OCHA, Bec is supporting the Pacific Humanitarian Team (PHT) – a network of humanitarian organisations, including UN agencies and INGOs. The PHT supports national governments across 14 countries in the Pacific and helps them to prepare for and respond to disasters.
"I have met with many different people from various agencies and organisations both in person and virtually. We are working together to assess their capacity to rapidly upscale activities – which is vital for the Pacific, as so many natural hazards can hit the area at short notice.
"One of my personal highlights was building a process that can give us an early warning sign of emergency supply gaps – which is especially important given current world events and their effects on global logistics," Bec said.
"Their default setting is happy"
Bec has also fallen in love with the Pacific region.
"The people here have a strong sense of teamwork, sharing and caring for family. The OCHA office were very welcoming and accepting, and I settled into the role quickly.
"The Pacific is just such a lovely place to be and the people are wonderful. Their default setting is happy!" Bec said.
Our climate challenge
Working in the Pacific has also shown Bec the coal face of the world's climate challenges.
"Pacific island countries are the world's least carbon emitting nations – but they bear the brunt of sluggish emissions-reduction measures by other countries," Bec said.
She can see how this is causing significant distress and anguish for Pacific communities.
"Support for this region is crucial, even imperative," Bec said.