Launched on Friday, May 3, individuals and organisations across RedR Australia's network held celebrations throughout May and into June, decorating their offices in red, putting on spreads of delicious red food, and dressing in their best red-coloured clothing in celebration of RedR's work.
Staff at RedR Australia's corporate partners also heard from the Australia Assists team deployed to support the Solomon Islands National General Election in April. Members of the team attended offices across Melbourne, Sydney, and Brisbane, speaking of their experience in facilitating a peaceful election across the country.
RedR Australia CEO Kirsten Sayers said RedR Day is an important way for organisational networks to engage in humanitarian response work.
"RedR Day is a great opportunity for us to engage our partners and the community in our work, particularly those who are outside the humanitarian sector. We very much appreciate the support of our partners and staff who have supported RedR Day so generously this year," said Kirsten. 
In line with this year's theme, Emergency Preparedness in the Pacific, all funds raised will support RedR Australia's response in the Pacific to help communities prepare for the frequent emergencies experienced in the region.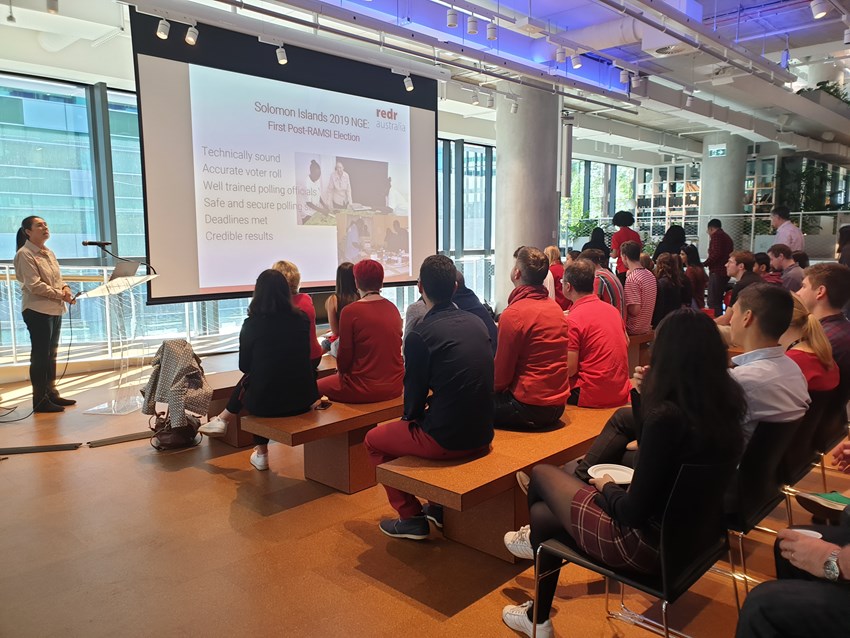 Australia Assists deployee Amanda Moulding speaks to staff at RedR Day celebrations at Arup's Melbourne office, about her deployment to support the Solomon Islands National General Election.