Since March 2018, Monitoring, Evaluation and Communications specialist, Robert Arcidiacono, has been working alongside a team of electrical engineers at UNHCR Jordan to support the ongoing operations of solar plants for the Za'atari and Azraq refugee camps, which provide 100,000 refugees with increased access to electricity.
"I've been fortunate as part of this deployment to work with a great team of UNHCR technical staff who have taken these projects from first concept through to their current, first of its kind provision of electricity in a refugee camp," Robert said.
Between 9 and 14 September 2018, SunSHIFT Managing Director Will Rayward-Smith visited UNHCR Jordan, including Za'atari and Azraq camps, looking at the operation from a technical solar engineering expertise lens on behalf of SunSHIFT.
"At SunSHIFT, we're passionate about increasing access to reliable, affordable and sustainable power and are delighted to be the first company to participate in the Australia Assists program, where we can backstop deployees in the field."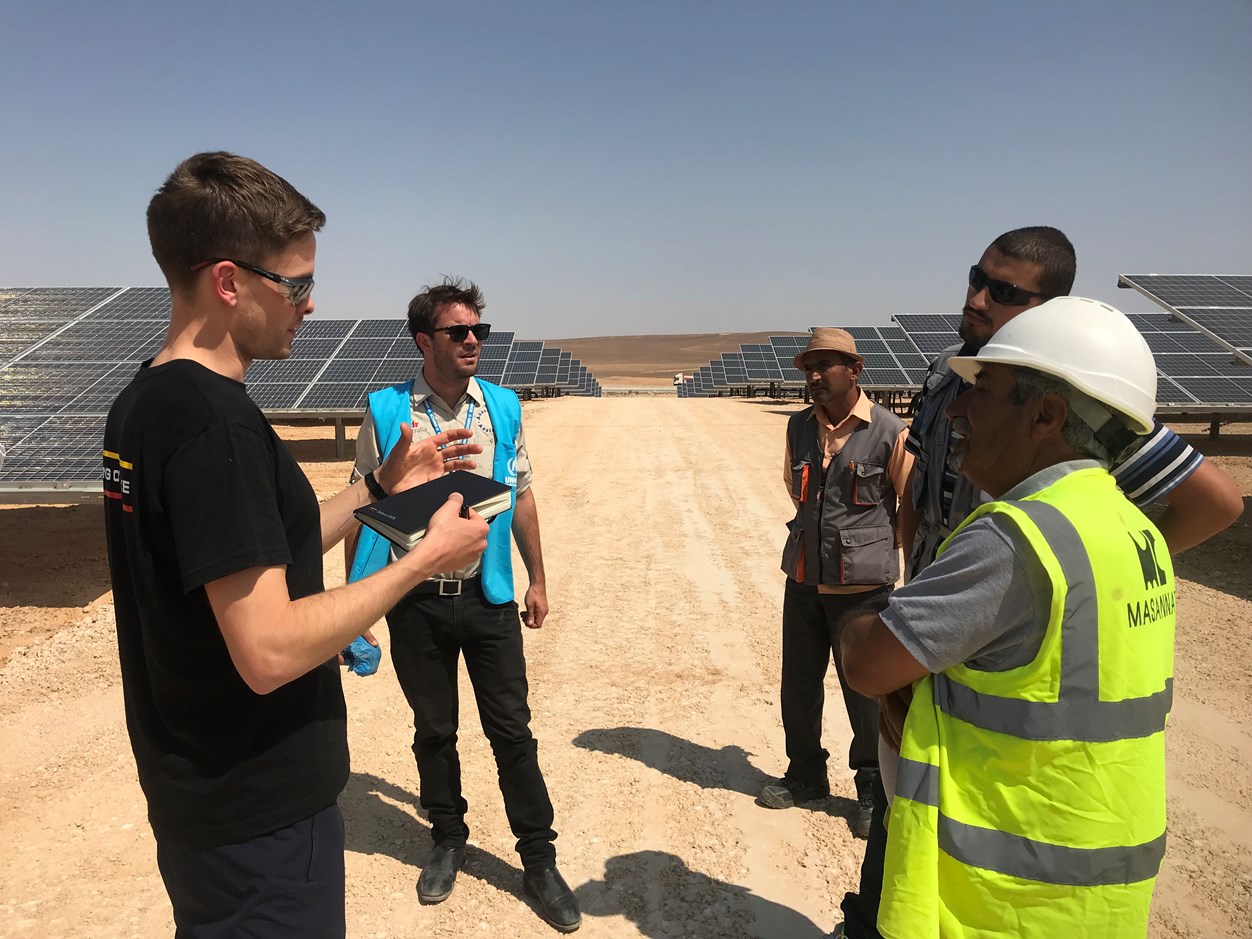 Will Rayward-Smith and Robert Arcidiacono with UNHCR Electrical Engineer Yazan Abdullah and solar plant contractors on a visit to Azraq camp. Photo credit: RedR Australia
The visit by SunSHIFT has resulted in the sharing of best industry practices from the private sector in the renewable solar sector, to help inform UNHCR's replication of innovative solar interventions in other humanitarian contexts.
It also resulted in the rapid review of the Azraq and Za'atari solar networks compared to industry standards, to ensure increased efficiency, effectiveness and safety in the delivery of power to refugees.
Robert also highlighted that companies such as SunSHIFT highlight the opportunity for more renewable energy innovations to impact humanitarian work in the future.
"Will and SunSHIFT offer a view of the renewables sector from the private sector perspective, showing the great possibilities for more renewable energy and innovation in humanitarian contexts as we confront more challenges globally with the displacement of people due to conflict and natural disaster," said Robert. 
RedR Australia's Middle East and Africa Regional Manager, Mel Schmidt, said RedR Australia was delighted to have facilitated the visit of SunSHIFT, which provided significant learnings in the field.
"Robert's monitoring and evaluation analysis of UNHCR's world-first solar projects, which provide electricity to tens of thousands of Syrian refugees in Za'atari and Azraq Camps, will benefit from learnings from SunSHIFT, a world-leading solar power provider," said Mel.
"We appreciate the interaction with SunSHIFT and sincerely hope the industry leading innovations achieved by UNHCR in Jordan can be replicated in other countries in the future."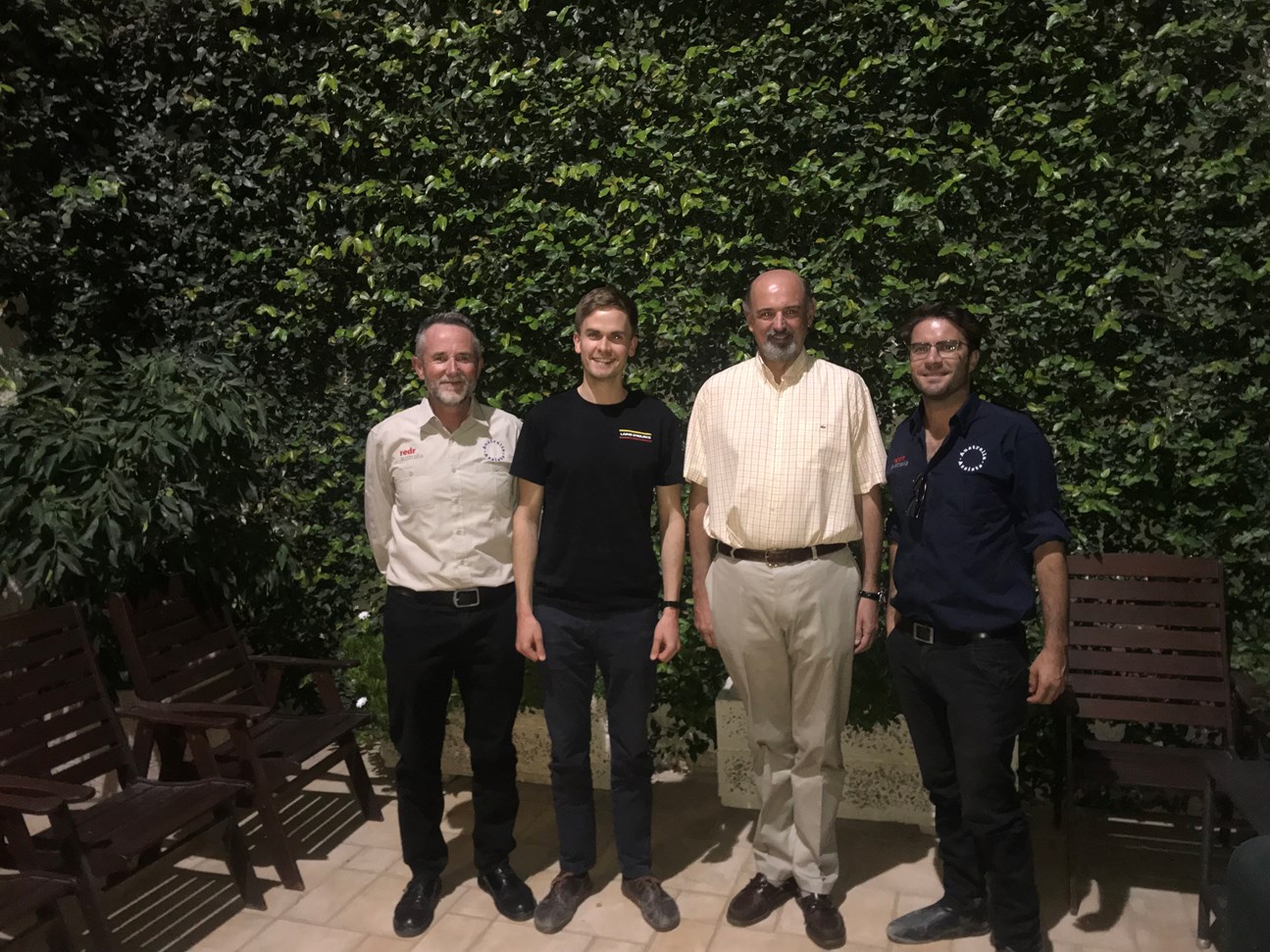 L-R: Mel Schmidt, Will Rayward-Smith, Australian Ambassador to Jordan Miles Armitage, and Robert Arcidiacono. Photo credit: RedR Australia