Helping to improve education opportunities for the South Sudanese refugees was Australia Assists deployee and Education Officer Max Marshall. With over 30 years' experience in education, Max was deployed to the United Nations High Commissioner for Refugees (UNHCR) in Yumbe, where he provided technical guidance and monitored the strategic planning and delivery of education programs in the settlement for six months of 2018.
Covering over 250 square kilometres of Yumbe and separated into five zones, the Bidi Bidi settlement has pre-school, primary and secondary school sites, accelerated learning programs and some vocational programs, which Max said face challenges due to large volumes of students, a lack of infrastructure and limited resources.
"The education needs in the settlement are extreme, but vary across the five zones. Some zones have some education sites with more developed infrastructure, while other sites accommodate great numbers of students with few resources," Max said.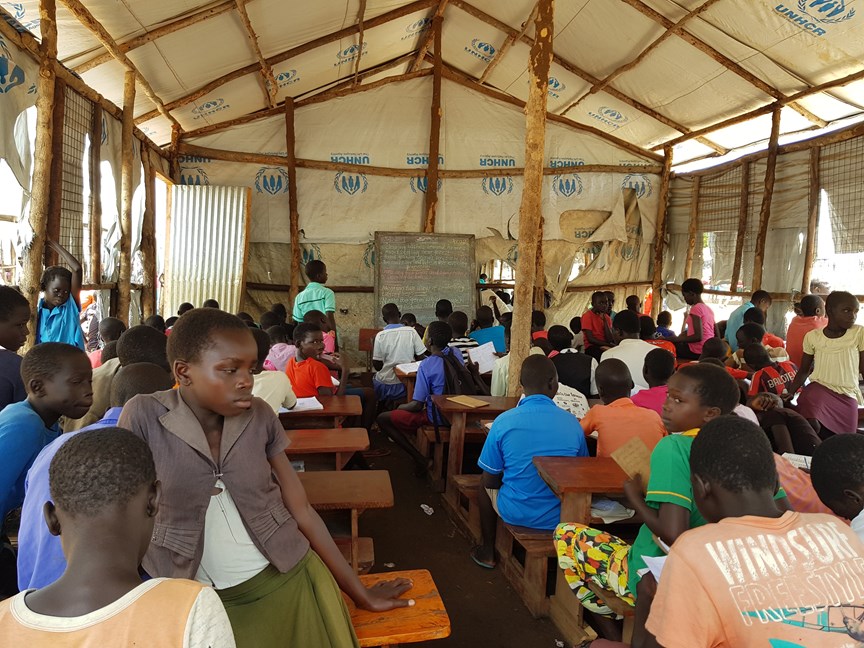 A school run by UNHCR in the Bidi Bidi settlement in Yumbe, Northern Uganda. Photo credit: Axelle Chazal, RedR Australia.
"One major problem is classroom overcrowding, with many classes having 150 or more students. Some students had to arrive early otherwise there would be no room in the classroom. One principal dubbed students who did not arrive early as 'the verandah boys', as they had no choice but to hear the lesson from outside on the verandah," said Max.
Max's main role was to help steer education activities in Bidi Bidi to more effective and responsive action. Under his leadership, one major achievement was the improved data collection and monitoring of all education sectors by the UNHCR team.
"One of the first difficulties I recognised was that the data UNHCR was responsible for compiling could be improved. To be more effective and hence target the greatest needs, we needed to collect better information." Max said.
When the information was collated, Max said it was used to build an effective framework to address gaps in education such as teacher-student ratios, classrooms, desks, textbooks, latrines, and water supply against national standards.
"This data became the reference point for action for all organisations involved in education in Bidi Bidi," Max said. "Improved data collection also meant that UNHCR was better able to target needs and see where there were spaces for donors to address. For example, when some facilities had been closed for lack of funding, advocacy would ensure that donors and agencies knew about it and facilities such as pre-school centres were re-opened."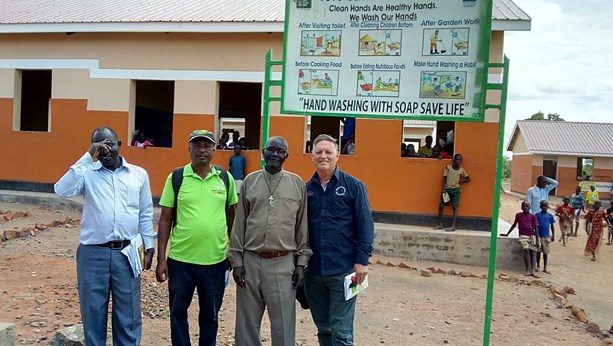 Max was involved in inspecting new classrooms and monitoring teaching and learning in Bidi Bidi settlement, including at this primary school which has a population of about 3600 students. Photo credit: RedR Australia.
Max also supported the upgrading the skills of national staff to handle the new data collection demands, and worked with government agencies in consultation matters of planning and resourcing, assisting with negotiating decisions on infrastructure, such as where more classrooms and new schools could be built.  
By the end of Max's deployment, monitoring and data collection and consultation structures shad been improved, processes for decision-making had been upgraded, many new facilities were being built, and gaps in education were better documented. Max also noted that education is valued by refugee families in the settlement.   
"Generally there is a great commitment to education among refugees at Bidi Bidi. Students are keen to learn and committed to their studies, and parents recognise that having a normal daily structure for their children that includes school attendance is critical to making the most of refugee life," Max said.  
"Bidi Bidi's children will still require massive ongoing support to improve their educational opportunities, but I have worked hard with other stakeholders and the results are because of an all team effort."