Behind a new series of Innovation Labs is RedR Australia deployee Sarah Shouman, a Youth and Development Specialist who worked with the United Nations Relief and Works Agency for Palestine Refugees in the Near East (UNWRA) in 2017.
On her deployment, Sarah helped to coordinate a national youth assessment of Palestinian refugees in Lebanon. The assessment investigated the youth's perceptions of existing resources and opportunities available to young Palestinians, a group that had already been identified as falling through the cracks.
Under current local laws, Palestinian refugees cannot work in 39 professions in Lebanon that are reserved for Lebanese citizens, including engineering, law and medicine, and high university fees that prohibit most Palestinian youth from accessing higher education.
"Once Palestinian youth in Lebanon finish school, they can go to UNRWA's vocational institute but if they are not wealthy and don't win a scholarship, they can't go to university," Sarah said.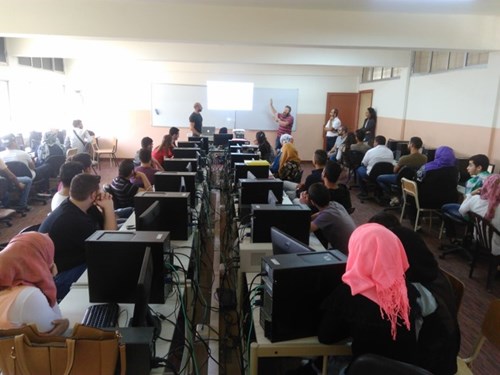 Students attend Digital Skills Training at one of the Innovation Labs. Photo: Sarah Shouman, RedR Australia
Results from the assessment identified a lack of opportunities was perceived as the most pressing issue for Palestinian youth.
Determined to take action, Sarah's main role involved establishing a youth unit for UNRWA and developing a youth strategy for the agency that would ensure equitable access to services for all youth in the country.
Thinking outside of the box to give marginalised groups like Palestinian refugees better economic opportunities, Sarah finalised a partnership with UNICEF to create a series of Innovation Labs, which she describes as "different to normal schools and different to normal education."
Bursting with all the latest technology, computer labs and a design thinking room, the Innovation Labs are designed as multi-purpose learning and working centres that run exciting and accessible courses free of charge.
"The Labs teach introductory courses for anyone who's maybe dropped out of education, to someone who's done some vocational training, or even just someone with an idea," says Sarah.
Young people learn from a range of new-tech areas, including digital skills, coding, design thinking, entrepreneurship, social responsibility, business, and even fundraising and advocacy. The Labs are providing a huge incentive for young people in all communities.
"Imagine living in or near a refugee camp, but you can go every day to a space that looks like something you would only see on TV!" says Sarah.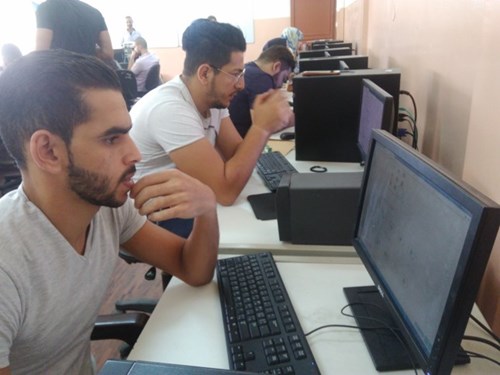 With access to computers and the latest software, students are building their own apps. Photo: Sarah Shouman, RedR Australia
The economic benefits the courses are providing are already visible, with several students who completed digital skills courses selling their own phone apps on the Google app store. The Labs also motivate young people to create solutions for their local context by distributing seed grants of up to $2,000 for innovative business ideas, which help towards setting up their own businesses and professional coaching.
One girl who studied physiotherapy at a vocational institute recognised the huge social and financial challenges people with disabilities or physical illnesses face in the refugee settlements, where access to proper healthcare can be out of reach.
She used the seed grant and Innovation Lab space to set up a business and built an app with a friend, which allows families in the settlements to book their therapy at home with her online for a minimal charge, which in turn allows her to make her own side income.
The Innovation Labs are also helping to foster community between different groups of society who wouldn't normally come together, says Sarah.
"We've got Lebanese nationals, Palestinian refugees and Palestine refugees from Syria coming together to access the labs, so it's great for social cohesion."
Sarah also believes the Labs are helping to foster new industries at micro- and macro-economic levels. 
"Lebanon has no one community group, so the Labs help us to break things down and start looking at the localised context. But at the same time, we're bringing youth in Lebanon closer to what's happening on a global scale."
With over 1000 young people set to attend the Innovation Labs in 2018, Sarah is hopeful that the centres become self-sustaining and provide a sense of future opportunity for the marginalised youth of Lebanon. 
"The international community and everyone else talks about prevention of violent extremism and wants to put money into youth programs for this reason, but if you give these young people the same opportunities as others have, then we wouldn't have to be preventing extremism or developing special programs to prevent it… because they won't be attracted to it."