Through the Australia Assists program, Pamela was deployed to the Food and Agriculture Organisation of the United Nations (FAO) in Suva, Fiji. In her role as a Regional Food Security Cluster Coordinator for the South Pacific, Pamela's primary objective was to revitalise the Food Security Clusters across the region.
"My role entailed working with national coordinators and FAO sub-regional representatives across the South Pacific to bring together the Food Security and Livelihoods Cluster membership. I operated in a coordination role across five countries, where I spoke to people within and connected to the Cluster to gather information to find opportunities to improve its cohesiveness and effectiveness," says Pamela. 
"In some countries, the Cluster isn't always well established, sometimes because of insufficient resources or because there is a capacity issue. Coming in with a fresh perspective, I could bring in new ideas that haven't been heard before."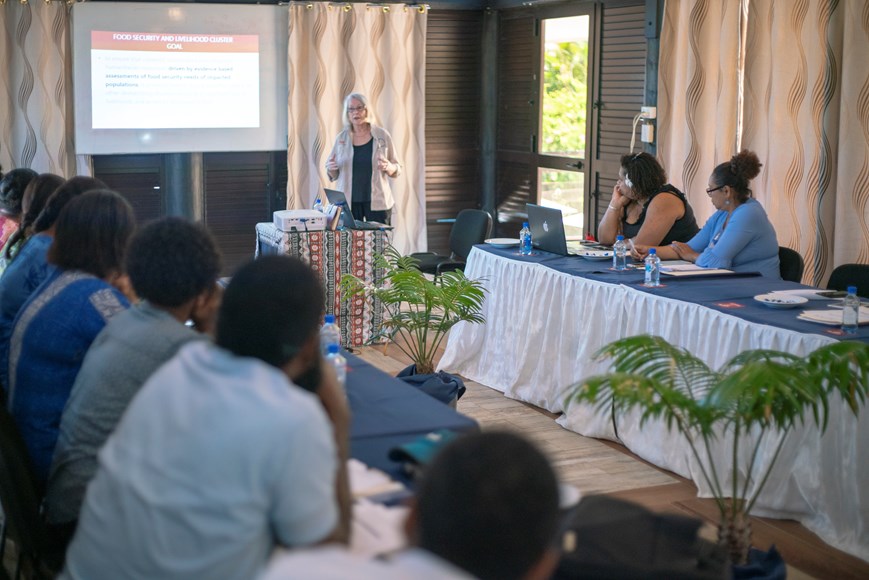 Pamela attended a Kobo Toolbox training with the NDMO, Ministry of Agriculture, and Fiji Crop and Livestock staff, coordinated by UNFAO, where participants listened to a briefing from Pamela on the importance of the Food Security and Livelihoods Cluster. Photo credit: Ian Parish, RedR Australia
As one of the most disaster-prone regions in the world, ensuring food security through preparedness of the Food Security and Livelihoods Clusters is critical for communities facing ongoing emergency responses.
"The Clusters are activated all year round because food security is not just a once off humanitarian activity. There needs to be crops in the ground year-round that are available and resistant to the disasters the countries face, so we're not just talking about food packages and food vouchers," Pamela said.
"The Food Security and Livelihoods Clusters are the key groups of people working with rural communities in the field. They are familiar with the chiefs in the villages, and they know where the families, children, disabled, and other vulnerable groups are. They really are the network ready for instant response in a disaster situation because of their knowledge of the communities."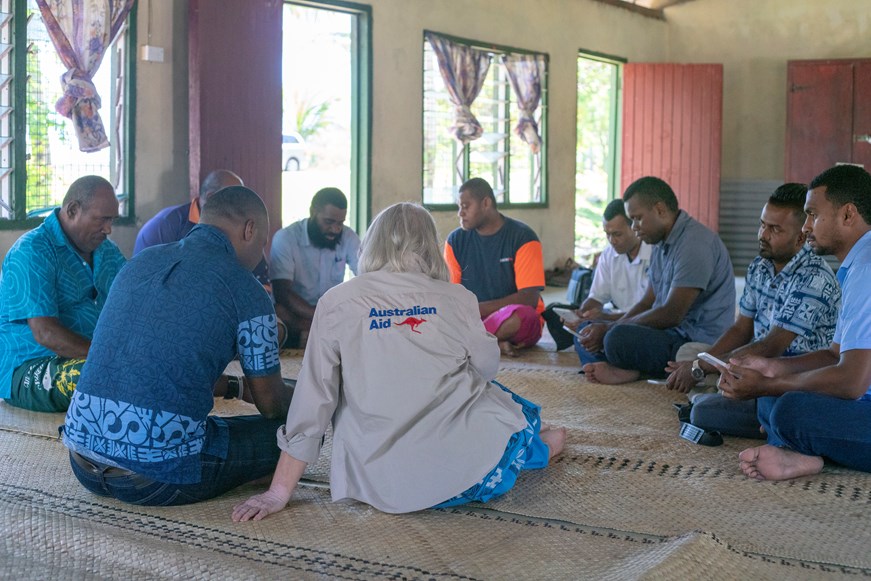 Photo credit: Ian Parish, RedR Australia
Although Pamela's work spanned several countries, because she was based in Fiji, Pamela worked closely with the Coordinator of the Food Security Cluster, Sera Bose, from the Ministry of Agriculture.
"We are now in the cyclone season for Fiji. Pamela coming in is a very good intervention for us in terms of preparing for the cyclones," said Sera. "I really like working with her, I get a lot of advice from her."
With Sera, Pamela also worked on developing a Disaster Risk Management Unit within the Ministry of Agriculture.
"What I was working on with Pamela was establishing a unit within our Policy unit that looks after disaster response. The norm has always been that when a disaster happens, we get people from all the other units to help," says Sera. "Having an established group that concentrates on disaster response and ensures the Ministry has policies in place in terms of disasters is one of my aims, and Pamela worked very closely with me on that."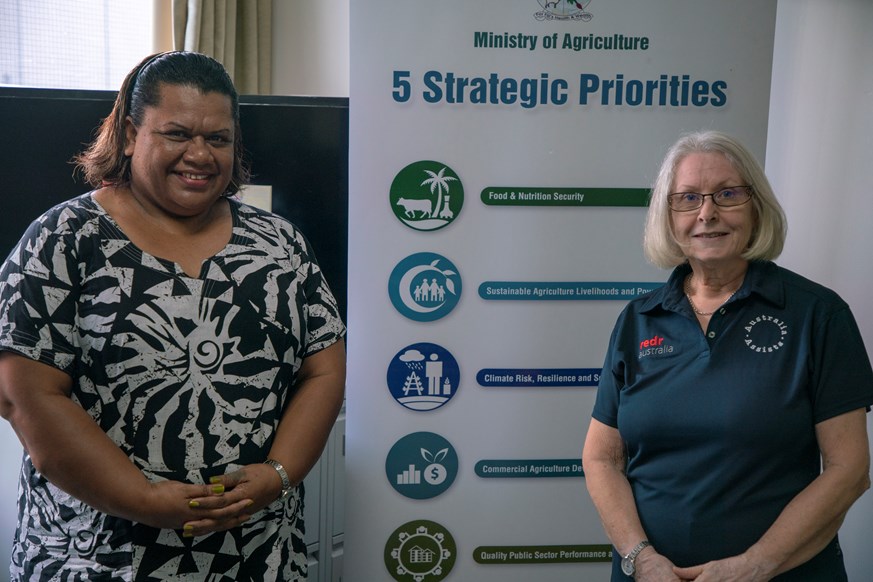 Pamela with Food Security Cluster Coordinator, Sera, with whom Pamela worked with in an advisory role. Photo credit: Ian Parish, RedR Australia
A key achievement of Pamela's was the appointment of a Ministry of Fisheries senior staff member, Leilani Kotobalavu, as Co-Chair of the Food Security and Livelihoods Cluster. As fish production is a major food source in the Pacific, Pamela identified a need for the Ministry of Fisheries to be better represented in the Food Security Cluster. 
"The Food Security Cluster in Fiji had been going on for some time, but the Ministry of Fisheries wasn't made aware," said Leilani. "When the invitation to join the Food Security Cluster was issued, it was certainly another mechanism for us to promote awareness of what we do, but at the same time it was an opportunity to for us to build our knowledge and capacity, in terms of how we can execute our food security programs better."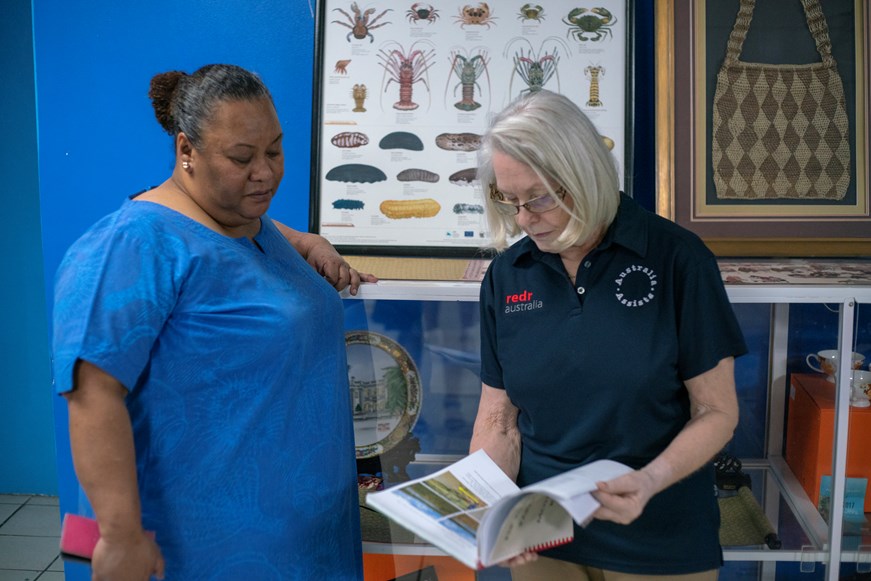 Pamela speaks with Fiji Food Security and Livelihoods Cluster Co-Chair, Leilani Kotobalavu, at the Ministry of Fisheries. Pamela invited Leilani and the Ministry of Fisheries into the Cluster, as fish is a staple food group for coastal communities in Fiji. Photo credit: Ian Parish RedR Australia
An important element of FAO's support in the region is the delivery of capacity building, primarily technical training. Pamela undertook a capacity building analysis aimed at understanding how training to Cluster members could be improved. 
"Ensuring greater sustainability of capacity building investments will lead to a longer term predictable training program, including the ability of members to undertake university level short and long-term accredited courses," Pamela said. 
Having now left Fiji to take up a new deployment in the Solomon Islands, Pamela feels she has supported the Clusters to become better prepared and coordinated for when disaster strikes.
"The main opportunity is to develop a greater cohesiveness among the Food Security Clusters, and to build regional response activity, so that it's not just one country activating their own individual response – as capable as they are of doing it – but so that countries can immediately form a team to produce a coordinated humanitarian response effort," said Pamela.
"I think the reason the Australia Assists program is so important in the region is that it is able to bring in capacities to support the clusters and the other agencies. It brings in fresh perspectives, it brings in people who have key expertise to undertake important roles very quickly, and that is something Australia Assists should be very proud of."