Australia Assists, the Australian Government's humanitarian civilian deployment program, is supporting engineer and water expert Wondayehu, on his deployment to the Vanuatu Department of Water Resources.
As a Project Manager (Water Sector), Wondayehu is working to achieve access to clean and reliable water in Vanuatu through the Water Supply Systems Project. He supports the Director of the Department of Water Resources, the Projects and Operations Manager and the Technical Manager in the recovery and restoration of water supply in communities across the nation.
Community celebrates successful water upgrade
Wondayehu has been involved in an upgrade to the Yanumakele water supply system that was considerably impacted by Cyclones. The upgrade began in May 2022 and completed in March 2023.
"The successful completion of the project has significant impact on the wellbeing of the local community," says Wondayehu.
The UN General Assembly recognises that access to clean and safe drinking water and sanitation is a human right and essential for enjoyment of life. This is strongly supported by both the Australian and Vanuatu Governments.
"Provision of safe drinking water is the number one priority of the government of Vanuatu, as safe drinking water plays an important role for creating a healthy population and potentially help to achieve a stable, sustainable and prosperous Vanuatu," explains Wondayehu.
The newly safe and reliable water supply system was launched and formally handed to the community to enjoy and manage in May 2023.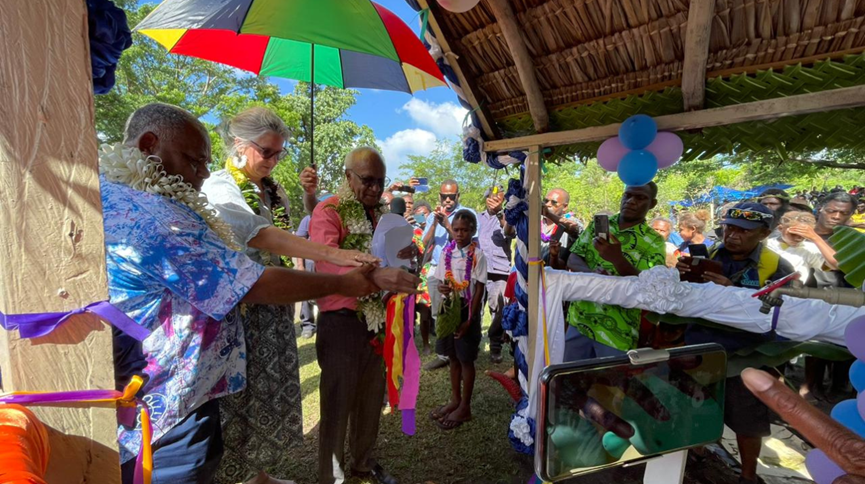 H.E Ms Heidi Bootle, Australian High Commissioner, then Deputy Prime Minister, Hon Meltek Sato Kilman Livtuvanu and then Minister of Foreign Affairs, Hon Jotham Napat, cutting ribbon at the launch of the Yanumakele water supply system in May 2023.
Water upgrade exceeds expectations
The Water Supply Systems Project was initially planned to provide water to 1790 people across 12 communities, including six schools and a health centre. As of May 2023, the project is exceeding its goal by supplying water to over 2500 people.
The success of the project means that communities are benefitting from safe drinking water and inclusive sanitation and hygiene promotion. Aside from illness prevention, greater access to water means less time spent on water collection, leaving more time for education and income generating activities. This particularly benefits women and children who are the family members most often collecting water for their households.
Planning for a sustainable future
Wondayehu was involved in every stage of the Yanumakele water upgrade.
"The capacity building trainings that I provided for the Department of Water Resources staff is one of the most pleasing achievements," says Wondayehu.
"The trainings were designed to help the engineers obtain, improve, and retain the skills, knowledge, tools and other resources needed to do their jobs well and at a greater capacity to achieve better results."
After the intensive six days of training, the participants have gone on to successfully design water supply systems. Wondayehu's training has positively contributed to the quality of future water systems and ensured the sustainability of future supply systems being implemented by the Vanuatu Government.
"Normally community water supply systems are designed for 15-20 years, and the life span and sustainability of the system is highly dependent on the design. Many water supply systems, which were implemented by the Department, were not constructed with consideration to population growth, the availability of a big enough water source and other key design parameters," explains Wondayehu.
"For this reason, in most communities the water supply systems are not reliable and consistent."
Advancements in water technology means there is now software to help with designing all-inclusive water supply systems.
"I am happy that I can provide the capacity building trainings and share my experience for the department to achieve such tangible impact," says Wondayehu.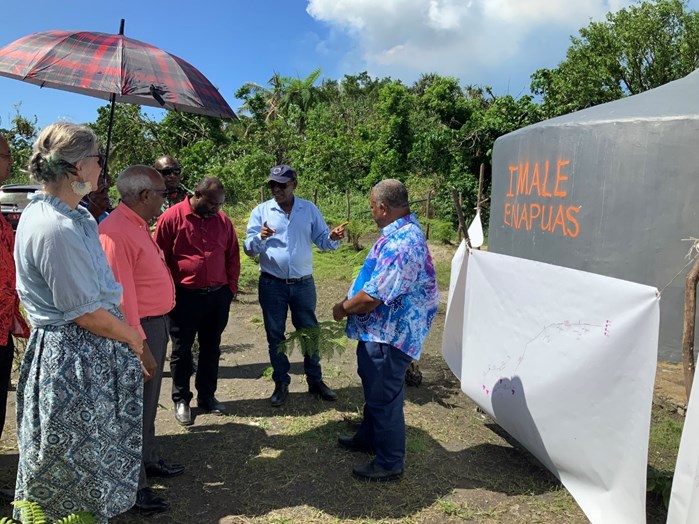 Australia Assists deployee Wondayehu (centre) explains how the new Yanumakele water supply system and water tanks work.
Australia Assists provides ongoing support to host communities
Wondayehu has previously deployed with Australia Assists to the Department of Water Resources in 2021. His dual deployment has allowed him to see projects like the Yanumakele project from concept to completion.
"At the moment, I have completed the water supply system design of five mid-small scale community water supply systems: Canal Fanafo, Melsisi, Saratmata, Stonehill and Mataipevu," says Wondayehu.
Wondayehu has developed tender documents for all five projects and is looking forward to construction commencing on both Canal Fanafo and Melisi water supply systems at the end of May 2023.
The five robust and sustainable water systems will provide clean and reliable water to more than 15,000 people across a number of communities in Vanuatu. A truly lifechanging project.
Learn more about Australia Assists and the work of deployees before, during and after emergencies.