Monsoonal landslides and muddy roads, overcrowded simple shelters all make living conditions especially challenging for people with disabilities. Nearly six years since fleeing their homes in Myanmar, there are now nearly one million Rohingya refugees living in the camps in Cox's Bazar, Bangladesh. 
For Australia Assists, the Australian Government's humanitarian civilian deployment program, supporting these families and local host communities continues to be a top priority. Since 2017, the Australia Assists program has deployed 86 humanitarian experts to help provide dignified lives for the Rohingya and host communities in Bangladesh and Myanmar by supporting disability inclusion programs. 
Disability compounds challenges
In the Cox's Bazar refugee camps, life is especially challenging for people living with disabilities. According to a 2021 study by REACH, approximately 12 per cent of refugees living in Cox's Bazar identify as having a disability, which accounts for one third of households. 
In adults, mental health disorders and mobility constraints are prevalent. This can make day-to-day life in the camp particularly arduous, with families trying to adapt while living in crowded and temporary shelters while navigating muddy paths to access essential services.  
A champion of champions 
Marguerite deployed to Cox's Bazar as a Disability Inclusion Specialist through the Australia Assists program to support people at risk of being left behind. Working with the United Nations Population Fund (UNFPA) for six months, Marguerite worked with both refugees and people living in the host community. She was tasked with strengthening disability inclusion activities, with a particular focus on improving access to services for women and girls. 
Marguerite brought her vast knowledge and experience to the deployment—from her time in the Royal Australian Navy, to working as an education advisor in Nepal and Vanuatu, to working on sight restoring programs in Cambodia.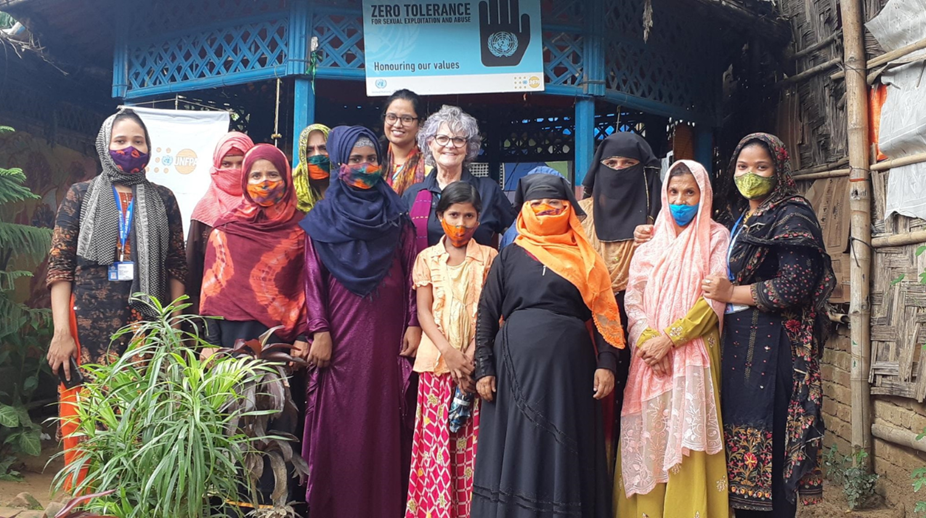 Marguerite worked closely with women and girls, helping them to create a Sign Language Working Group.
One of Marguerite's key tasks during her Australia Assists deployment was helping women and girls with disabilities to access essential services. She supported this cohort to create and lead a Sign Language Working Group, helping them to "develop their own sign language and braille, or tactile language systems" and build "women champions" within the Rohingya community. 
"I had the honour of meeting some amazing, resilient, inspiring, insightful women, girls and youth with disabilities. They really are a remarkable group of people," said Marguerite.  
"Their generosity of spirit teaches us so much about how to get on with life even in such adverse conditions—that just takes humility to another level." 
Marguerite's work will help women and girls living with disabilities to better communicate with their families and communities and advocate for their rights. 
Connecting services, strengthening communities 
Another key element of Marguerite's work in Cox's Bazar was strengthening local systems so they can better serve refugees living with disabilities.  
"Marguerite revitalised the Age and Disability Working Group and she did very good work diplomatically to connect with them," said Marguerite's supervisor Roselidah, who is Head of Sub Office for UNFPA in Cox's Bazar. 
Marguerite worked with UNFPA's program staff to raise awareness about disability inclusion. She visited a number of facilities and provided guidance on how to make those facilities more inclusive for people with disabilities.    
"Then she went a further step and had discussions with different groups—women, girls, men and boys," said Roselidah.  
Marguerite worked closely with the Bangladeshi staff to get the best outcomes for all involved.  
"I worked closely with staff in the Sexual Reproductive Health Unit, Gender Based Violence Unit and the Adolescent and Youth Unit. I speak a little Bangla, and that was beneficial in developing relationships," explained Marguerite. 
Marguerite also praised Roselidah's leadership.  
"Roselidah's leadership was imperative to the success of this deployment. She gave me access to whatever I needed to fulfil my role. Without that trust, we would not have had the successes that we did," said Marguerite. 
The programs Marguerite worked on are being implemented by local organisations and are helping to build local knowledge. 
"While a lot of the work I did was exploratory, the people I worked with said their knowledge, attitudes and practices were enhanced through our discussions and thinking around putting disability inclusion at the forefront of everything we did," said Marguerite. 
"Most importantly, they felt confident to make changes that would result in better access for people with disabilities." 
Strengthening local systems 
The Australia Assists Program is committed to ensuring local and national partners can lead and deliver humanitarian action. 
For Marguerite, that meant laying key groundwork for UNFPA Bangladesh staff to carry forward. Alongside her program work, during her tenure Marguerite established the UNFPA Cox's Bazar Disability Inclusion Guidelines and Framework.  
"These guidelines and framework were deliberately designed as a 'starting point' for the UNFPA office in Cox's Bazar, with outcomes and indicators that were considered achievable within a one-to-two-year period," explained Marguerite.  
"The intention is to use those indicators to build a more comprehensive framework with the potential to be adapted across other UNFPA programs." 
These guidelines and framework are now being used by UNFPA to strengthen their programs for people in Cox's Bazaar living with disabilities. 
UNFPA representation on the Age and Disability Working Group in Cox's Bazar also moved from Marguerite to a local staff member from the Adolescent and Youth Unit, evidencing sustainability and localisation of her work. 
Australian support making an impact 
For UNFPA, the Australian Government's support for Rohingya and Host communities in Cox's Bazar has been valuable. 
"Australia's long-term commitment really helps us. We're moving from a humanitarian crisis into a protracted crisis, and the Australian Government's support has been consistent," said Marguerite's supervisor, Roselidah. 
And the quality of the Australia Assists Program deployees has made a big difference for the overall delivery of our program. 
"The Australia Assists deployees have been very high quality," says UNFPA Representative, Kristine. "We really enjoy working with our Australian partners because they provide a flexibility which is not always easy to find." 
Pushing for permanent change 
Reflecting on her deployment, Marguerite says one of her biggest achievements was shifting key priorities at UNFPA.  
"A major achievement was the paradigm shift for the UNFPA team in how they regard, approach and prioritise disability inclusion," said Marguerite. 
"They sought advice and instigated conversations around inclusive language and methodology for designing and strengthening projects, to ensure nobody is left behind.   
"This shift in mindset is almost guaranteed to make permanent changes for inclusive practices." 
Learn more about Australia Assists and the work of deployees before, during and after crises.