Australia Assists deployee Liz, is a Communications and Reporting Specialist with UN Women, helping communicate their work on gender equality for women and girls in the Rohingya refugee camps and host communities of Cox's Bazar, Bangladesh.
Australia Assists, the Australian Government's humanitarian deployment program, has been part of the humanitarian response in Cox's Bazar, Bangladesh, since 2017. Support from the Australian Government is warmly welcomed through the continued deployment of technical experts in the refugee camps, sub-offices and host communities.
The importance of paying attention to gender in crisis
It is globally recognised that humanitarian crises disproportionately impact women and girls. The Australian Government has committed to take action toward achieving gender equality by adopting the Convention on the Elimination of All Forms of Discrimination against Women (CEDAW).
Under the Australia Assists Gender Equality Strategy, it is acknowledged that greater gender equality also contributes to stability and peace.
UN Women estimate that the majority of the almost 500,000 Rohingya women and girls living in Cox's Bazar refugee camps have either witnessed or are survivors of gender-based violence.
"UN Women is working to change gender norms in both host community and the camps-ultimately this will give women greater access to services information and livelihood options so they can make decisions about their own futures" says Liz.
As part of her deployment, Liz has produced human interest stories, videos, show projects and social media posts. She is also responsible for leading the coordination of International Women's Day communications for the whole of Cox's Bazar.
"I'm really proud of some of the campaign work I have been able to do – my local colleagues are the subject matter experts on the programmatic work, and I have learned so much from them about how to work with local people and the Bangladeshi Government and other key stakeholders. The collaboration has been key to being a highly productive team."
A major annual campaign for UN Women is the 16 days of activism. This year Liz and the team worked together to produce a video in Bangala language with subtitles urging everyone in Cox's Bazar, Bangladesh, to speak up and end violence against women.
Community led advocacy and change
Some existing social beliefs and habits within the community have been recognised as contributing to gender inequality in Cox's Bazar in camps and host communities.  
To address this and encourage change for more equitable and fair treatment of women and girls, UN Women have established five multipurpose women's centres in the Cox's Bazar camps and a further three in host communities. These multipurpose centres provide a space for women to gather and take part in training and knowledge sharing around livelihoods, gender-based violence and referral pathways for further support.
Young women are also encouraged to volunteer and work with UN Women spreading campaign messages to help end violence against women and urge for equal treatment.
"In the camps we have gender field officers who work closely with the camp managers on locally based campaigns and issues management, this includes working with around 60 Rohingya refugees who volunteer with us, and I made a video with them as part of the advocacy project," explains Liz.
Changing attitudes takes time
In addition, Liz has been able to work with a number of local journalists providing training on how to create gender responsive journalism, which helps change and evolve how gender-based violence is reported and discussed by the media. Media plays a significant role in both perpetuating and challenging norms and behaviours that condone violence against women.
Liz through UN Women has provided training for police officers to ensure their responses to situations are gender appropriate.
"In the host community we have about five women and children Police Help Desks to build the relationships and access to appropriate support and a more gender supportive environment and context."
Australia Assists deploys experts on the ground
Silija is the Head of UN Women sub office in Cox's Bazar and explains the value and benefit of the Australia Assists program as it continues to deliver technical expertise for UN agencies working in challenging contexts.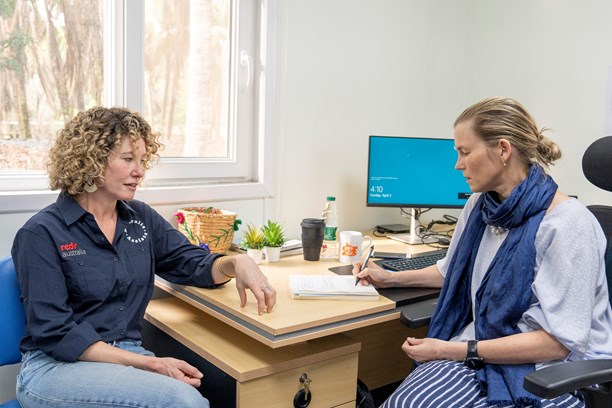 Liz with her colleague Silija, Head of UN Women Sub Office in Cox's Bazar, Bangladesh.
"The real value add of Australia Assists is the high-level expertise they bring to our work. HR (Human Resources) in these kinds of contexts is a significant challenge to cover," she says.
"What I can rely on is that the Australia Assists deployees represent the UN values and principles for our work at UN Women in Cox's Bazar in the Rohingya refugee response, which is a real value add."
A little support for a big issue
The need to support refugees in Cox's Bazar camps as well as the people in host communities in Bangladesh, continues as the crisis evolves and grows over time.
For Liz her deployment has been a unique experience, she says, "this has been a very humbling experience to be able to see a response like this and to see the great need that the Rohingya people are experiencing, and I am simply grateful to have been able to support a small part of it".
Learn more about Australia Assists and the work of deployees before, during and after emergencies.