This was the first visit to Bangladesh by an Australian Foreign Minister since 1998, during which the Foreign Minister visited the refugee settlement and had an array of discussions with Bangladesh Government leaders, including addressing the current Rohingya crisis.
Through Australia Assists, RedR Australia has deployed 51 skilled people into Cox's Bazar since the crisis began, supporting United Nations programs providing food and water security, education and protection to the displaced population.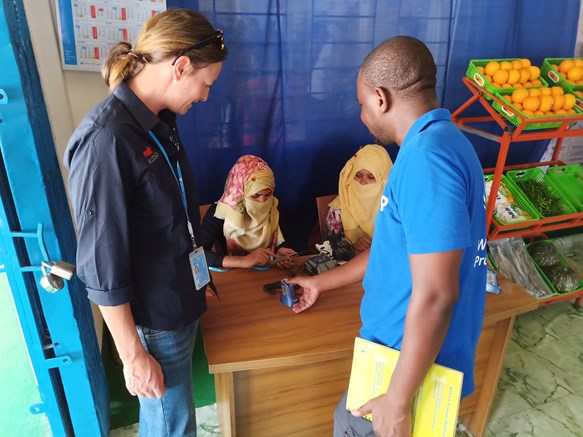 Suzanne visiting one of WFPs retail shops to see how e-vouchers (electronic vouchers) are being used to support food security for Rohingya refugees in Cox's Bazar. Photo supplied. 
Suzanne is a Cash Transfer Officer, helping to oversee World Food Progamme's electronic-voucher (e-voucher) program in Cox's Bazar, benefiting more than 400,000 Rohingya refugees with access to food staples and fresh produce.
"I'm really interested in and motivated by cash interventions which give people more ownership to be able to prioritise their own needs and identify what is most important to them and their family," Suzanne said.
It's a more dignified way of providing lifesaving assistance to Rohingya families who come to WFP's e-voucher outlets in Cox's Bazar, to access a variety of nutritious food. It also reduces the risk of people resorting to negative coping strategies like selling what little assets they have or borrowing, which leads to debts that are incredibly difficult to repay.
E-vouchers give them greater choice over what they eat and their diet - instead of constantly worrying about where to find their next meal.
"Under the e-voucher system, families receive their entitlements on a secure, pre-paid bio-metric assistance card which can be used in WFP contracted shops. Assistance cards are issued in the name of the senior woman in the household which strengthens women's control over resources in the household. They can also nominate one alternate who can purchase food instead," Suzanne explains.
"Women and men are encouraged to decide together how to spend their voucher allowance. E-vouchers also allow people to access food at a time convenient to them, which is particularly important for women, given customs that limits their movement outside home."
Extremely vulnerable groups, like people with disabilities and the elderly in Cox's Bazar, also have access to the e-voucher shops and are supported with a priority access line and a free porter service to carry their food items home. With no end to the crisis in sight, it's placing extra pressure on the overcrowded settlement, leaving Rohingya refugees stuck there in limbo indefinitely.
Australia Assists and RedR Australia will continue to support sustainable programs in Cox's Bazar, so Rohingya refugees can access the vital support they need.