Funded by the Australian Government, Australia Assists delivers more efficient deployment streams and strengthens Australia's ability to deploy the right experts, to the right places at the right times to make the best possible impact. 
Where there was once a focus on rapid emergency response, Pacific Regional Manager Mark Brooking said the implementation of the Australia Assists program has allowed RedR Australia to address each stage of the disaster cycle – before, during and after. 
"It gives us the opportunity to deploy people for longer and into government ministries to help build capacity, resilience and preparedness before the disaster, provide support through the cycle of the disaster, and afterwards in recovery, so that communities can build back better."
RedR Australia currently has more than 10 technical specialists positioned across the Pacific assisting on a range of disaster preparedness and recovery programs – work that is vital in an area labelled the most disaster-prone region in the world.
Ambae Volcano response
When the volcano on Ambae Island erupted in April this year, the entire island was covered with ash and acid rain, leaving 10,000 residents needing to consider relocation.
Disaster Risk Management Specialist, Brian Smart, and Logistics Generalist with the World Food Programme, Janette Smith, have been working to provide advice, assistance and guidance to the Government of Vanuatu with logistics and operational planning.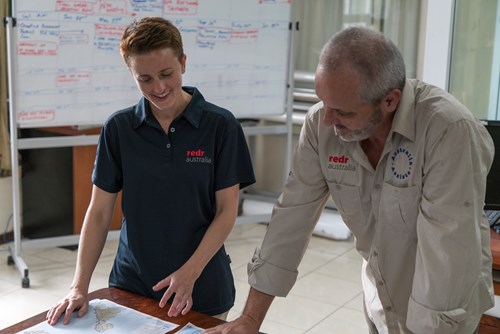 Janette Smith and Brian Smart are assisting the Government of Vanuatu with operational planning. Photo: Ian Parish, RedR Australia 
Supporting the National Disaster Management Office (NDMO) since March, Brian has remained committed throughout his role to ensure all evacuation plans are "absolutely right for the people of Ambae" who are facing having to leave their traditional homes.
"When relocating a large amount of people, it's about ensuring that everyone has an equal opportunity to be involved in decisions about their future. We also need to deliver the right facilities at their new location and ensure that everyone in the community is catered for, including those most at risk – the very young, the sick and the elderly."
"We are looking to get those people most at risk out of the current situation at the earliest opportunity so we have to ensure they have a safe place to go to, and that they have a safe way of getting there that caters for their needs and fits in with their personal situation."
Tropical Cyclone Pam recovery
When Tropical Cyclone Pam struck Vanuatu in March 2015 as a category five cyclone, it caused 11 deaths and severe damage to housing, health centres, schools and other critical infrastructure. Through the Australia Assists program, RedR Australia has been able to deploy technical experts to help with the implementation of the Tropical Cyclone Pam Recovery Program. 
Project Manager Kieren Davis is working with the Vanuatu Department of Water Resources to build direct gravity fed water supply and rainwater harvesting systems that allow households and communities to have sufficient access to safe drinking water.
Kieren is also working on Drinking Water Safety and Security Plans (DWSSPs), the help communities identify risks and hazards to the safety and security of their water supply system and plan for improvements.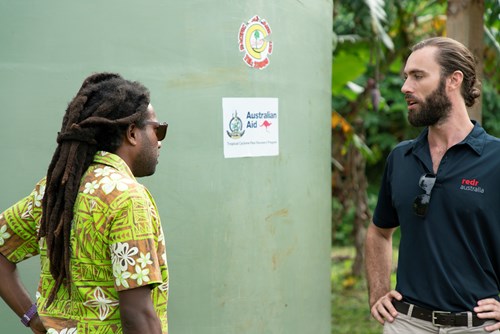 Project Manager Kieren Davis with Charles, the Project Manager of DWSSP. Photo: Ian Parish, RedR Australia
A major focus of Kieren's has also been to build capacity in communities by equipping local people with technical skills.
"We're working with the department to help improve technical capacity by improving existing technical standards and guidelines, and also improving procurement capacity by improving existing financial and government processes."
"We're also working with young graduate engineers to build their capacity in assessing and designing water supply systems. We're conducting assessments together, we'll be doing trainings together and then, one-on-one, we'll be doing conceptual and detailed designs of water system elements together."
Also working on the Tropical Cyclone Pam Recovery Program through the Australia Assists program is Project Management Specialist Ted McDonnell. Trained as a civil engineer and an expert in major project management, Ted is leading the Public Building Recovery Program. 
The program focuses on implementing the repair, reconstruction and redevelopment of more than 65 public buildings including police housing, disability support services infrastructure, sports facilities, water supply, governance facilities, and a range of other buildings damaged in the cyclone.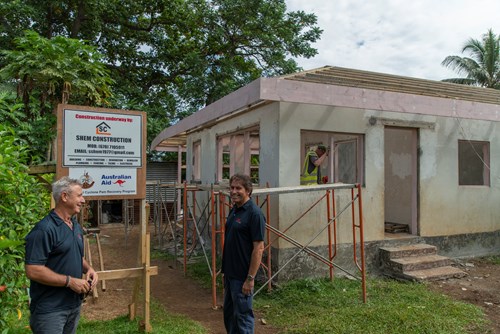 Project Management Specialist Ted McDonnell with Pacific Regional Manager Mark Brooking at a construction site part of the Public Building Recovery Program. Photo: Ian Parish, RedR Australia
Based in Port Vila for two years, Ted remains optimistic about the future resilience of the community against natural disasters, despite it being a challenge to maintain. Ted says that with long-term planning, he believes projects like the Public Building Recovery Project will make a tangible difference.
"Hopefully Vanuatu will get to a point where local capacity has increased and the country will be able to manage the annual cycle of natural disasters."
"Until then there is a place for organisations like RedR Australia and the Australia Assists program to assist in risk reduction, response and recovery activities. It's challenging work, but I'm glad I'm here."