In a humanitarian crisis, rates of violence against women and girls soar. Australia Assists works with communities and partners around the world to help keep women safe before, during and after disasters.
In Iraq, where child marriage and female genital mutilation are common, Mahmood is working with United Nations Population Fund (UNFPA) to change community attitudes and behaviours towards gender-based violence. A Behaviour Change Communications Specialist, Mahmood deployed through the Australian Government's Australia Assists program to UNFPA in July this year, and is reviewing social norms and laws that discriminate against women and girls. He is working across communities – including with law enforcement officials, religious leaders, health providers, schools, youth workers and families – to develop communications strategies to affect change.
Mahmood believes men must step up to challenge the "culture of violence" that exists. "In Iraq, men hold more power and influence in a home or community. Therefore, they have a crucial role to play in speaking out against violence against women. Significant change is only possible when we take collective responsibility," he said.
Mahmood is just one of several Australia Assists deployees working in humanitarian settings around the world to help empower and protect women, and to end the scourge of gender-based violence.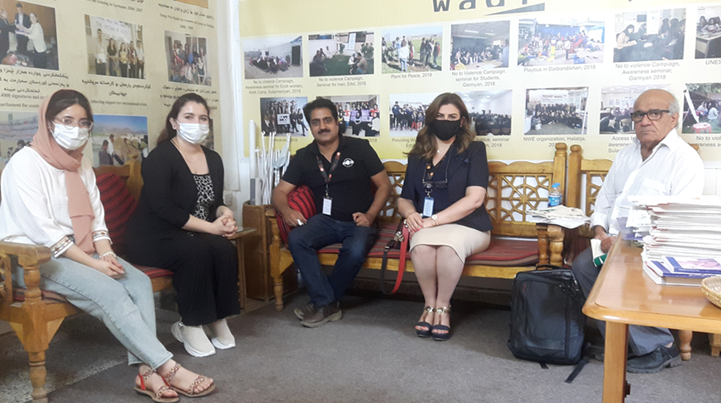 Behaviour Change Communications Specialist Mahmood (centre) working to change behaviours that have enabled gender-based violence in Iraq.
According to the latest estimates from the World Health Organisation nearly one in three women and girls over the age of 15 globally are subject to sexual or physical violence across their lifetime. But in a humanitarian crisis, those rates soar.
Crises such as natural hazards, armed conflict and public health emergencies exacerbate existing gender inequalities within communities. They disrupt services, structures and family and social networks that protect women and girls, increasing the risk of domestic violence, rape, trafficking, child, early and forced marriage, and other forms of violence. It is estimated that more than 70 per cent of women experience gender-based violence in some humanitarian settings, especially during violent conflict. 

In Fiji, which like many Pacific nations is prone to devastating tropical cyclones and other natural hazards, Australia Assists deployee Kate L is working to ensure that women are protected from harm during emergencies.
The veteran deployee has been supporting UNFPA since May this year to integrate gender considerations into disaster risk reduction, preparedness and climate change adaptation efforts, so that when disaster strikes, women and girls aren't left behind.
As secretariat of the gender-based violence sub cluster for the Pacific, Kate L is also facilitating sharing information, resources and knowledge across the region. She recently developed a planning tool based on United Nations standards to help mitigate gender-based violence in emergencies, which will be used to inform national action plans.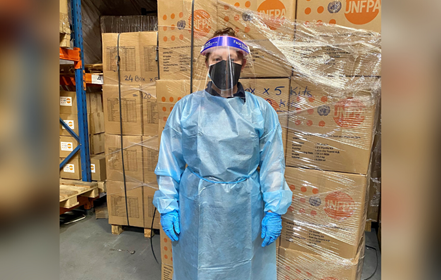 Kate L suits up in PPE to check humanitarian supplies at the UNFPA warehouse in Suva. 
The terrible impact of crisis on women's safety has been brought into sharp focus. A shadow pandemic of domestic violence has emerged in tandem with COVID-19. Lockdowns, school closures and job losses have forced women into confinement with their abusers, hidden or cut off from their usual support networks. In some countries, resources earmarked for preventing gender-based violence have been diverted to the direct pandemic response. In 2020,  UNFPA estimated 15 million additional cases of gender-based violence for every three months of lockdown. ActionAid's network of support services in Bangladesh (including in the Rohingya refugee camps) reported a 10-fold surge in sexual and domestic violence from April-May 2019 to April-May 2020. But these numbers tell only part of the story, given that each act of violence impacts the entire family and their wellbeing.
Against this background, the United Nations has launched its annual 16 days of activism, with the call to "End violence against women, now!". The campaign began on 25 November marking the UN's International Day of Elimination of Violence Against Women and runs until 10 December on UN Human Rights Day. The campaign is a call to action for individuals, organisations, institutions and systems around the globe to advocate for long-term strategies, programs and resources to eliminate violence against women in public and private spaces. 
"We have seen the whole world respond to the COVID-19 pandemic, with all hands on deck, and with responsive investment and protocols backed by determination," noted Phumzile Mlambo-Ngcuka, immediate past Executive Director of UN Women. "Violence against women is also a pandemic – one that pre-dates the virus and will outlive it. As we face COVID-19's devastation, there has never been a more important moment to resolve to put our combined resources and commitment behind the biggest issues, and to end violence against women and girls, for good."
Even before the global pandemic, gender-based violence was rife in conflict-torn Rahkine state in Myanmar, where military crackdowns against the Rohingya people have resulted in a mass scale humanitarian crisis.
Australia Assists deployee Kate B was deployed to Sittwe in Rahkine state in late 2018 as part of Australia Assists' ongoing response to the Rohingya crisis. Kate B observed that domestic violence was commonplace in households, with families living in close proximity and often in poorly secured housing. And prevailing social norms meant that women's voices were not being heard.
As part of her work supporting the coordination of gender-based violence prevention and response activities in Central Rakhine State, she visited a women and girl's centre set up to provide counselling and raise awareness of gender-based violence in a safe space. Kate B recalls asking a woman if she could take notes about the experiences being shared with the group. "I remember the woman being surprised, and saying 'This is the first time someone is recording my words, my experience'."
Australia's commitment to ending violence against women
The government's Australia Assists humanitarian civilian deployment program, implemented by RedR Australia, puts these commitments into action. Prioritising ending violence against women and girls is embedded within the program's Gender Equality Strategy and Action Plan and through its humanitarian impact around the world.
Since Australia Assists began in 2017 the program has deployed 19 specialists to directly address gender-based violence in 10 countries, plus a further 15 deployments focused on gender equality or supporting gender-mandated organisations. Collectively these deployments have provided a total 235 months of targeted support to empower women and end gender-based violence across 14 countries – equivalent to 19.6 years support in just four years.
But these deployments are just part of the story. In 2020, an independent desk-based gender review found multiple examples of gender mainstreaming across a mix of gender targeted and non-targeted roles. This work ranged from helping to strengthen national policies and standards relating to gender-based violence, to distributing help-line posters in emergency evacuation centres. 
The Australia Assists program recognises that conflict and crises are often the most dangerous time for women and girls, and through deployees such as Mahmood, Kate L and Kate B, prioritise efforts to protect them from violence, before, during and after emergencies.