A now Taliban-controlled Afghanistan faces looming food insecurity and economic collapse, while the earthquake that struck Haiti on 14 August resulted in more than 2,000 deaths with hundreds more people missing. As the climate emergency worsens and COVID-19 continues, the humanitarian sector faces many challenges ahead.
In order to provide humanitarian assistance in increasingly volatile environments, security risk management (SRM) is essential to enable the safe delivery of aid. But with a growing range and frequency of crises, how can humanitarian staff in diverse locations be trained in effective security management? 
One solution is through online delivery. RedR UK and RedR Australia have together developed an online training course – Security Management for Humanitarians – that aims to spread the latest theories and methods in security to aid workers around the globe in an accessible, online format.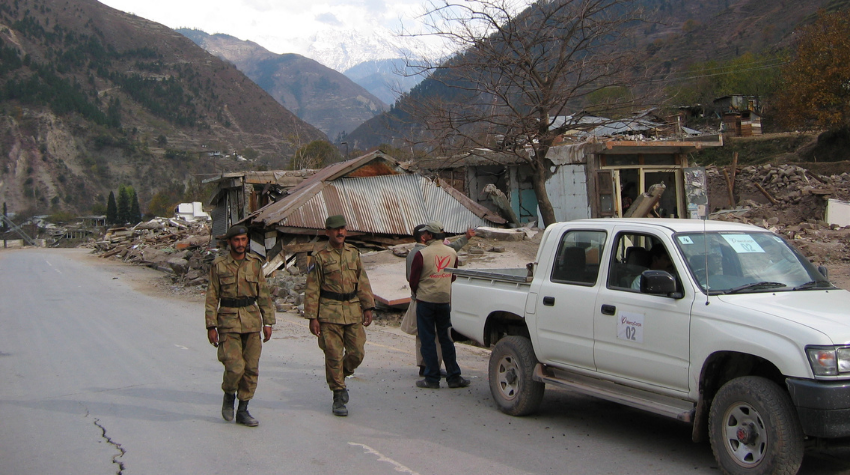 We reached out to two Associate Trainers who will facilitate the course, to understand the urgent need for SRM training, and how this can be delivered online. 
Rory Peters is a RedR trainer who has designed and delivered dozens of Hostile Environment Awareness Training (HEAT) and security management courses and has spent many years abroad, including countries such as Afghanistan, Iraq, and South Sudan. 
Having previously overseen global security for RedR Australia, David Simpson is an experienced security professional currently based in Amman, Jordan. 
Why does security risk management matter in a humanitarian setting?
Rory: 'Security Risk Management is critical to the work we do, to keep our staff safe and to ensure we can maintain the highest quality programmes and support for the communities we work with. Recent events in Afghanistan are just another example of the volatile and unpredictable environments in which we work. We must take all due diligence to be ready for such developments.'
David: 'Effective risk management is critical to enabling access, allowing humanitarian workers to stay and deliver in complex or even threatening operating environments. Moreover, humanitarian employers have a duty of care to their people and delivering on this can and should involve upskilling staff to know what they are doing when deploying into tricky situations. Good security risk management provides an objective framework for delivering on both fronts and assists rather than impedes the delivery of effective humanitarian programming.'
What recent developments in SRM theory does this course incorporate?
Rory: 'There is an ever-increasing range of literature and expanding information regarding security management that our course incorporates. This includes using all up to date statistics, recent case studies and increased focus on areas such as inclusive security and staff management.'
David: 'Prior to the most recent evolution to online delivery, RedR UK and RedR Australia worked together to rewrite what was previously a face-to-face course – providing a solid platform for the most recent iteration. One of the changes we made when doing this was the introduction of a reference point for what might be called 'formal risk management'.  While the course still references humanitarian-specific tools – including some of the guidelines developed by the Global Interagency Security Forum – making use of broader, global industry standards helps ensure we are thinking holistically about risk management best practice.'
What benefits do you foresee by converting face-to-face SRM training to online?
Rory: 'There are some obvious practical benefits of online training such as access and costs. There are also significant pedagogical advantages through online training. This course uses multiple online platforms that are fantastic at encouraging engagement and ensuring we have creative and high impact sessions.'
David: 'Quite simply, accessibility and reach. In the region where I work, there are large numbers of local and national humanitarian workers doing incredible work in Ethiopia, Iraq, Lebanon, South Sudan, Syria, Yemen, and many other places besides. It is not always easy for them to receive international training opportunities, and not always easy for trainers to get to them. Online delivery helps to level the playing field both for local staff, and for many other international participants who may be affected by current pandemic-related restrictions.'
The course includes an online simulation. How does this relate to the situations participants may encounter in real life?
Rory: 'Without revealing too much, the simulation takes place in South Sudan during a rapidly developing crisis. The simulation attempts to test much of the SRM theory learned in the course and place participants in a stressful situation. It is designed to place participants in multiple ethical dilemmas with a series of very difficult decisions.'
David: 'There has been a lot of discussion in the sector as of late regarding both the challenges and opportunities posed by online training. For me, crisis management is an example of where a simulation can actually be made more realistic online. 
The vast majority of security incidents I have dealt with over the last 18 years have been down a phone line, over Skype or even by e-mails or WhatsApp. It can be both confusing and isolating in the early stages of an incident as you try to piece together what is going on – and implement a response – remotely. Being coached on this and having a chance to practice in a safe and supportive space is a great learning opportunity.'
Security Management for Humanitarians will run from 16 November to 9 December. If you're interested in attending, you can sign up via RedR Australia or RedR UK.