International deployments can be as challenging as they are rewarding. Even for the most experienced RedR Australia roster members, the physical and emotional stress of being in a crisis or hostile environment can take its toll. For many deployees, being away from loved ones can also be one of the hardest parts. 
RedR Australia is proud to have trialed deploying some of our technical experts who choose to go with a dependent; this means that a deployee can choose to apply for a role and deploy with their family with the confidence that this won't inhibit their selection.  
In FY23, we implemented 11 deployments whereby people requested to travel with family (approximately 8 per cent of all deployments). Nine of these deployees were included in the Australia Assists Program, which is the Australian Government's humanitarian civilian deployment capability, implemented by RedR Australia, while the other two were funded by the UK Government's Foreign, Commonwealth and Development Office (FCDO). 
Roster members deployed with family members to a range of locations, including Cambodia, Samoa, Fiji, Vanuatu, Kenya, Romania, the Czech Republic and Poland. 
Ensuring experts can respond to crises, while keeping families together 
Accompanied deployments can reduce stress on the deployee and family members by keeping the family unit together. RedR Australia deployments are generally for a duration of six months; however, extensions are common, and, in FY23, three accompanied deployments continued for 12 months. Deploying together can be a difficult choice to make but having the choice is an important opportunity for skilled people to consider more deployments when the circumstances work. 
For RedR Australia, the possibility of accompanied deployments means we can continue to deploy highly experienced roster members who otherwise could not travel to do this important work.  
A home with family, far from home 
David is an architect and RedR Australia roster member, with more than 15 years of community development design, construction and humanitarian experience in countries such as Nepal, Syria and Bangladesh. He specialises in shelter design, settlement planning and designing safe spaces.  
David has completed four deployments through the RedR Australia roster, with the Australia Assists Program and the Foreign Commonwealth Development Office (FCDO), and he has assisted refugee communities around the world tapping into his architectural expertise. For each posting, he has chosen to take his family along with him, allowing him to continue his essential humanitarian work. David travelled with his wife and six-month-old daughter to Nepal in 2018, then remotely on the cross-border operation to Türkiye/Syria during the pandemic, and then to Romania, where his daughter celebrated her fifth birthday. David has also worked directly for IOM in Bangladesh, Cox's Bazar, and was accompanied by his wife and daughter on this mission. 
"The impact on my child—through being exposed to various cultures—is important. When she was in Romania, she went to an international school, and was able to play and socialise with lots of kids from different nations," said David.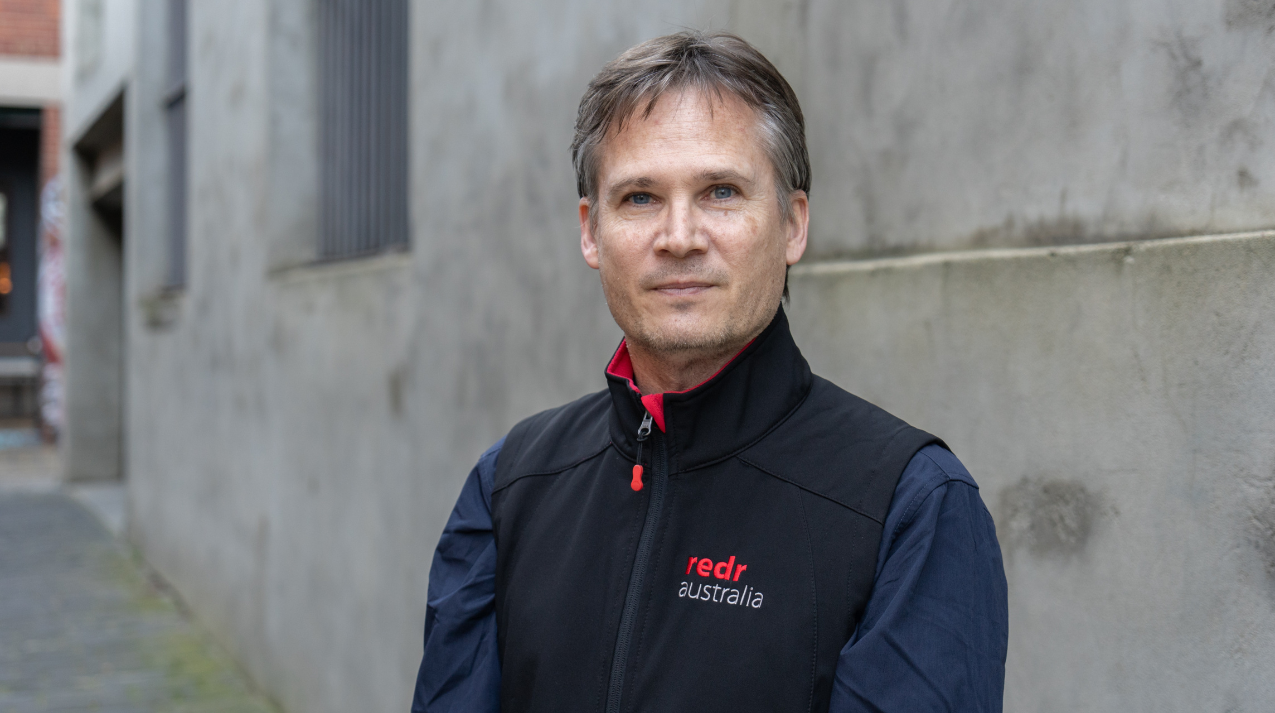 RedR roster member David has been accompanied by his wife and daughter across several deployments.

Including people with families  
Luisa also appreciates the choice and opportunity to broaden her child's worldview while doing the work she is driven to do. Luisa took her four-year-old daughter on deployment to Senegal in March 2021 while Luisa was supporting the United Nations' civil-military coordination efforts in West Africa. Her four-and-a-half-month deployment, funded through RedR Australia's partnership with FCDO, is another example of the great value of placing skilled people with roles assigned to family duty stations.  
On return, Luisa reported that her daughter had kept in touch with their Dakar community. "Having these accompanied deployments means everything to me," said Luisa. "I love working in this field. I feel fulfilled, happy and challenged. But it's even better that I get to share what I love with my daughter." 
By all accounts, the trial was successful, and Luisa and her daughter have since completed another two deployments in Cambodia and Samoa. On location, Luisa said, "[my daughter] is already learning some Khmer language and culture, and her social skills and sense of adventure are expanding by the day. She wants to know where we can go and explore next!"  
The opportunity to work in the humanitarian sector in almost any family duty station, is especially beneficial to women and single parents. Gender inclusion and equity are central to humanitarian work, so to be able to support deployments for everyone with children is important to achieve. 
Different situations, different challenges 
However, there are also challenges that come with accompanied deployments. Both David and Luisa have had difficulties regarding family visas. Despite a detailed application process and clearance letters, David's wife and daughter were refused re-entry visas to Romania. David accompanied his family on a flight back to Australia and then returned to his duty station in Romania. Despite this difficulty, David said, "The support from RedR Australia was amazing and they provided assistance when I really needed it".  
For Luisa, complications with visas and medical clearance meant that her recent deployment in Samoa was delayed, which was disruptive for her daughter's schooling. Some deployees have also had difficulty finding appropriate childcare on location, whilst others found that stressful projects impacted their family life outside of work hours. 
Every deployment, like every family, is different. Accompanied deployments do not suit every situation. RedR Australia's approach to deployments is a personal one, where deployees are prepared and supported in an individualised way, enabling them to do the best work possible. RedR Australia provides pre- and mid-deployment assistance in a range of areas like visa processes, medical checks and access to psycho-social support. However, the dynamic nature of an overseas deployment means that challenges can and do arise.    
A flexible option to support RedR Australia roster members 
RedR Australia continues to offer accompanied deployments upon request to expand our support for deployees with families. For roster members like David and Luisa, accompanied deployments are essential. "It's incredibly important to have my family with me," said David. "I wouldn't be able to do this work if family deployments weren't an option."  
RedR Australia is proud to enable our roster members to continue their vital humanitarian work whilst still staying close to family; and stands by the belief that having a family should not be a reason for the right people to hold back from doing valuable humanitarian work.