Elizabeth visited UNFPA-supported facilities set up in the Cox's Bazar settlement as part of the Rohingya crisis response. This included Women Friendly Spaces established to provide a place where women and girls can safely access essential services, receive dignity kits, and connect with other women.
"The Women Friendly Spaces are places of caring, of belonging, and of being able to work through the past to create the future," said Elizabeth. "I met women who now feel like there is a future that they can start to develop for themselves and their family, who are being supported on that journey, and who are ready to take the next steps in moving forward."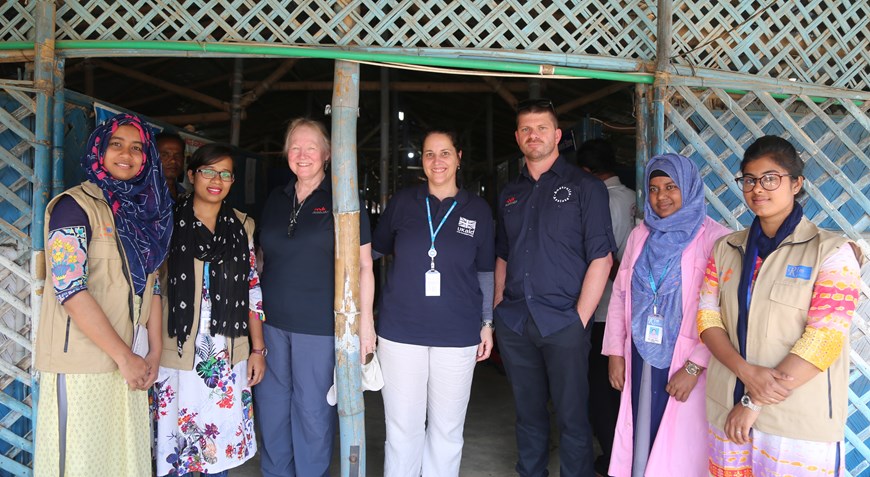 RedR Australia Board Chair Elizabeth Taylor AO, DFID deployee Eva Rankin, and RedR Australia Roster and Deployments Manager Darren Williamson with local UNFPA staff (left) and midwives from implementing partner RTMI (right). Photo credit: UNFPA Bangladesh
Elizabeth also met with DFID deployee Eva Rankin, deployed through RedR Australia to UNFPA Bangladesh as Head of Health, where she has lead the Sexual and Reproductive Health and Rights (SRHR) Team and its programming for six months. 
"I've guided the SRHR Team and our implementing partners to deliver the final quarter of the 2018 Annual Work Plan (AWP) for UNFPA in Cox's Bazar, and developed the 2019 AWP including delivering the first quarter," said Eva. "Our work here is reducing avoidable maternal and neonatal mortality and morbidity, and we're also providing rights-based access to essential health services for beneficiaries in need, across both Rohingya camps and host communities."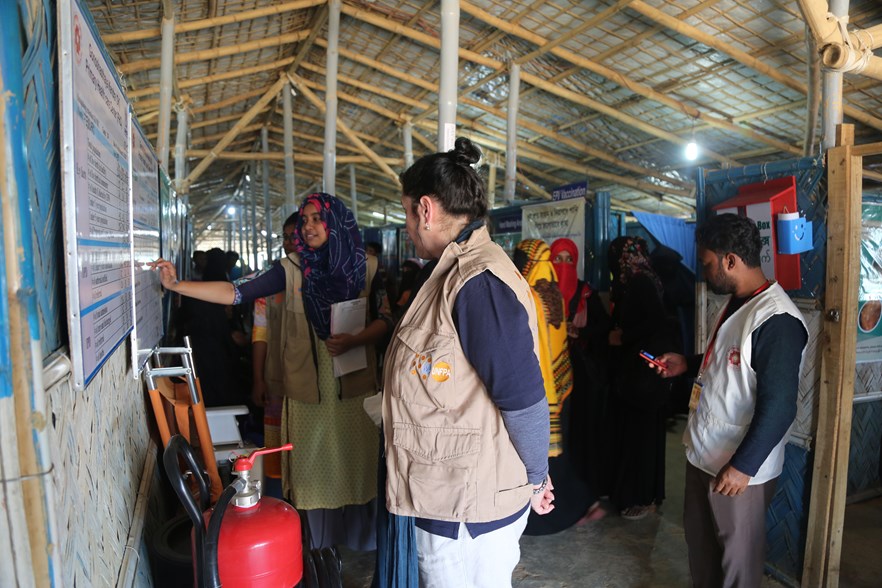 DFID deployee Eva led 24 staff in UNFPA Bangladesh's Sexual and Reproductive Health Rights (SRHR) team in Cox's Bazar. Photo credit: UNFPA Bangladesh
With the ongoing nature of the Rohingya crisis response, Elizabeth reaffirmed RedR's commitment to continue to work with its partners to deliver an inclusive humanitarian response. 
"I have met incredible people, both the refugees themselves as well as those supporting the refugees, and admire the way they are creating such a strong sense of community here during a very difficult time," said Elizabeth. "RedR looks forward to continuing to work together with all of our partners to ensure that this journey for Rohingya women and girls continues to progress while ensuring Bangladeshi host communities are also supported."