In June 2022, Kiribati declared a State of Disaster due to drought. A lack of fresh water, severely depleted reserves and increasing salinity in existing water supplies has resulted in thousands being left without sufficient access to safe drinking water.
South Tarawa is home to more than half of Kiribati's population. Piped water is available for around two hours every second day, and now, even that water is becoming unsafe to drink.
Australia's Former Deputy High Commissioner to Kiribati, Tim Gill, explains "There is a reservoir out at the airport which provides all of the drinking water needs for the population of 60,000 people here on South Tarawa."
"And that water is getting saltier and saltier. As the salinity rises due to a lack of rainfall, that means that it's very hard to withdraw the amount of fresh drinking water that people need to live on."
The salinity is also affecting water reserves in outer islands. The unpleasantness of the salty water means that many people are drinking less, and using less for hygiene and cleaning, which has significant health implications.
Australia's response
In June 2022, the Government of Kiribati declared a state of emergency due to the severe drought. The Australian Government moved swiftly to respond, providing an initial $675,000 to support the installation of 100 solar distillation units in outer island communities to convert well water into safe drinking water, and to help preschools ensure water is available for students. Australia's funding also supported Australian NGOs to work with the Government of Kiribati and local NGOs to help deliver sustainable and inclusive access to drinking water in South Tarawa and the outer islands.
Australia also provided a further $2 million to support Kiribati to maintain drinking water supply. This included support for the installation of a high quality desalination plant for Tarawa, including delivery of generators and technical, operations and maintenance services for the new plant in joint contribution with New Zealand; transportation links; support for a UNICEF package focussed on water, sanitation and hygiene; provision of portable water storage bladders and flatbed trucks to support water distribution to local communities; and deployment of technical advisers with expertise in water and engineering.  
In addition, Australia Assists deployees Kirsty and Val were sent to support Kiribati's Ministry of Infrastructure and Sustainable Energy (MISE) as Water, Sanitation and Hygiene (WASH) and Logistics Advisors.
Several months later, Maureen was also deployed by Australia Assists as a Disaster Risk Management and Response Coordination Specialist.
Val: bringing decades of experience to enable sustainable solutions
In Kiribati, Australia Assists deployee Val worked in consultation with the local community of Ubwanteman Village on Abaiang Island to find a safe and sustainable drinking water supply.
The main issue on Abaiang, Val said, is not lack of water. "The main issue is high salinity of this water."
The aim was to enable access to at least 20 litres of clean water per person, per day, for cooking and drinking. The brackish (high-salinity) water could still be used for other purposes like cleaning and laundry. With most of the wells near Ubwanteman Village now containing brackish water, safe drinking water was hard to find. There was one well with clean drinking water, however this well was located outside of the village.
The solution was to provide a solar-powered pump to pump water up to an elevated tank. This water could then be piped to eleven water points constructed throughout the village.
Now, the residents of Ubwanteman Village can access safe drinking water closer to home. They no longer have to choose between drinking unsafe water from a nearby well or carrying clean water long distances in the heat.
Val said it was important to work alongside the community in design and implementation.
"I believe it's very good for community to feel united," he said. "I believe it will greatly improve relations inside the community and it will allow us to deliver the message – for instance, the difference between brackish water and safe water and how important it is to drink and cook using safe water… I believe there's a lot of advantages in this kind of communal approach."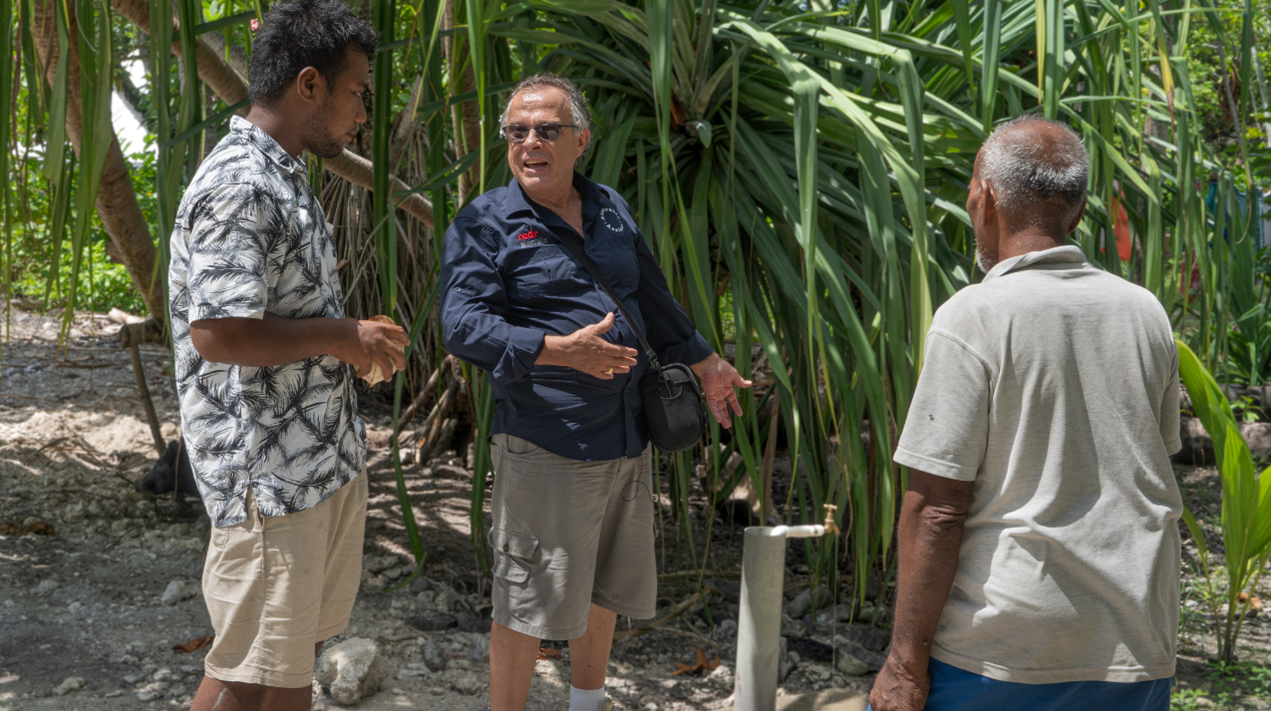 Australia Assists deployee Val (centre) worked on a water supply project in the village of Ubwanteman on Abaiang Island to help residents access safe drinking water closer to their homes. Photo: Carmen Holman
Kirsty: helping to make seawater drinkable through desalination
As a civil engineer specialising in water, Australia Assists deployee Kirsty has experienced drought firsthand in her homeland of Australia. This, combined with experience in humanitarian work and project management, meant Kirsty was well-placed to work with the Ministry of Infrastructure and Sustainable Energy (MISE) to help mitigate the impacts of drought.
Securing safe drinking water requires both immediate and longer-term solutions. Where infrastructure is installed, it is important it can be operated and maintained in a sustainable manner.
This can be challenging for a remote country like Kiribati which has fragile groundwater resources and logistical challenges moving people and equipment between islands. Kirsty worked with MISE's local team to identify sustainable water supply systems that meet community needs for both drought and the longer term. She also helped them make important decisions around the benefits of desalination plants.
A desalination plant can provide a long-term solution for a drought-prone country like Kiribati, as long as it can be serviced and maintained. It is also important that it doesn't impact on existing fresh water resources and the marine environment.
Kirsty undertook research, and consulted with MISE and other ministries, to prepare a Cabinet Paper on regulation of desalination plants. In addition, she assisted with some smaller scale solutions, including designing suitable solar pumped water supply systems to provide drinking water for communities in the Outer Islands.
Kirsty enjoyed the sense of community she found on her deployment. "The people of Kiribati are incredibly friendly, I'm often greeted by 20 or 30 people on my walk to work," she said.
"It's made me realise how much I really enjoy sharing what I know. It's not always about the doing, it's about sharing what you know. And that's something I've really, really enjoyed doing here."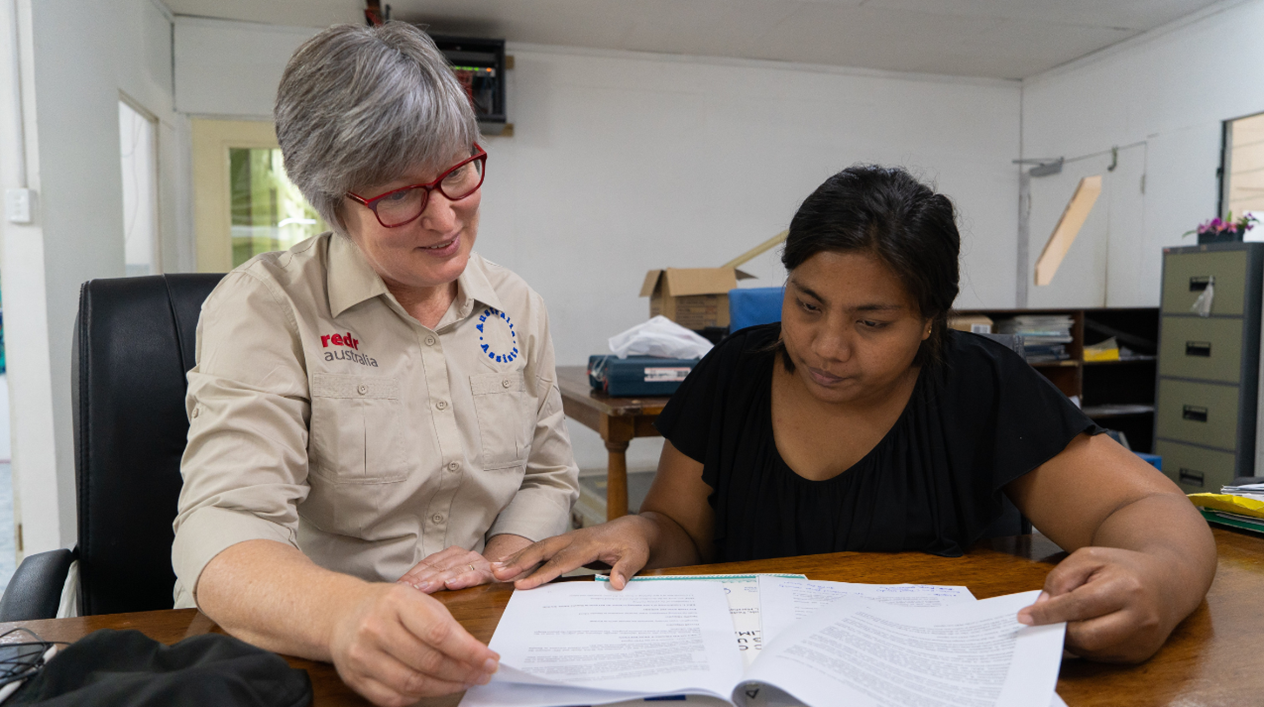 Australia Assists deployee Kirsty (left) deployed to Ministry of Infrastructure and Sustainable Energy (MISE) in Kiribati to support the drought response as a WASH and Logistics Advisor. Photo: Carmen Holman

Maureen: working to ensure everyone is included

Maureen arrived in Kiribati in November, deployed as a Disaster Risk Management and Response Coordination Specialist.
Maureen is working to support coordination and strengthen ties between Kiribati's Disaster Risk Management Unit at the Office of Te Beretitenti (President) and other government ministries. In January 2023, Maureen facilitated the review of the current drought response plan with the National Drought Committee. She helped to expand the focus to a broader drought (risk) management plan, and highlighted the need to focus on disability and gender in the drought response.
Access to messages about water restrictions or changes to distribution points is an important aspect of inclusion, Maureen explained. "We always ask for the communication plan … and we work closely with Kiribati Red Cross and ChildFund, given that they're the ones on the ground working closely with the community, to ensure that the messages are being passed on to disability organisations."
Young mothers may also need consideration in the drought. "Sometimes there is the need to use formula," Maureen said, "and there's quite a concern with the water quality."
Gathering data, including the numbers of people with disability and other vulnerable people present in each area, is an important element of disaster management. Maureen encourages appropriate data sharing across departments to allow better planning and response to humanitarian crisis.
Maureen has appreciated the face-to-face time with the local team, and the way it gives more depth to the work.
"When you're not in country, you might have an hour of someone's time, so you'll ask all the big questions. But then there's always the little questions which could leave you unstuck. I think being here and asking those little questions … gives me the confidence to provide better advice and better guidance and see how it fits within the broader context and within the ministry and the processes here," she said.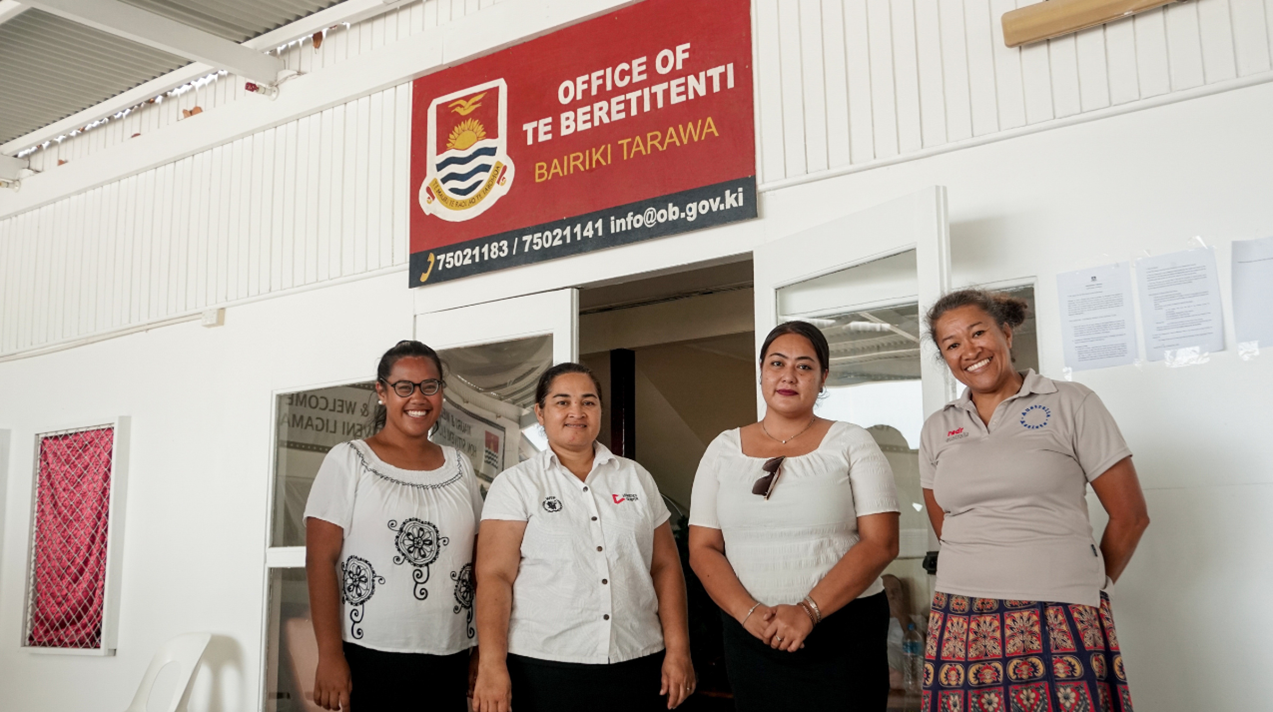 Maureen (right) with colleagues at Kiribati's Disaster Risk Management Unit at the Office of the Beretitenti (President). Photo: Raimon Kataotao
Working together to make a difference
Engaging with the community can provide opportunities for mutual learning and building capacity.
"It's a bit of a mix, where I provide guidance and advice and also pick at (the local teams') brains for questions. So I'm also continuously learning as well here." Maureen said of her current deployment.
Kirsty, too, has appreciated the Kiribati teams' willingness to learn. "I've been working in the water industry for quite a long time," she said, "so it's been a great opportunity to share some of that knowledge with a group of people who are interested, open and curious and ready to absorb as much as they possibly can from the time that I'm here."
Barry, MISE's Water Sector Coordinator, has valued the capacity-building approach of the Australia Assists team. "It's very helpful to the Ministry itself to build our capacity and learn a lot of skills and lessons from Australia's experts," Barry said.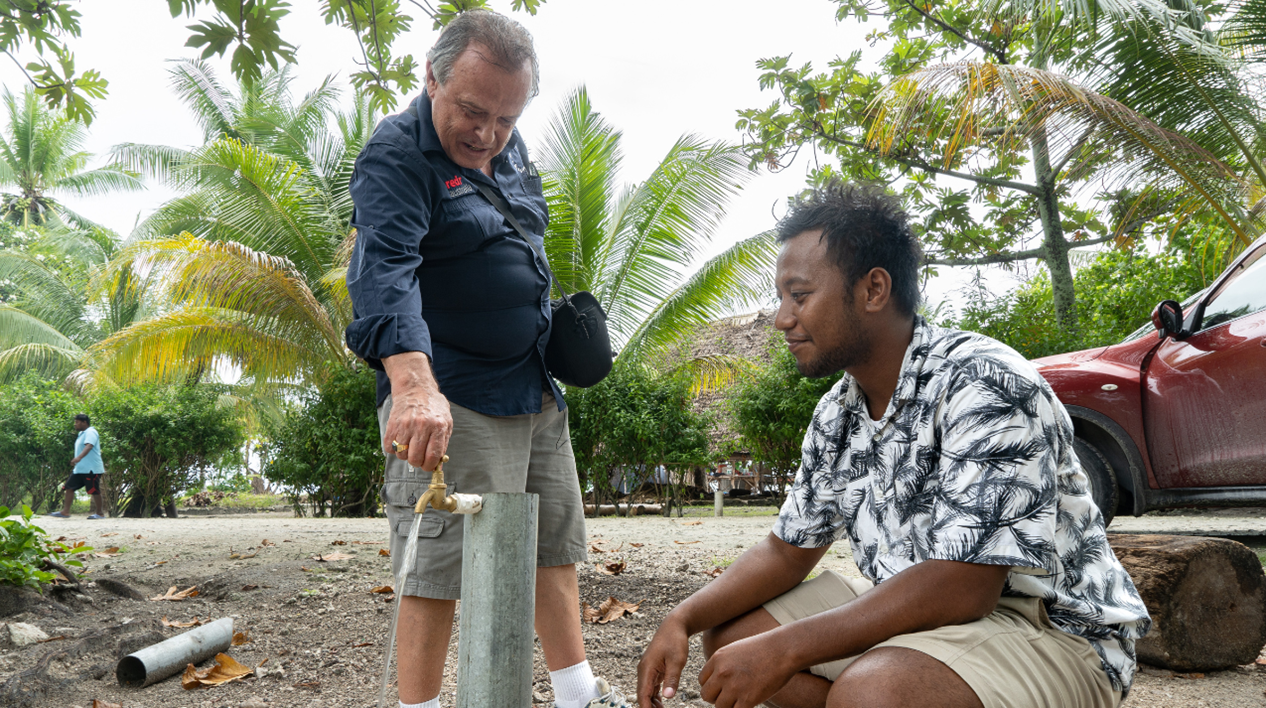 Barry, MISE's Water Sector Coordinator worked alongside Australia Assists deployee Val to bring safe drinking water to Ubwanteman village. Photo: Carmen Holman
Working with the local communities also enables ownership and sustainability of drought response actions.
In the drinking water diversion project in Ubwanteman Village, Val said the Village Council decided that one person from each household would assist with labour. This meant the job was done faster, and the community had a good understanding of the importance of safe drinking water.
Tataua Biio, the Chairman of Ubwanteman Village, readily acknowledges the difference the new water system has made to his community. "Now that fresh water has reached the village, we feel different," he said. "We are happier and healthier."
Learn more about Australia Assists and the work of deployees before, during and after emergencies.