As a Disability Inclusion Officer with the World Food Programme (WFP) in Lebanon, Tiziana is working to enable better access and support for persons with disabilities. This vital role is supported by Australia Assists, the Australian Government's humanitarian civilian deployment program implemented by RedR Australia; an example of the Australian Government's commitment to including and supporting persons living with disability. 
Persons with disabilities are often excluded from policy making and legal frameworks. In addition, history has consistently shown us that persons with disabilities are among the most marginalized in crisis-affected communities, and are at risk of being left behind in humanitarian emergencies and conflict. Australia works closely with partners, including WFP, to ensure humanitarian action is more inclusive of people living with disability. In 2021, Australia's package of technical assistance to WFP continued to support the implementation of WFP's Disability Inclusion Roadmap.
Being counted: leave no one behind
Tiziana's primary role is leading the development of a disability inclusion plan for WFP's Country Office in Lebanon, encompassing the next three years.
Part of Tiziana's work has been to conduct an environmental scan, analysing barriers encountered by persons with disabilities, to improve accessibility to WFP's assistance for both Lebanese nationals and refugees.
According to the UNHCR, Lebanon is host to one of the highest number of refugee populations per capita worldwide, with the government estimating 1.5 million Syrian refugees and 13,715 refugees of other nationalities. In addition, 90 per cent of Syrian refugees in Lebanon are living in extreme poverty.
Tiziana explains that, "WFP has been clear about their initial aim of responding to the Syrian refugee crisis in Lebanon, by providing life-saving assistance to refugees in the country since 2012. Since then, WFP's role has expanded, ensuring that both Lebanese and refugees have access to essential needs, including sufficient nutritious food throughout the year. WFP Lebanon also provides technical assistance and capacity strengthening support to the Government of Lebanon."
Having visited food distribution points in Tripoli District in the North Governorate, Tiziana has been able to support staff and WFP partners with guidance on how to provide accessible services while liaising with local Organisations of Persons with Disabilities.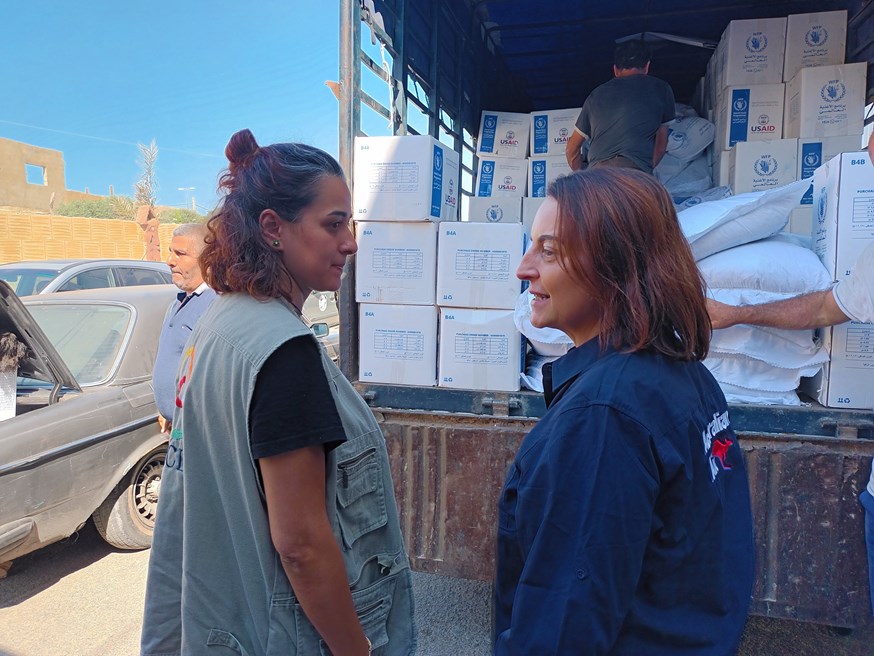 As part of her deployment with WFP, Tiziana visited food distribution points in Lebanon's Tripoli District.
According to the UN, more than one billion people, or approximately 15 per cent of the world's population, live with some form of disability; 80 per cent of whom reside in developing countries. Many persons with disabilities, especially refugees, face challenges in accessing essential services and support, meaning they are more likely to experience poverty and high levels of marginalization.
Data collection, like the work Tiziana is doing, is an essential and effective method of understanding the scale and need, so no one is left behind. Counting all people and recording who needs better access to essential nutritious food is an important step to understand how to affect change.
Full and effective participation
Like many communities in crisis, more support is needed to help persons with disabilities have access to the tools they need to fully participate in their communities. Tiziana believes that, "Targeted transformational interventions that support a change in perceptions and attitudes towards persons with disabilities is needed, so they are seen as rights holders and active participants in society."
"This could include advocacy from all communities for improved legal frameworks and activities to change attitudes and behaviours; and secondly addressing the practical barriers and gaps created by an environment that lacks inclusivity and creates disadvantage and marginalisation hampering participation and equitable opportunity."  
The mission for disability inclusion is big and taps into the UN Sustainable Development Goals which ask for Full and effective participation of persons with disabilities in society and development.
The Goals present an opportunity for disability action in development, as a guide for change and targets for humanitarian organisations to deliver alongside governments to include persons with disabilities in policy development, budgeting and implementation.
Australia continues to bridge the gap
The Australian Government is taking action to bridge the gap for disability inclusion, and it has been noticed by the global humanitarian community. 
Tiziana tells us that, "The Australian Government has been a consistent champion and promoter of disability rights and inclusion across the world, this role has been a crucial one to support and promote change in several low and middle income countries. It is fundamental that this support role and advocacy continue, particularly in this time of crisis and great economic instability caused by the effects of the COVID-19 pandemic."   
With disability inclusion a key priority for Australia Assists, the program is committed to facilitating the rights of persons with disabilities and strengthening Australia's ability to contribute to, influence and advance disability inclusion in humanitarian action globally.
"I feel very fortunate to have the opportunity to deploy through the Australia Assists program. I am very passionate about disability inclusion and I am thrilled to have the opportunity to share my expertise and knowledge, gained at global level, to input and foster change to support an agency such as WFP and its significant operation in Lebanon.
"The Australia Assists program is an excellent initiative that sources and provides key expertise to support complex issues in crisis affected settings, with significant and long lasting impact," added Tiziana.