Kylie Harrington, RedR Australia's Monitoring, Evaluation, Accountability and Learning (MEAL) Manager, visited the Kutupalong refugee settlement in Cox's Bazar earlier this year.
Her mission was part of RedR Australia's ongoing efforts to assess both the impact and the challenges of our humanitarian deployments, and better understand how the situation is likely to unfold in the coming months as the monsoon season begins.
The impending rain and cyclone season, commencing in April, threatens to destabilise the already harsh conditions people are living in, washing away dwellings, education and sanitation facilities and other essential services in the camp. In a camp setting that Kylie describes as already extremely precarious, she says UN partners are describing the situation as an emergency within an emergency. 
"Much of the camp is built on land that is vulnerable to landslides," Kylie explains. "A key priority for us at the moment is to support our partners to stabilise the physical environment, which will save lives in the short term."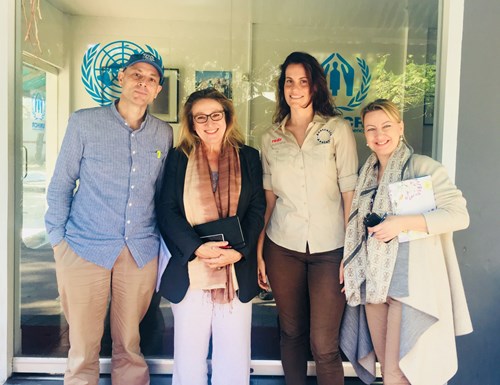 (L-R): UNHCR Bangladesh WASH Expert Dider Boissavi, Senior Operations Officer Elisabeth Pelster, RedR Australia MEAL Manager Kylie Harrington and UNHCR Bangladesh Human Resources Officer Zsuzsanna Novak. Photo: RedR Australia
Through the Australia Assists program, funded by the Australian Government, RedR Australia has deployed 17 technical experts to seven UN agency partners in Bangladesh since the onset of the crisis in September 2017. This includes deployments in humanitarian coordination, shelter and engineering, logistics and protection, with a focus on working with national and local-level actors through the course of their work.
These deployments followed the influx of about 688,000 Rohingya people to Cox's Bazar escaping violence in Rakhine State in Myanmar, adding to an estimated 200,000 Rohingya already settled in the area. This has resulted in approximately 900,000 displaced people currently inhabiting a space of just 12 square kilometres.
"The thing that strikes you when you're there is the sheer scale of the settlements," Kylie explains. "A lot of hardened humanitarians – people who've worked in some of the worst humanitarian disasters over the years – say there's something particularly difficult about this crisis. There's a real sense of hopelessness and concern for the future of the Rohingya, and the Bangladeshi host community is increasingly vulnerable too. The situation there is not going to go away and in many respects it will get worse before it gets better."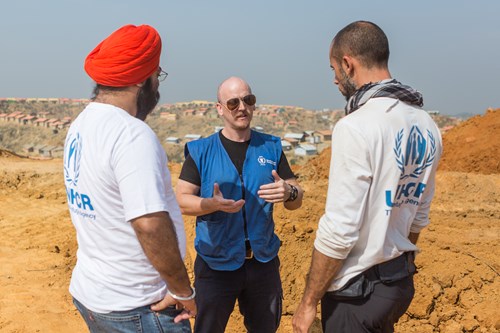 RedR Australia deployee Tristan Turner (WFP) with site planning colleagues from UNHCR. Photo: RedR Australia
Kylie says that as the monsoon season draws nearer, there is widespread concern that with even minimal rainfall, flooding and landslides will occur because of the hilly terrain, widespread terracing of shelters, and poor soil quality of the camp. Makeshift shelters made from twigs or bamboo and black plastic or tarpaulins will not be able to withstand the conditions.
RedR Australia shelter expert, Regan Potangaroa, undertook comprehensive soil mapping across the Rohingya refugee population sites, using sophisticated soil testing equipment that he brought with him to Bangladesh.  Deployed with UNHCR, this was something no other actor on the ground had been able to do at the time, and revealed that most of the land the shelters stand on isn't suitable for habitation.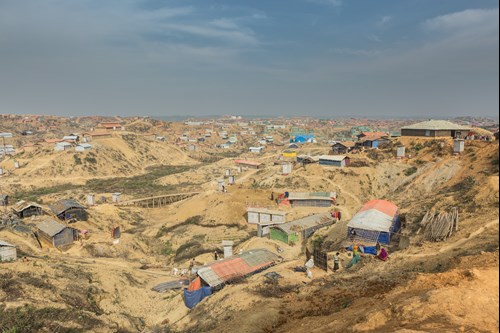 The precarious conditions where soil mapping was undertaken in the Cox's Bazar settlement. Photo: RedR Australia
Kylie says the stabilisation of roads, slopes, key infrastructure and sanitation facilities is an immediate need, and RedR Australia will likely be deploying more experts to implement earthworks and engineering solutions. WASH infrastructure sites around the camp also need to be addressed, as the majority of latrines are shallow pit latrines, and their locations, in addition to being at maximum capacity, will result in overflowing. 
Efforts to stabilise the environment of the camp are well underway and there have already been significant outcomes as a result of RedR Australia deployees' expertise.
Megan Wiezcorek, a RedR Australia deployee with UNICEF, is working on programs to keep children safe during the wet season as part of her role as the National Child Protection Cluster Coordinator. 
RedR Australia deployee Megan Wiezcorek is working to keep children safe as the monsoon season begins. Photo: RedR Australia
"The biggest risk to children during a cyclone or during monsoon season is drowning," Megan explains. "We're working at the community level, between child protection committees and disaster management committees, to really educate children around the signals and signs for when they should be evacuating, so that they can be safe during disasters."
RedR Australia Site Engineer with the World Food Programme, Tristan Turner, supervised the construction of a 28 metre low-water bridge over the Bakkhali River so that WFP could open new food distribution points, and to enable increased humanitarian access to an area that was previously cut off. But as the monsoon season draws nearer each day, there is still crucial work to be done. 
"Future challenges are ensuring that this population is resilient to the cyclones and resilient to the monsoons," Tristan says. "A lot of great work has been done by some excellent people working together, but there's a lot more that still needs to be done."