Tonga is vulnerable to a myriad of natural hazards, including cyclones, tsunamis, and volcanoes, as well as the ongoing impacts of climate change. Disaster risk management planning remains a top priority following the country's biggest cyclone in sixty years, Tropical Cyclone Gita, in 2018.
Since November 2018, Australia Assists deployee Michael Osborne has been working with NEMO in Tonga to bolster its disaster risk management capacity.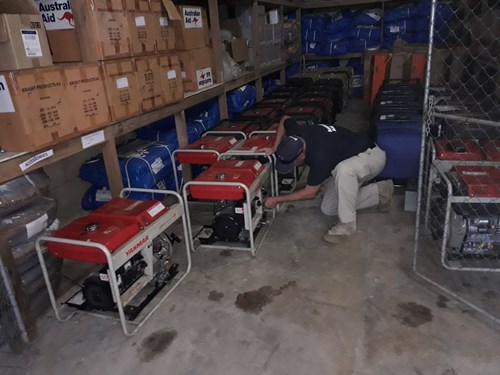 Australia Assists deployee and Disaster Risk Management Specialist Michael Osborne doing equipment maintenance inside the NEMO Tonga warehouse. Photo supplied. 
"We ran a consultation seminar with a number of Government departments, particularly the Department of Statistics, and as a result of that, we were able to collect metadata from across a number of Ministries, which assisted us in establishing a baseline," Michael said.
"This data has since been verified and uploaded in the Sendai Framework database, establishing Tonga as being one of the first countries in the world to do so – the metadata includes damages to buildings, injuries, mortalities and a host of other data pertaining to disasters dating back to 2001."
Two of the Sendai Framework's top global targets include substantially reducing global disaster mortality and the number of people affected worldwide by 2030.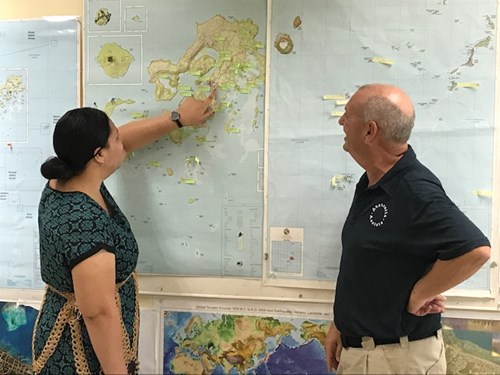 Australia Assists deployee Michael Osbourne working with Ema Masiwawa at NEMO on baseline mapping and information management requirements for the Government of Tonga. Photo supplied. 
Another focus for Michael has been working with NEMO to review and modify its plans and documents for the Emergency Operations Centre, ensuring they align with existing international standards.
"Since the earlier part of the year (cyclone season), we've been focusing on training and preparedness, following a needs analysis I conducted, discovering that NEMO didn't have an assets register in place for their large stock of equipment and other materials," he said.
On a national level, steps are being taken to address the threats of natural disasters and climate change, with the Tonga Government releasing a second joint National Action Plan on Climate Change and Disaster Risk Management, and previously, a Tonga Climate Change Policy in 2016.
Currently, the Australian Assists program has skilled professionals working in disaster and emergency relief, resilience building, and climate change adaptation across the Asia Pacific, Africa and the world - and developing capacity of local organisations and NGOs to take a bilateral and multilateral approach in their humanitarian response planning.