"We had to come up with creative ways to deliver services – whether it was following up child protection cases remotely over the phone, or trying to mobilise the existing community-based child protection committees that were established in camp and non-camp locations to continue to reach children in need." 

DEALING WITH THE UNEXPECTED
Megan initially went to Iraq at the start of February 2020 to help build the capacity of national staff to coordinate child protection activities as the country continues to transition from its post-conflict context. But soon after Megan arrived, COVID-19 began to have huge ramifications on the delivery of child protection activities and she had to play a key role in pivoting support to child protection preparedness and response for COVID-19.
Just as Megan was figuring out how to manage the new scope of her role, restrictions in Iraq came in swiftly and a strict lockdown was declared to try and stem the transmission of the virus – people could leave their homes only to get food. Megan only had seven hours warning of the total lockdown to quickly stock up on essentials, and for the first 48 hours of lockdown she couldn't go out at all.
Given the escalation of the situation in Iraq, Megan returned to Australia on 17 March – six weeks after first departing the country. She was required to stay in hotel quarantine for two weeks before returning to her own home. But, through her quarantine and once at home, Megan continued to deliver humanitarian work, remotely supporting the Child Protection Sub-Cluster in Iraq.
PIVOTING TO SUPPORT COVID-19
The pandemic is impacting children in Iraq, disrupting the environments in which they grow and develop and having an impact on their well-being, development and protection. COVID-19 has put additional pressures on households, with a lack of income and impacts on livelihoods adding further stress for parents and their children. Adding to the pressure, schools closed their doors from 27 February. Considering this situation, Megan and her team needed to quickly adapt, finding new ways to deliver existing services.

"One of the major challenges we faced were the restrictions on large gatherings in Iraq, which overnight put all group-based structured psychosocial support activities for children on hold. At the time this activity provided support for 27,500 children across Iraq," said Megan. Psychosocial support helps children to develop key life skills and coping mechanisms and supports resiliency. In Iraq this was being delivered through group-based culturally and age-appropriate structured activities.
"In my role, we needed to look at adapting the delivery of psychosocial support activities in a way that took into consideration the safety and wellbeing of children and their families, as well as the psychosocial support facilitators themselves, to limit the risk of transmission of COVID-19. In response, the Iraq Child Protection Sub-Cluster developed a family-based psychosocial support and learning kit which could be distributed at the household level that contains activities that parents can use to engage their children."
For Megan, one of her key achievements was working with the Child Protection Sub-Cluster to put in place early measures to adapt the delivery of child protection activities in Iraq during COVID-19.
"Very early on, the Child Protection Sub-Cluster developed technical guidance and resources relating to COVID-19, including the Iraq Child Protection Case Management Guide for Disease Outbreak. This was shared in the CP AoR Child Protection Resource Menu for COVID-19, resources shared at a global level to inform other UN agency, government and civil society work on COVID-19 preparedness and response in other countries. I am proud to have supported the development of these guidance and resources."
ALL IN THIS TOGETHER
While the deployment has been challenging, Megan believes the challenge has added a new dimension to her humanitarian career. 
"It has been so strange to be working on humanitarian work at the same time that your own country is experiencing the same emergency. In addition, you as a person are also experiencing the same emergency."
"COVID-19 has stretched everyone's capacity and ability. Alongside the complexities of the role and different time zones, I have had to come up with creative solutions to make it work under the new circumstances. It is important that you have the flexibility to do that."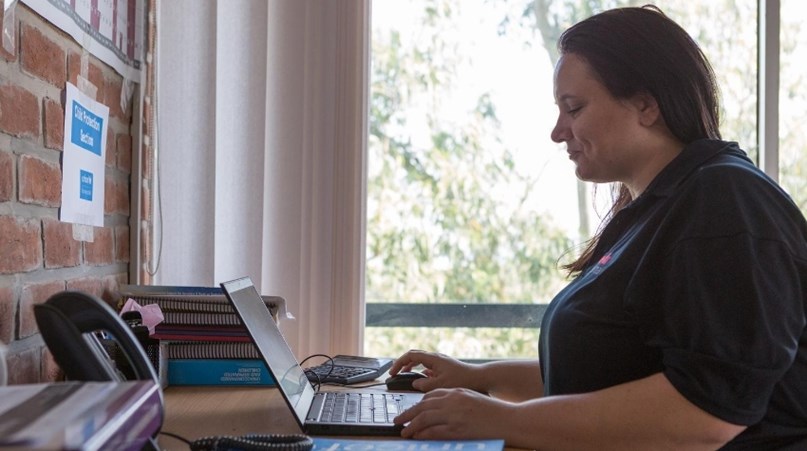 Megan Wieczorek, Roving Child Protection Sub-Cluster Coordinator with UNICEF in Iraq. Megan's deployment was funded by the United Kingdom's Department for International Development (DFID). Image credit: Max Greenstein, RedR Australia.