The inaugural Pacific Resilience Meeting, held in Suva by the Pacific Resilience Partnership (PRP), brought together over 300 participants to highlight how communities and countries are building resilience in the Pacific, during a time of increasing disaster and climate risks.
The meeting also took stock of the implementation of PRP's Framework for Resilient Development in the Pacific (FRDP), encouraging continued organisational commitment and implementation of FRDP goals.
In conjunction with the Australia Pacific Climate Partnership Support Unit, RedR Australia also hosted an informational side event featuring presentations by two Australia Assists deployees on their current work supporting disaster preparedness and response across the Pacific.
Deployed as Gender Specialist at International Planned Parenthood Federation (IPPF) Humanitarian in Fiji, Australia Assists deployee Petra Letter discussed how Australia Assists is contributing to capacity building health workers across the Pacific to identify and provide first-line support services for survivors of sexual and gender-based violence.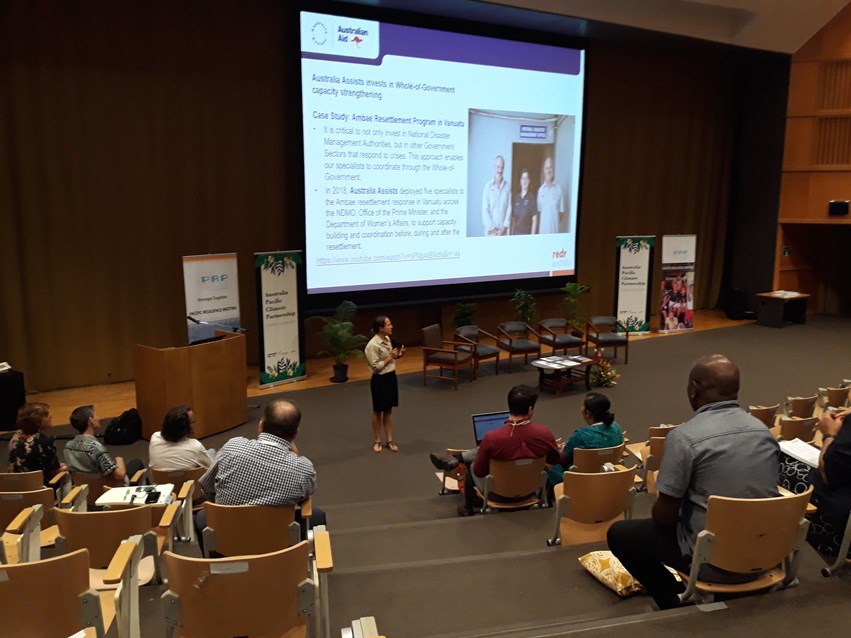 Australia Assists deployee and Gender Specialist, Petra Letter, presenting at the Pacific Resilience Meeting side event in Suva, Fiji.
Fellow Australia Assists deployee Nimarta Khuman, deployed as Gender and Protection Support Advisor to UN Women in Vanuatu, spoke with colleague Johnlyn Regenvanu, Gender and Protection Cluster Coordinator with the Vanuatu Department of Women's Affairs.
Together they reflected on how the State of Emergency from Ambae's Manaro volcano eruptions and transition to recovery presented an opportunity for Australia Assists. This opportunity was to provide technical assistance to the Department of Women's Affairs, to strengthen leadership of national and field-level coordination, including the Gender and Protection Cluster and multi-sectoral response.
RedR Australia Pacific Regional Manager, Heidi Winder, said the side event provided an opportunity to highlight the work of Australia Assists across the region, and encouraged Pacific Islanders already active in disaster response to consider joining the roster, as RedR continues to diversify its roster to match emerging priorities.
"RedR's side event showcased the achievements of the Australia Assists program in the Pacific, and provided innovative examples of strengthened integrated adaptation regionally and creative risk reduction techniques to enhance resilience to climate change and disasters," said Heidi.
"Increasingly, Pacific Islanders are proving to be valuable in surge responses across the Pacific, due to training and capacity building within Ministries and NGOs. Pacific Islanders have the knowledge and experience to deliver effective solutions to Pacific Island problems."