Australia and many Pacific Nations have long enjoyed peaceful, diplomatic and capacity sharing connections. These connections are part of what makes the region stronger and more resilient when sudden onset environmental and protracted crises occur.
The Australia Assists Program, funded by the Australian Government, has been deploying technical experts and capacity sharing with the Pacific region since 2017. In that time, over 150 have been funded and deployed through the program to the Federated States of Micronesia, Fiji, Kiribati, Papua New Guinea, Samoa, Solomon Islands, Timor-Leste, Tonga and Vanuatu.
Australia Assists has supported technical experts to work within 37 partner organisations, including government departments, UN agencies, non-government organisations and National Disaster Management Authorities.
Reflecting on responding to disasters
Earthquakes and cyclones cannot be prevented. However, their impact on communities can be reduced with effective preparedness, rapid assessment and response.
In January 2022, the Pacific Island nation of Tonga experienced one of the most explosive volcanic eruptions ever recorded. The Hunga Tonga-Hunga Ha'apai undersea volcanic eruption and subsequent tsunami affected around 84 per cent of Tonga's population.
Three Australia Assists deployees supported Tonga's National Emergency Management Office in response to the disaster. This included developing a response plan to coordinate relief activities, and helping to manage the distribution of emergency food and water supplies.
When disasters have occurred in recent years, Australia Assists deployees have been able to assist with life changing recovery and support. Around one-third of deployments are in response to sudden onset natural hazards, as well as health emergencies such as the COVID-19 pandemic.
However, many deployees focus on helping communities prepare for disasters before they happen.
Deployment for disaster preparedness
The Australian Government's Climate Change Action Strategy outlines priorities for increasing resilience to climate change and disasters.
In support of this strategy, Australia Assists deploys experts to help communities and local governments mitigate the impact of climate change and better prepare to manage natural hazards. With the Pacific region particularly susceptible to the impacts of climate change, such preparedness is crucial.
As a Humanitarian Training Coordinator deployed by Australia Assists, Yos is working with Fiji's National Disaster Management Office (NDMO). While Yos has worked in the disaster management sector for 15 years, this is his first deployment with Australia Assists.
The aim of his deployment is to assist NDMO to develop standardised disaster risk training. This will ensure there is consistency of training in disaster preparedness across the country.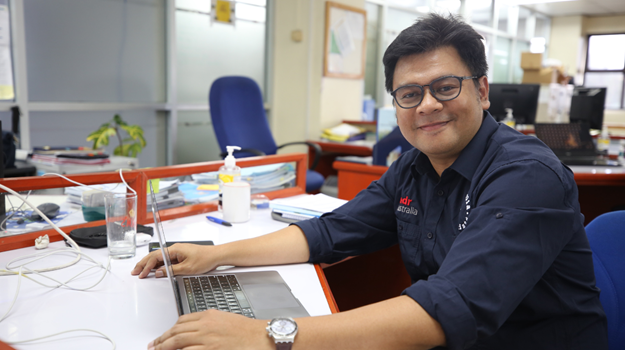 Australia Assists deployee Yos shares disaster management expertise in Fiji

Ensuring everyone is included
An important aspect of disaster management is ensuring that the most vulnerable members of the community are not excluded.
Women, children, older people, people with disabilities and members of the LGBTQIA+ community are often among the most vulnerable in humanitarian disaster settings. The events themselves can impact a community's capacity to provide protection. Gender-based violence often increases after disasters, and there can also be an increase in poverty, safety concerns and risks for pregnant women and new mothers.
Everlyn worked with UN Women through the Australia Assists program to help build resilience to disasters and climate change among women in the Solomon Islands.
 "Traditionally, disaster risk reduction has been male dominated. We tend to only listen to the leaders who are usually men – and not always the most vulnerable," Everlyn said.
Karishma is another Australia Assists deployee with UN Women. With over 9 years' experience in disaster risk reduction, humanitarian support and gender protection, Karishma is bringing her expertise to support inclusion in Tonga.
As a Gender and Protection Advisor, Karishma provides support to Tonga's Safety and Protection Cluster in Hunga Tonga-Hunga Ha'apai disaster recovery efforts as well as in their longer-term preparedness operations.
Karishma has supported training on Child Protection in Emergencies and procured Information, Education and Communication (IEC) materials on gender-based violence.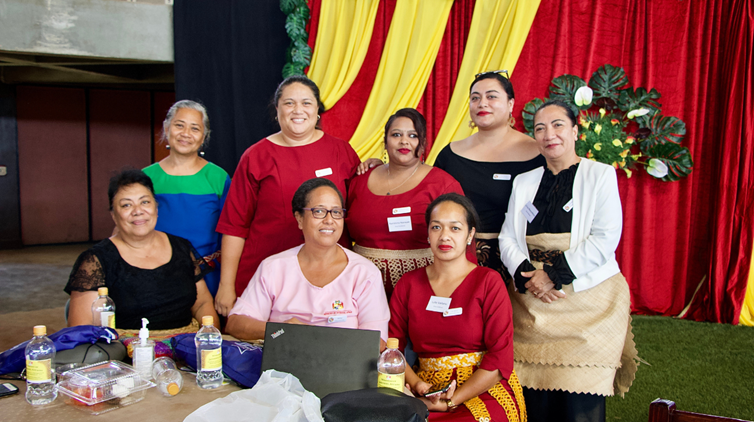 Australia Assists deployee Karishma (middle, second from right) at the 2023 Ministry of Internal Affairs' planning workshop
Logistics – the important work behind the scenes
Preparing for disasters, and responding to them when they occur, requires careful planning and coordination. This has been evident in the global response to the COVID-19 pandemic, which required management of personal protective equipment, testing and medical supplies, and provision of quarantine facilities.
Rowan, a deployee with Australia Assists who helped manage logistics as part of Vanuatu's COVID-19 response, acknowledged that a lot of his work was done behind the scenes.
"People don't see me, but I've helped the health system to better peoples' lives and help ensure people were well looked after," Rowan said at the time.
Darren, also an Australia Assists deployee, is a warehousing specialist with over 10 years of industry experience. He is able to bring his expertise to develop systems for storage, despatch, inventory management and record keeping. This also includes training of local staff.
In 2022, Darren deployed through Australia Assists to manage warehouse operations for the national elections. His system for documenting the receipt, storage and despatch of polling materials supported the efficiency of the distribution system. Currently deployed to UNICEF as an Emergency Logistics Coordinator, Darren continues to share his expertise with local teams to ensure humanitarian assistance reaches those who need it most.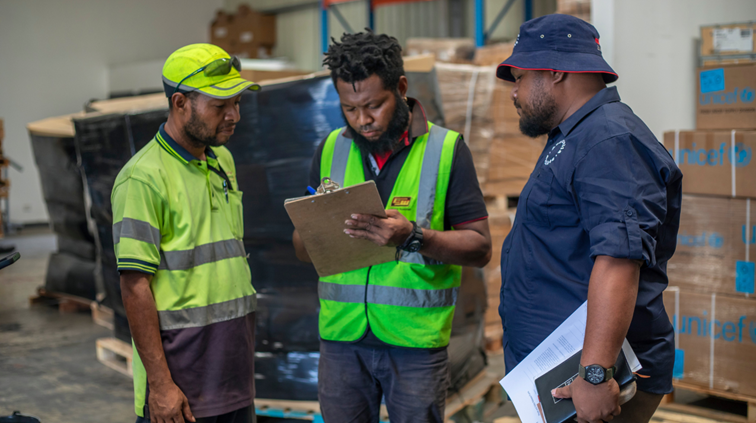 Darren (right) worked with local teams to distribute UNICEF midwifery kits across Papua New Guinea

Ownership: increasing localisation in Pacific humanitarian responses
Darren is a PNG national, and hopes that his deployment with Australia Assists inspires others to pursue humanitarian work at a local and regional level.
"A few of the warehouse staff have worked with me during the Bougainville Referendum and they are happy to see that I have now become a deployee because they have been so used to seeing expatriate/international deployees. I believe my work will continue to encourage more Papua New Guineans and Melanesians to become humanitarian and election workers," Darren said.
Australia Assists understands that international assistance in humanitarian situations should be in partnership with local action and not a replacement.
When humanitarian response is locally led it is faster, more appropriate and more effective. Local humanitarian workers are already present, and having sufficient local staff allows management of surge capacity.
Importantly, local workers also have a more nuanced understanding of the needs, risks and vulnerabilities of the community.
Through Australia Assists, the Australian Government is working to increase localisation in humanitarian deployments. Since 2017, seven national deployees have completed a total of ten deployments in their home countries.
Another five deployees, including Karishma (a Fijian national), were Pacific Islanders deployed within the region. RedR, the implementing partner of Australia Assists, also has a Pacific Regional Office in Fiji to support localisation efforts.
Training humanitarian staff
As part of the regional strategy, Australia Assists has also supported the delivery of RedR's humanitarian training in the region. The two highly-regarded flagship training programs, Essentials of Humanitarian Practice (EHP) and Hostile Environment Awareness Training (HEAT), are now conducted in Fiji as well as Australia.
EHP provides valuable preparation for humanitarian work, for both technical specialists and others who are interested in the field.
HEAT is also designed for people from all professional backgrounds. The HEAT course includes emergency first aid training and preparation for exposure to conflict situations.
Delivering Humanitarian training in the Pacific allows more local people to access training, further increasing localisation of humanitarian work in the region.
"The training really pushed me beyond my comfort zone and what I'm most familiar with," Everlyn said. "The courses helped me build my confidence in working in other countries. And they helped me to self-reflect and continue improving my soft skills, like interpersonal relationships."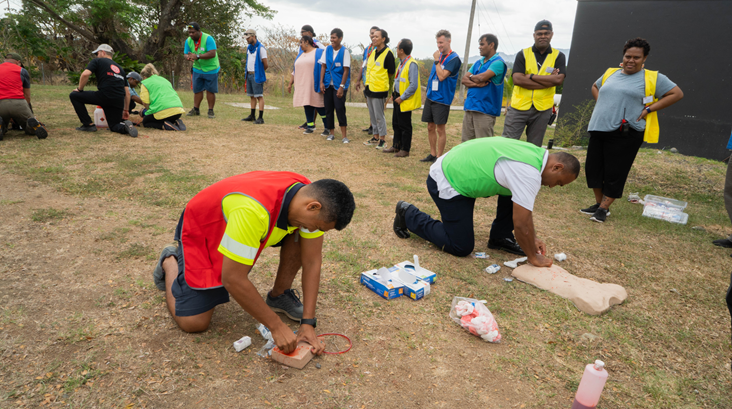 The first Pacific HEAT course took place in Fiji in September 2022

Australia Assists is committed to continue supporting and partnering with our Pacific neighbours through humanitarian support, sharing capacity and providing relevant and high-quality training.
Learn more about Australia Assists and the work of deployees before, during and after emergencies.