In the first year of Australia Assists, 16 deployments (amounting to 47 deployment months) have contributed to gender and protection across the Pacific, Asia, Middle East and Africa, either through specialist gender and protection roles, or by supporting protection-mandated host organisations. RedR Australia also developed the Australia Assists Gender Equality Strategy and Gender Action Plan, which employs a broad definition of gender to include protection of a range of vulnerable groups.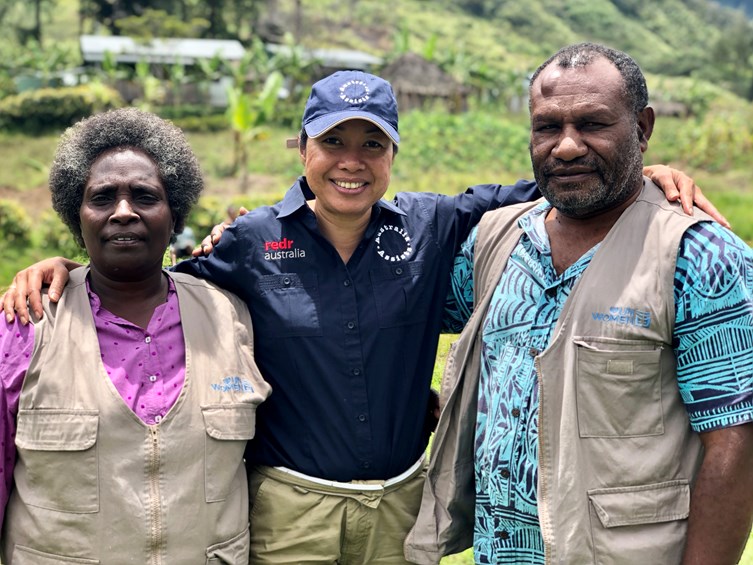 Anggie with UN Women Field Coordinators Beverley and Steven who have played an instrumental role in the delivery of humanitarian response in the Southern Highlands and Hela Province of PNG. Photo credit: RedR Australia.
Through the Australia Assists program, Gender and Protection Specialist Anggie Burchill has been stationed with UN Women in Papua New Guinea (PNG) since April 2018. Throughout her deployment, Anggie has been providing technical support to the Department of Community Development and Religion (DFCDR), to effectively lead and coordinate the Protection cluster and facilitate mainstreaming of gender and protection considerations in the humanitarian response to the earthquake that hit PNG this February.
On February 26, a 7.5 magnitude earthquake hit the Highlands Region of PNG, affecting an estimated 544,000 people in Enga, Gulf, Hela, Southern Highlands, and Western Provinces, of which more than 270, 000 were estimated to be in need of life-saving assistance.
"The affected areas are known for ongoing tribal conflicts. Even before the earthquake, the safety, and wellbeing of women, children, persons with disabilities and other vulnerable groups were threatened by high exposure to incidences of violence, including sorcery related violence," Anggie says.
"Reports from the affected areas suggest that particularly marginalised and vulnerable groups – women, adolescent girls, female headed households, persons living with disabilities, pregnant and lactating women, older persons, children (especially those unaccompanied and separated) – have been particularly impacted and are in need of targeted support."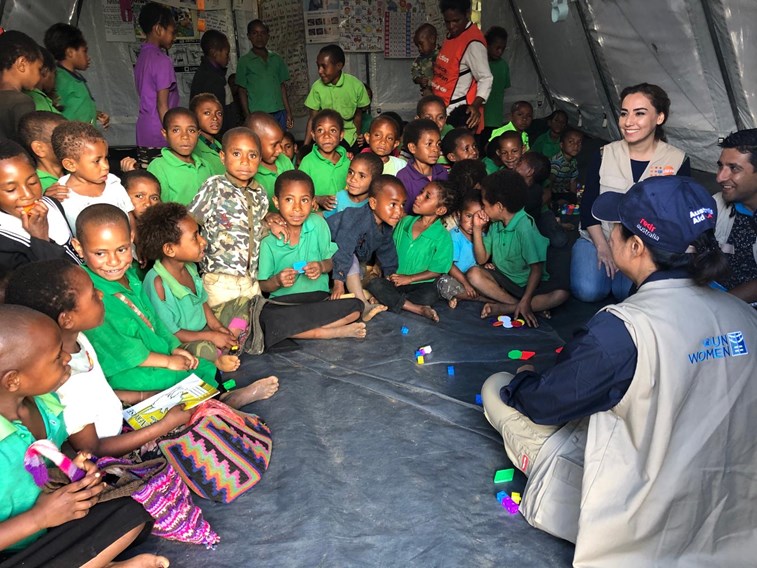 Child Friendly Spaces set up near LEP centres have provided over 12,000 children affected by the earthquake access to psychosocial support. Photo credit: RedR Australia.
Anggie has contributed to strategic planning and led the implementation and coordination of a Learning, Empowerment and Protection (LEP) initiative, which is a joint program of UN Women, United Nations Population Fund (UNFPA), and United Nations International Children's Emergency Fund (UNICEF). The purpose of the program is to ensure women and children who are the most vulnerable and marginalised due to the earthquake have access to the support and protection they need during the disaster response.
LEP centres have been established in high-need areas that provide a safe space for women and children, as well as coordination points for meeting immediate psychosocial needs and accessing a range of emergency support. A network of trusted Community Mobilisers has been attached to the centres, to help coordinate referral pathways for women and children experiencing gender-based violence or sorcery related violence.
"What's important to highlight with the LEP program is that the effectiveness of humanitarian assistance hinges on accessibility and the warring tribes here create enormous barriers. The selection of the right LEP sites and the right Community Mobilisers has created a huge gateway into the community," Anggie says.
Anggie says the premise of LEP is to supplement and not substitute local efforts and reinforce local capacities.
"It recognises that communities have long identified the importance of traditional practices in coping with the effects of disasters. Thus it was driven to fill a gap in services at a community level and provide protection through institutions with deep-rooted histories with the communities," Anggie says.
"This is essentially an effort to place affected people at the centre of the planning and delivery of humanitarian assistance, and to expand and strengthen existing reporting and accountability channels at community level."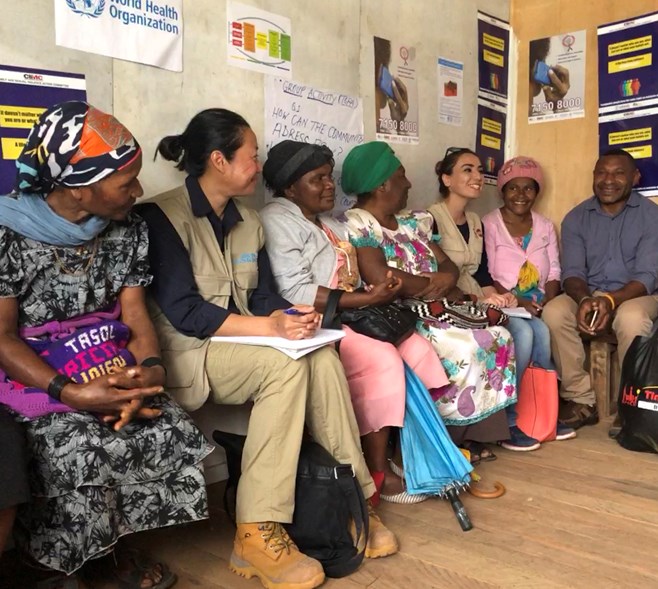 Inter-agency collaboration of UN Women, UNFPA, and UNICEF promotes regular dialogues with the community to foster trust, gain acceptance, and build local ownership. Photo credit: RedR Australia.
The impact of the LEP program so far has been profound. Several women and women's groups have been empowered through being trained as Community Mobilisers, and have effectively spread messages around a range of issues from women's and children's rights, to prevention of weapon, drug, and alcohol use to local communities.
"When the earthquake destroyed Hela, it destroyed us for a while. But we are strong. We will not be destroyed. The training really helped to empower us at that time when we really needed a boost." – LEP Community Mobiliser
"We crossed mountains and rivers, and the people are interested in what we are speaking about. They will change their lives." – LEP Community Mobiliser
"We've seen that our women are lifted up, they feel like somebody." – LEP Community Mobiliser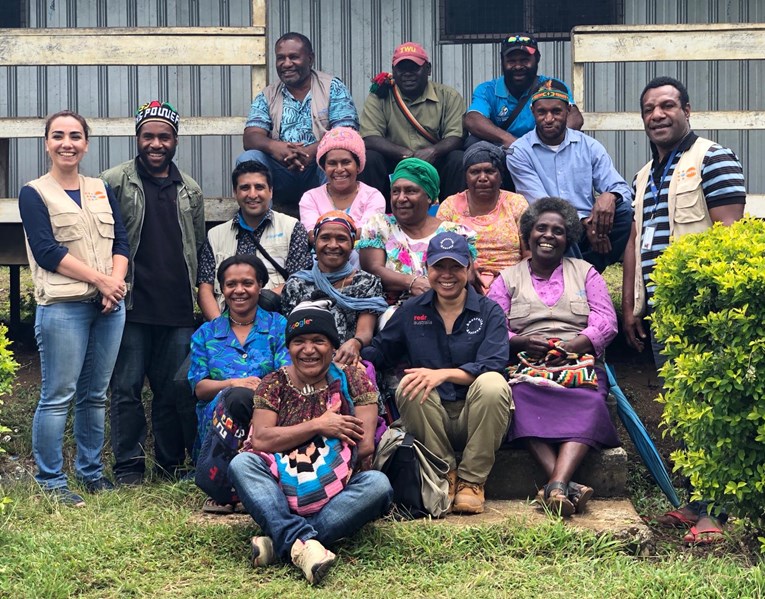 Anggie with Community Mobilisers, who are volunteers trained to act as psychosocial focal points. Community Mobilisers pass on information about the services available to women and girls so they can obtain the best quality care possible. Photo credit: RedR Australia.
Completing her deployment in December, Anggie is hopeful that LEP will continue to move forward and be effective, and says gender and protection is beginning to be better addressed in the earthquake response.
"It takes a huge level of commitment, persistence, and patience to work here, and at the same time remain positive, but I've seen people really respond to this approach with such level of resilience and tenacity, in spite of all odds," Anggie says.
"My support to DFCDR in the Protection cluster has facilitated and enhanced capacity of our implementing partners and NGO participants from all our provincial disaster centres, church partners, and UN agencies covering gender and protection in emergencies. The Protection cluster has not only been revived but is flourishing."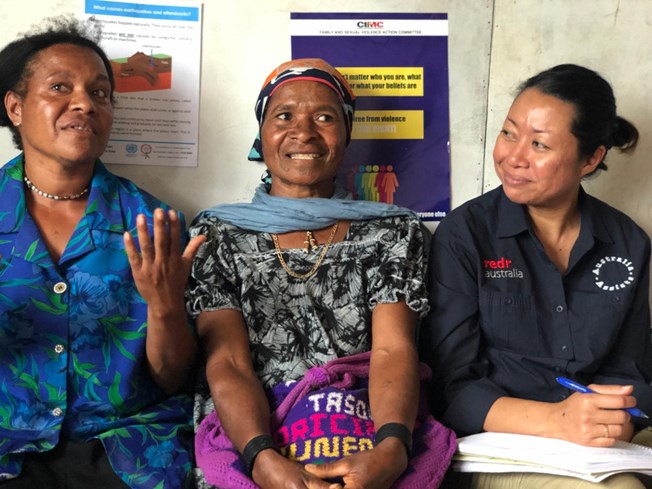 Anggie's gentle work approach is having an immensely positive impact on PNG communities. Photo credit: RedR Australia. 
Anggie's caring and patient approach to her work has been highlighted by her colleagues, including Beverley from UN Women, who has led Community Mobilisation in the Southern Highlands Province and whom Anggie has worked closely with in LEP.
"I have learned a lot from working with Anggie. I have learnt to prioritise activities, that's the most important thing, but also to be persistent and consistent. She's constantly asking, 'Are you ok?' so I do the same with my Community Mobilisers," Beverley said.
"For example, when the Community Mobilisers or the LEP Coordinators have a problem, they may not open up, but I have learned to be persistent and open up myself to keep asking them: Do you need help? Are you ok? And then, they open up. That's what I've learned from her. This is life transforming!"