Typically, an average of four to 10 cyclones will hit the South Pacific between November and April, but this year the number is expected to be even higher, due to the prevailing La Niña weather pattern.
The Australia Assists program, implemented by RedR Australia, deploys a number of specialists to the Pacific each year to help communities prepare for, respond to and recover from tropical cyclones and other natural hazards.
Last cyclone season as Tropical Cyclones Yasa and Ana wreaked havoc across Fiji, Monitoring and Evaluation Specialist Daniel was on the ground working with the United Nations International Organization for Migration (IOM) to measure the impact on and provide assistance to the country's most affected communities.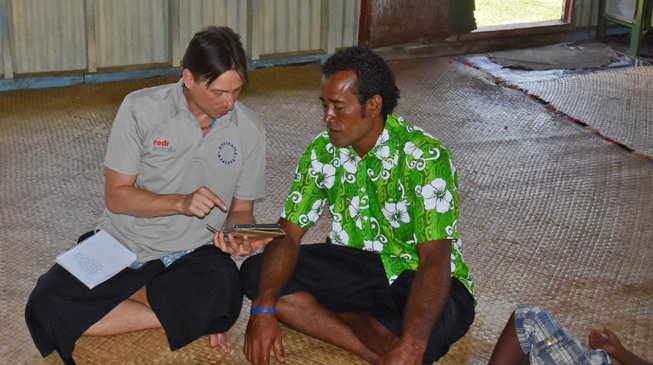 Daniel conducts an interview on Vanuavatu Island in Fiji's Lau Province as part of his work monitoring the impact of Tropical Cyclones Yasa and Ana.
Having just completed a deployment with the International Planned Parenting Federation in Fiji, Daniel and his young family were already settled in to life in the Pacific when he was deployed to IOM.
Deployed amidst skyrocketing COVID-19 case numbers in Fiji, Daniel's past experience in emergency management in Australia – where he reviewed coordination between different responding agencies – became invaluable as the region battled concurrent and compounding crises of cyclones and a public health pandemic.
"[That experience] helped me understand the importance of ensuring that everyone is on board with the decisions that are being taken, and having a joint approach to how the situation is addressed," Daniel said.
Daniel planned to strengthen monitoring and evaluation capacity in the disaster-prone Pacific region by delivering face-to-face training to staff across eight countries. But as local lockdowns restricted travel, he had to adapt the training to be online.
However, he was able to join a field trip to Lau, a cluster of 57 islands east of Fiji's largest island, Viti Levu, as part of a joint mission between several United Nations agencies and the Fiji Government. Travelling to seven of the region's most remote islands, Daniel conducted a Detailed Needs Assessment of communities impacted by Tropical Cyclones Yasa and Ana, which devastated the islands' crops. His interviews with village representatives, women's representatives, health officers and teachers identified food, shelter, and water, sanitation and hygiene as their biggest stressors.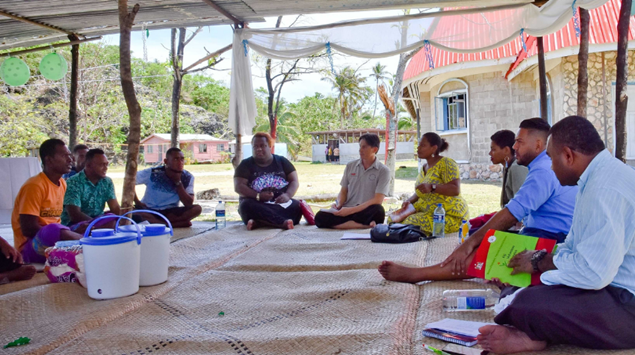 Daniel consults with a youth group on Vanuavatu Island in Fiji's Lau Province after Tropical Cyclones Ana and Yasa.
Working with the National Disaster Management Office and the Safety and Protection Cluster, a group responsible for coordinating the protection efforts of more than 50 organisations in Fiji, Daniel helped to develop the Detailed Needs Assessment ahead of piloting it on the Lau trip. The standardised needs assessment tool is designed to streamline data collection efforts, prevent duplication between agencies and avoid "assessment fatigue" in the communities they are trying to assist. The information collected during the Lau trip using the tool was then shared with the Cluster members.
"We were seeing different organisations and workers going to a village and asking very much the same questions, resulting in fatigue from being asked the same so many times without seeing much happening. The idea is that the new assessment will capture the information needed by all agencies and allow for better integration of recovery efforts," Daniel explained.
Additionally, Daniel identified that the Lau islands' population had grown by around 10 per cent as people returned to their home villages during COVID-19, increasing the region's demand on an already-scarce food supply.
"[Ten per cent] may not seem like much, but when you have a cyclone and there's no food, it has a significant impact," Daniel said.
Talking to a group of young locals, Daniel learned that the fishing community had difficulty shipping their catch to Suva, due to a lack of refrigeration.
"By the time it makes it to Suva, it's rotten and can't be sold. So I thought, well, what about smoked fish? It's rarely eaten here, but there's a very big market for it outside. It's just an example of the kinds of things that could be done to help increase the livelihoods on these islands," Daniel added.
Another key focus of Daniel's work was supporting the United Nations Central Emergency Response Fund's response to Tropical Cyclone Harold, where he provided lifesaving shelter assistance in three of the most affected areas in Fiji's Western and Central Divisions. The project focused on teaching communities to build safer homes using materials provided to nearly 500 households, helping them to withstand future natural hazards. Daniel also worked with implementing partner, Live and Learn, to set up a process for community members to provide feedback on the appropriateness and effectiveness of the shelter kits and training.
"They know the drill: 'Okay, well, here comes a cyclone, this is what happens', people take shelter in the safest places, which might be a community hall or a cave, and afterwards the whole community gather and live together in the houses that remained standing, while they work to set up the households that were destroyed," Daniel said.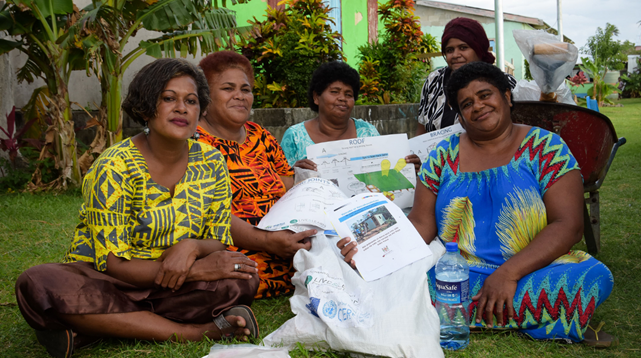 Women continue conversations after their 'Build Back Safer' training on how to best use the tools and items in their shelter kit in Fiji's Western Division.
But while community cooperation goes a long way, Daniel believes robust monitoring and evaluation is crucial to effective emergency preparation and response. He likens it to a pilot checking and adjusting equipment and route during a flight.
"You might be able to fly a plane blind and hope that you get to where you want to. However, if you use the navigation system this will tell you if you're flying too high, too low, if you're steering away, if you need to make corrections to keep to the path selected, and then how to land safely where you want instead of just crashing down," Daniel explained.
"For a humanitarian, monitoring and evaluation is the equivalent of having your navigation systems."