If the COVID-19 pandemic has proven anything, it's just how quickly a crisis can escalate. It's a reality that Fiji-based Regional Disaster management Specialist, Gina Jones, knows only too well. After 12 years working with the New South Wales State Emergency Service, Gina is now focussed on strengthening disaster preparedness in the Pacific region, helping to build capacity in communities that are on the front line of the global climate crisis. 
Gina has been deployed by the Australian Government-funded Australia Assists program, managed by RedR Australia, to work with the Pacific Community (SPC), sharing and building knowledge to advance the Pacific's regional emergency management and response capability. Gina is one of the many emergency management workers who have completed RedR Australia's specialist courses in Essential of Humanitarian Practice (EHP) and Hostile Environment Awareness Training (HEAT), which help prepare Australian participants to work in humanitarian settings.   
A key focus of Gina's deployment has been working alongside SPC colleagues to develop formalised, systematic processes to guide response to disasters across the region. The resulting SPC Disaster Response Framework, which has been tested and refined during successive disaster responses to Tropical Cyclones Sarai, Tino and Harold, has helped make SPC's disaster response capability more consistent, coordinated and easier to measure.
In addition, Gina has helped develop locally relevant training courses in incident management and emergency response for the Pacific islands Emergency Management Alliance (PIEMA) – an alliance of national disaster management authorities, fire, police and other emergency services across 15 Pacific Island countries and territories.
Speaking recently on ABC Radio Australia's Pacific Prepared program, Gina stressed that building local knowledge and a regionally coordinated approach were crucial in strengthening Pacific communities' capacity to withstand the increasing threat posed by climate change.
"We're getting a lot more frequent (weather) events and they're becoming a lot more intense," she told reporter Bernadette Carreon. "Obviously, it's very important that we're prepared."
"The Pacific Islands are very small in regard to resources and access to resources, so the more that we can build that is regional - where Pacific Islands can assist Pacific Islands - the better prepared we will be."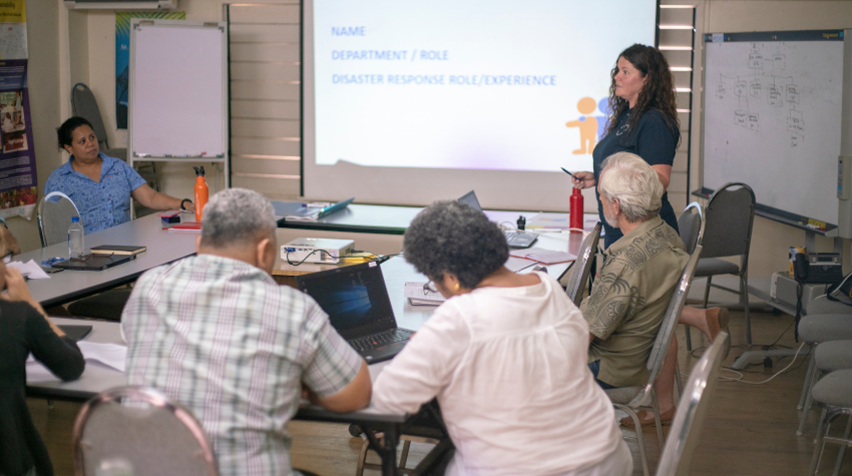 Gina conducts a workshop at SPC to understand emergency management protocols across the Pacific.
The PIEMA project, jointly funded by the Australian and New Zealand governments, has developed two courses for local emergency practitioners and government or civil society staff who might work in an emergency management centre during a disaster. The foundational Pacific Incident Management Systems course and the Working in an Emergency Operations Centre course draw on Australian knowledge, but have been tailored to include terminology, case studies and scenarios that are fit for local purpose, not just for  the Pacific region, but to individual sub-regions where they are delivered: Micronesia, Melanesia and Polynesia.
Gina explained that while many countries, including Australia, New Zealand and the United States have their own incident management systems, PIEMA recognised it was vital to create tailored Pacific-region courses. This includes incorporating local photographs, videos and scenarios, to help make the concepts relevant when participants returned home and worked with others in their community to implement what they had learned. 
The pilot courses were developed in 2019 and delivered to about 30 people across the three sub-regions. Subsequent courses were delivered in Fiji and Vanuatu, but plans to roll out the training across the region were interrupted when COVID struck. "We adapted pretty quickly," Gina told the ABC, "and now we've built an online version."
The online Pacific Incident Management Systems course, which consists of four 45-minute modules covering such subjects as planning, operations, logistics, public information and, crucially, safety, can be applied to a wide variety of scenarios, from cyclones and tsunamis, to planning major events. Participants can do the course while remote working at home, or anywhere there is an internet connection. There's also a downloadable version that be competed offline.
The online training is an excellent resource, not only during a pandemic, explained Gina, but is also particularly suited to emergency workers, who often work irregular shifts and may find it difficult to commit to a fixed training schedule. "You can do your training whenever is suitable for your shift," Gina said. "It gives a lot of flexibility for that lifestyle of an emergency responder."
Next up, Gina is working with PIEMA to develop more online resources, including remote workshops, where participants can log in to a Zoom-like platform and participate in live training sessions. Work is also underway to develop a Certificate IV in disaster risk management, with Pacific TAFE and the University of the South Pacific. 
It's all part of connecting Australian expertise with Pacific knowledge, capacity and resilience throughout the region, explained Gina. "(This training) introduces our concepts (of incident management) for the Pacific. It gives benchmarks and standards, and ensures that when something happens, we're all here and we're all trained to assist one another."
You can listen to Part 1 and Part 2 of Gina's Pacific Prepared interview on the ABC Radio Australia website.