Since 2017, Australia Assists, the Australian Government's humanitarian civilian deployment program implemented by RedR Australia, has been working to support women and girls to build resilience to natural hazards so that they can continue to thrive.
Based in Tonga with UN Women, Karishma is an Australia Assists deployee who is utilising her expertise to integrate gender and protection concerns into disaster preparedness, response and recovery.
"Disasters don't discriminate, it affects all, but I believe that women and girls are impacted differently."
In her home country of Fiji, Karishma gained extensive humanitarian experience working with IFRC, Red Cross National and UN Women Fiji Multi-Country office. During this time, she was compelled to focus her efforts on helping women, children and other at-risk groups remain safe and healthy before, during and after emergencies.
 "I could see how disasters were affecting women and children, persons with disability and the elderly differently and that more effort was required to understand and meet their needs," says Karishma. "Besides food, shelter and water, women also need safe space and privacy at evacuation centres, menstrual hygiene kits, access to gender-based violence services, psychological support and trauma counselling, while pregnant women and lactating mothers need access to pre-natal and post-natal clinics or care and access to essential reproductive health services."
Supporting women in Tonga
Following the 2022 Hunga Tonga-Hunga Ha'apai (HTTH) eruption in January 2022, it was estimated that about 84% of the entire population was affected by the event, while 1.9% of population (around 2,300 people) were internally displaced.
"The Initial Damage Assessment of the eruption and tsunami which was conducted by the Tongan Government revealed 26.7% of the affected households were female-headed households," says Karishma. "This means there is extra burden on these women to provide for their household and rebuild while providing that duty of care."
Although the total number of deaths was low, women were disproportionately affected. Three of the four people who lost their lives were female.
"Women's access to information during disaster, their interpretation or understanding of the early warning could be one of the gaps," says Karishma.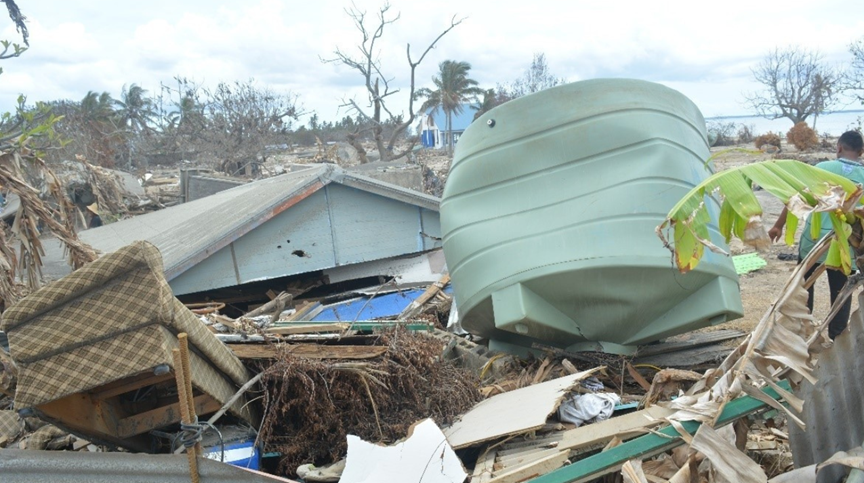 Destruction caused by the January 2022 tsunami in Tonga
One year on from the event, Karishma is working with local counterparts in Tonga to ensure women and other at-risk groups continue to be at the forefront of disaster response.
She is providing technical support to Tonga's Safety and Protection Cluster, which is coordinated by the Ministry of Internal Affairs (MIA) under the National Emergency Management Office (NEMO). Karishma is helping to support the local team with capacity building workshops and other initiatives such as training on Information Management/Coordination and mainstreaming the value of Gender and Protection in disaster response, equipping them with tools and trainings to be able to collect and share information for the future.
"I hope to be able to improve and strengthen the cluster system and the way the clusters respond to the needs of vulnerable groups during a disaster. This includes the needs of women and girls, as well as women living with disability," says Karishma.
"Women and other at-risk groups will have improved access to information (in their local language), including messaging on services available and helplines for Gender-Based Violence and Child Protection during emergencies."
Responding to natural hazards and other emergencies is most effective when it is locally-led. Australia Assists is proud to deploy people like Karishma to share her expertise, so that when disasters strike every person receives the support they need to respond and recover.
Learn more about Australia Assists and the work of deployees before, during and after emergencies.