Australia Assists has deployed its first technical specialist to the Pacific Community (SPC) through its Geoscience, Energy and Maritime Division (GEM). The agency is the largest development organisation in the Pacific and the peak scientific and technical agency utilising expertise to create development solutions to some of the region's greatest challenges such as climate change and disaster.
Regional Disaster Management Specialist Gina Jones is providing advice and assistance on emergency management policies and systems. Through her role, Gina will spend 12 months supporting SPC's work in strengthening regional coordination of disaster preparedness and response, and building national capacity in resilience.
"At the moment I'm working on SPC's disaster response processes for their own internal emergency response, and for emergency response agencies across the member countries," says Gina.
"I'm working across a number of different departments where they need emergency management advice or assistance."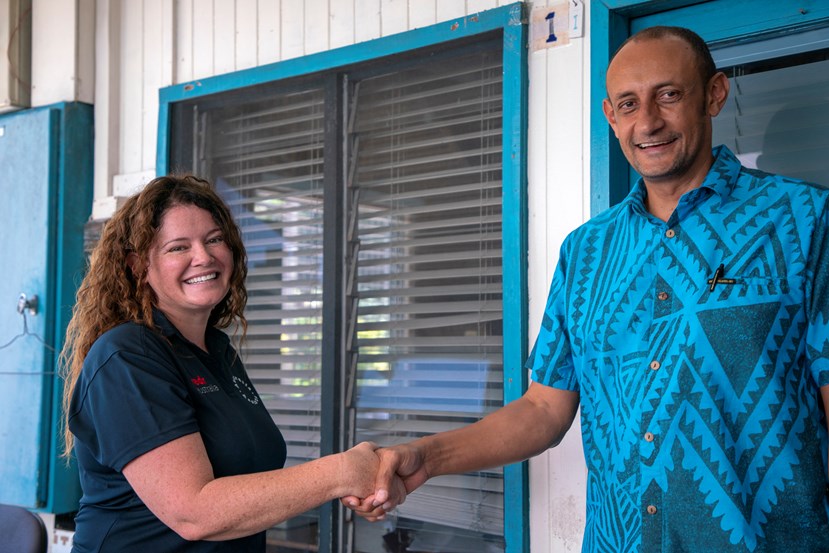 Australia Assists deployee Gina with Pacific Islands Emergency Management Alliance (PIEMA) Program Manager, Patrick Haines, her manager at SPC. Photo credit: Ian Parish, RedR Australia
The majority of Gina's work has focused on the Pacific Islands Emergency Management Alliance (PIEMA) project – an investment supported jointly by Australia's Department of Foreign Affairs and Trade (DFAT) and New Zealand's Ministry of Foreign Affairs and Trade (MFAT). Gina's decade-long career with the New South Wales State Emergency Service has proven to be an asset to the project and broader within SPC, including her formal training in incident management.
"I come from an emergency management background, so I have a good understanding of how emergency services work in Australia," says Gina. "Under the PIEMA project, there are existing arrangements between the Australian and New Zealand Emergency Services and the Pacific Islands countries, so I am here to assist that partnership to function and provide expertise where required."
PIEMA was established in 2013 and is a coordinating mechanism that engages directly with Pacific countries to improve resilience and create 'excellence in emergency management for safer Pacific communities'. It is an alliance of national disaster management authorities, fire, and police services, and other emergency services across 15 Pacific Island Countries and Territories (PICTs).
"The aim of the PIEMA project is to build teamwork, leadership, and trust among the key emergency response agencies in each country, so the objective is to get them working together to build a strong relationship that can be leveraged for emergency response in the future," says Gina. "There are a lot of players regionally and nationally, so the key challenge for me is to ensure all those actors are considered."
Gina conducts a workshop at SPC to understand emergency management protocols across the Pacific. Photo credit: Ian Parish, RedR Australia
In addition to working region-wide, Gina is also supporting SPC to coordinate its internal structures for a more cohesive set of plans in times of emergency. SPC holds the mandate for Disaster Risk Management endorsed by Pacific leaders and plays a critical coordination role in supporting Pacific Island countries and territories (PICTs) to prepare, respond, and recover better from the disasters and hazards that affect them.
In October, Gina facilitated a workshop at SPC, bringing together staff from a number of departments to document SPC's own internal processes for emergency response, and to help Gina better coordinate the different policies and tools available.
"In the workshop, we're having a look at the policy that's in place for SPC's internal arrangements, and through my deployment looking to come out with a suite of tools they can apply to their own emergency protocols," says Gina. "Emergencies affect everybody, and we want to be prepared in advance so that everyone can access the services that they need."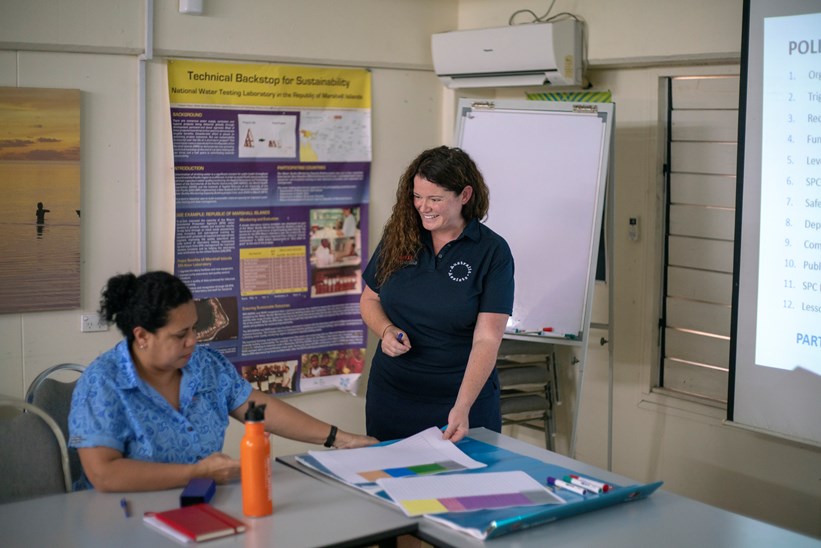 Gina speaks with Deputy Director of Disaster and Community Resilience, Rhonda Robinson, during a workshop designed to help her map emergency management protocols in the Pacific. Photo credit: Ian Parish, RedR Australia
For Gina, the key measure of success for her deployment will be facilitating and building good coordination.
"Coordination really is the key to getting an emergency response right," Gina says. "Pacific countries are at different stages with emergency management, but the intention is to regionally build capacity so they can support each other, and not need to rely on international assistance." 
Deputy Director of Community and Disaster Resilience, Rhonda Robinson, has already seen the benefits of Gina's work across SPC's networks since Gina began her role six months ago.
"It's great having Gina on board," says Rhonda. "She's come at a time which is really quite important for SPC's program. This deployment is really about emergency management and the interoperability between fire, police, and disaster management offices, so the Australia Assists placement, through RedR, has been a welcome intervention for us. It's quite timely too, given where we are going and where we want to be."