August also marked 12 months since Bangladesh saw an influx of an estimated 688,000 Rohingya refugees into Cox's Bazar escaping escalating violence in Myanmar. This added to an estimated 200,000 Rohingya already settled in the area, leaving approximately 900,000 displaced people inhabiting a space of just 12 square kilometres.
Working through the wet season was Paul de Launay OAM, who was embedded into the United Nations High Commission for Refugees (UNHCR) in Cox's Bazar as a Shelter Officer, through the Australia Assists program.  
As UNHCR's shelter focal point for the camps at Nayapara, Chakmarkul and Chaukali, Paul travelled almost daily to the camps to continue the work of providing safe and dignified refugee housing.
"My team of national and international staff comprises engineers with expertise in camp planning, structural engineering, shelter design, geotechnical engineering, drone photography, GIS, mapping and AutoCAD," said Paul.
"We locate and map camp sites, develop shelter and infrastructure layouts, and design the buildings, roads and associated infrastructure. The follow up of course is the implementation, monitoring, evaluation and reporting."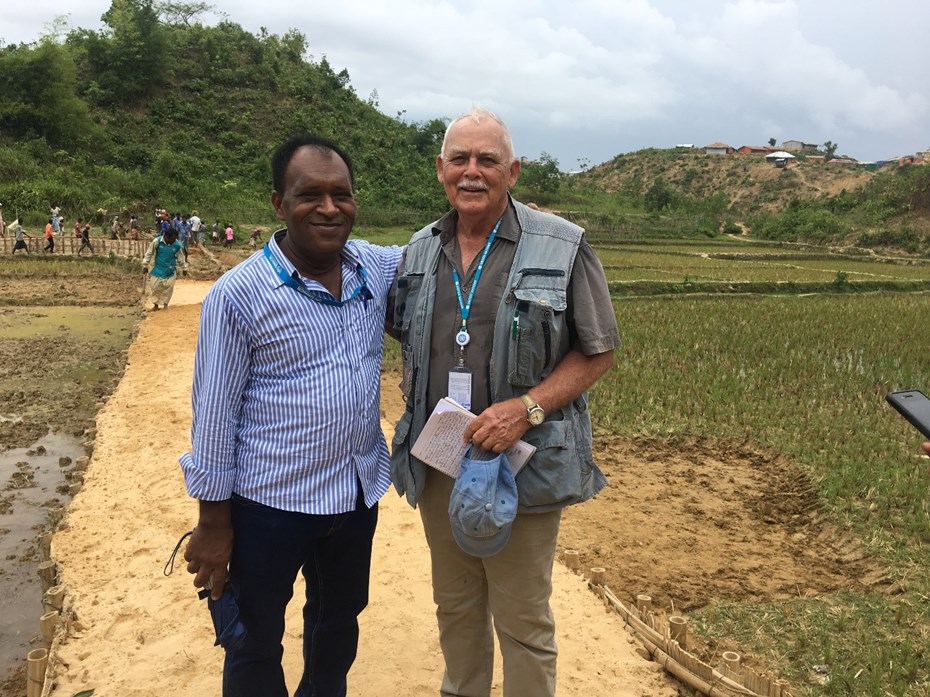 Shelter Officer Paul with UNHCR colleague. Photo credit: Paul de Launay, RedR Australia
Paul and his team have been working tirelessly through the monsoon season to reduce the risks of landslides and flooding that threatened camps located on hilly land composed of sandy silt, which can become unstable due to saturation during rain periods.
"We feared spontaneous landslides, which would cause heavy casualties, and worked tirelessly through the wet season, in ankle deep mud, moving 40,852 people from high risk areas. We have been successful so far."
In order to provide early warning about heavy rainfall, a number of risk-reduction initiatives were implemented in the settlement, including the installation of automated rain gauges in key locations. This initiative, funded by UNHCR and project managed by UNDP, was carried out in close cooperation with both the Geological Survey of Bangladesh (GSB) and the Norwegian Geotechnical Institute (NGI).
Through Australia Assists, Chris Piper was stationed with UNDP in Cox's Bazar from April to July as an Early Warning Dissemination and Training Specialist. One of his main roles was to project manage the installation of three more rain gauges to provide early warning of heavy rainfall and potential landslides.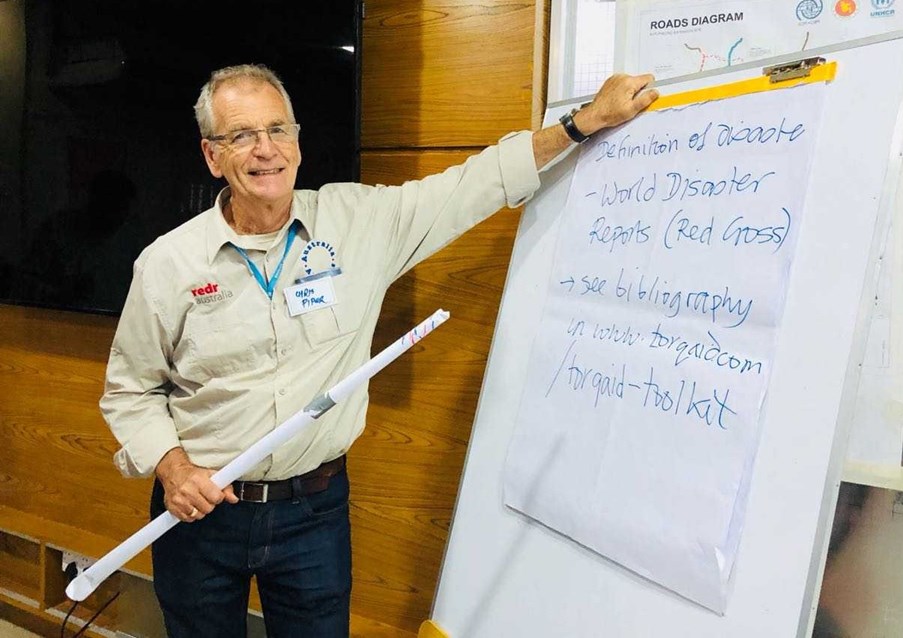 Early Warning Dissemination and Training Specialist Chris. Photo credit: Chris Piper, RedR Australia
The gauges send automated messages through the mobile network about the level of rainfall every 15 minutes to 20 select people, including government and international staff, with automatic warnings given when certain rainfall thresholds are reached.
"Warnings such as these can alert message recipients, on a 24/7 basis, of potential landslides in the refugee locations at risk. The gauges themselves are therefore a useful contribution to a 'toolbox' of initiatives, designed to reduce risk, and increase safety, in these vulnerable locations," said Chris.        
Chris supported the installation of rain gauges in Kutapalong, Camp 16 and Chakmarkul, which were selected due to their reliable access to the mobile phone network, and because they are relatively secure.
Paul said work will continue to improve the conditions in the settlement, as its population is likely to remain for the foreseeable future.
"The seasonal weather cycle in this part of Bangladesh is monsoonal rain followed by cyclones. We are just at the end of the 2018 monsoon season and the cyclone season is approaching," Paul said.
"The work continues as we move towards implementing improvements to make the camps safer as the future of these refugees remains uncertain."