The theme for World Health Day 2021, 'building a fairer, healthier world', reflects an opportunity for the humanitarian sector to act on this moment.
RedR Australia has been at the forefront of innovation in the humanitarian aid sector's pandemic response. With our first clinical deployments through the Australia Assists program, we have invested in building clinical capacity into our partners' humanitarian projects, and into our host nations' healthcare systems.
Pip and Dale, two experienced nursing professionals, deployed for three months with the International Organisation for Migration (IOM) to Cox's Bazar, Bangladesh in November 2020 to assist the COVID-19 response at the Rohingya refugee camps. They had a broad mandate to enhance the capacities of COVID responders and health workers in local respiratory isolation and treatment centres through training and collaborative community activities.
Working together for public health communication
This was Pip's first humanitarian aid deployment after being on the front line of Australia's pandemic response during the repatriation effort of Australian cruise ship passengers from Japan, and then in the Northern Territory, Western Australia, and her home state of South Australia. By contrast, Dale has completed numerous overseas NGO and private sector deployments. The two found excellent personal and professional rapport during their overlapping deployments. Pip said that "it was complementary because I'm a public health nurse, specialising in communicable disease control and disasters, and he's a registered nurse [and an emergency nurse practitioner student], highly skilled in his areas."
RedR Australia has deployed 50 humanitarian specialists to Cox's Bazar since 2017, when an estimated 688,000 Rohingya people fled escalating violence in Rakhine State in Myanmar, joining an estimated 200,000 Rohingya already settled in the area. Approximately 900,000 refugees inhabit a space of just 12 square kilometres, in a nation with limited capacity to assist them. The Rohingya population remains extremely vulnerable to both the pandemic and its complicating impacts on humanitarian aid delivery.
The impact of COVID-19 on the ongoing humanitarian crisis was central to Pip and Dale's work. Dale reflected that "it's the largest camp of its type in the world, and obviously, with the existing communicable and non-communicable diseases present in the country, and now COVID-19, there's a lot going on! It was a case of the unknown, with the potential for it to be bad there. It just seemed like a really good opportunity to get involved, because if you can manage it on that scale, you can manage it on any scale."
Public health communication was central to Pip's capacity building work, with consistent COVID-19 messaging presenting a challenge throughout. "We had to keep communicating that COVID-19 is an ongoing issue, but you're aware that the population are probably tiring of the messaging, or they're not worrying about it. So, it's about getting that message right. And we need to get this right; otherwise it could be potentially devastating."
Nurses are a critical part of every public health workforce, though, often, building their capacity is sidelined during health emergencies. However, Pip saw an opening. "It was a good opportunity to undertake lots of additional public health education with the nurses. When they weren't so busy in the Covid isolation and treatment facilities, we could talk about them keeping safe, discuss hepatitis B and C transmission and making sure they've been immunized for hepatitis B. It was also an opportunity to talk to the Rohingya people in the treatment facilities about other health issues, such as malaria and getting their children immunized, not just COVID-19."
Community and collaboration
For Pip, her ability as a RedR Australia deployee to engage in-depth at a community level was a highlight of her deployment. "[It was] very pleasant to be able to work from the bottom up and to truly be using inter-sectoral collaboration and collaborative engagement. Not just being tokenistic, but really being able to apply that."
Pip also found her clinical capacity building work in the local Bangladeshi health sector rewarding. "The nurses were always really happy when we were there and always wanted us to tell them more. To have those nurses, who had an absolute thirst for knowledge, is the best thing!"
At RedR Australia, as a key component of our Localisation Strategy and Action Plan, we invest in the abilities of deployees like Pip and Dale to support local response and local actors, building and sharing capacity to protect the most vulnerable.
Dale agrees that building local capacity was a rewarding part of his deployment and sees clinical deployments as "a great way to use your clinical skills. A lot of people are doing public health but don't get to use the full gamut of their health skills, and other skills in an area where there's an actual need for it."
"The duration of our deployment was really good; it was long enough for us to get orientated and make some changes and make a difference. It was good to see how we can impact a little bit more from a clinical point of view, and how we can respond in the future."
The resilient, capable communities our deployees support can help build a fairer and healthier global community. RedR Australia will continue to deploy clinical specialists as part of our core mission to build resilience and relieve suffering in times of humanitarian crisis.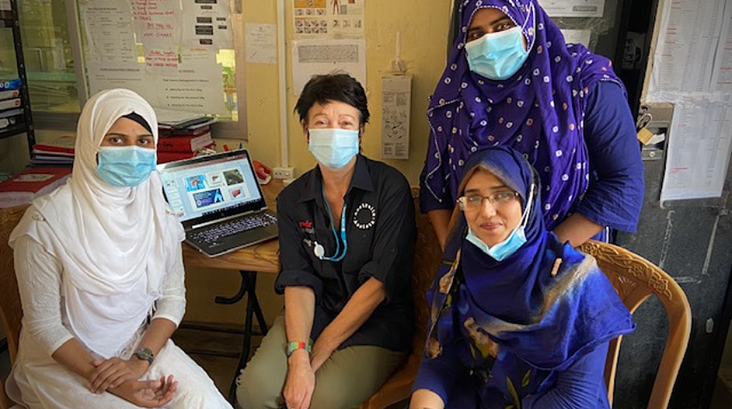 Pip facilitating an education session with nurses from an ITC.